Lunch at The Enchantment Resort- an enchanting experience indeed
After an early morning, a longish trip in the van, and an afternoon of hopping around from vineyards to wine tasting rooms, our group arrived ravenous for a late lunch at The Enchantment Resort in Sedona. Chef Ted Cizma may never had fed so appreciative a group of diners.
We were welcomed at the resort's Yavapai Restaurant   (named for one of the local native tribes) with Prickly Pear Margaritas, a real treat, but we were ready, without delay, to dig into the luscious food Cizma and his sous chef were cooking right at table in front of us.
Cizma actually offered us a slight apology, saying the menu was in transition, as he was new to the restaurant. Really- he needn't have bothered, the food was outstanding. He explained that he was in the process of incorporating indigenous foods into the menu, like his Cast Iron Skillet Roasted Scallops with Heirloom Bean Succotash. I'm not a fan of scallops, but I had to try this- along with his salad of Roasted Baby Heirloom Beets, Root Spinach, Beet Vinaigrette and Salted Sheep's Milk Ricotta. And then there was the Alaskan Halibut with Smoked Pepper and White Bean Ranchero, and the House Cured and Braised Pork with Ancho Chili Root Beer Glaze (which btw, was much more to my liking than the too sweet pork belly we had just the night before). Which was my favorite? Hmmmm…I'm not quite sure. Let me get a second serving of the halibut- and the pork. Did I mentioned I was famished after a long day of wine tasting?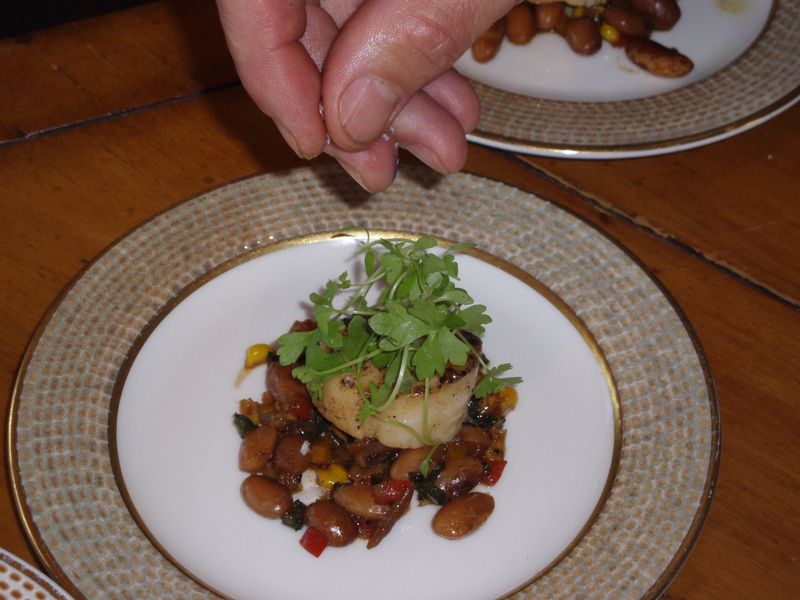 Scallops with Heirloom Bean Succotash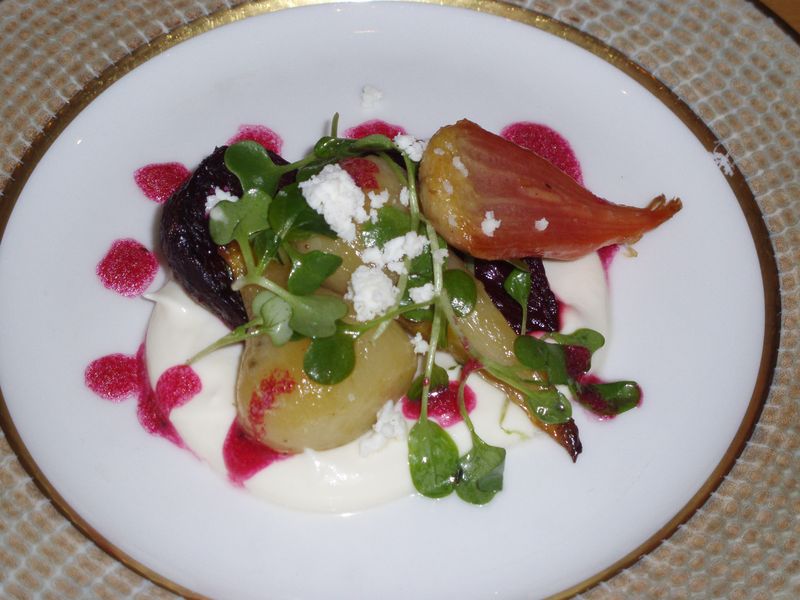 Roasted Beet Salad with Salted Sheep's Milk Ricotta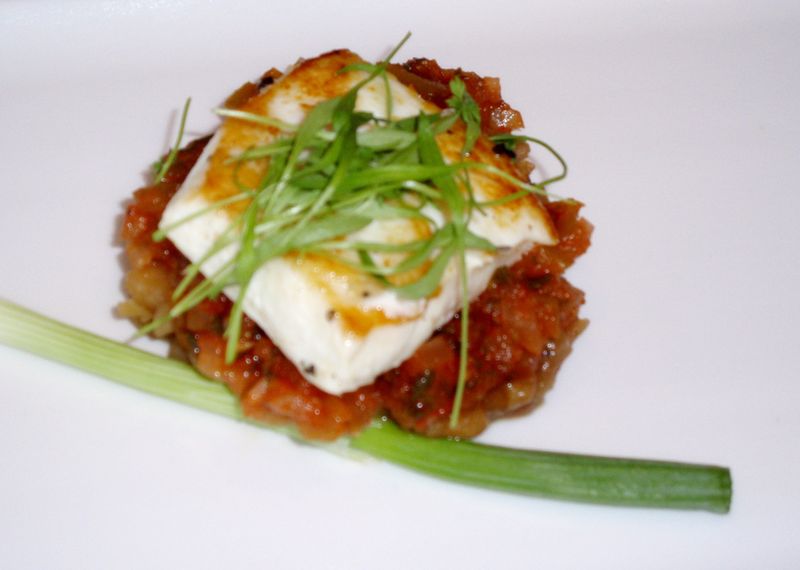 Alaskan Halibut with Smoked Pepper and White Bean Ranchero
Outside the window at the restaurant we viewed the beautiful Boynton Canyon, surrounded by the stunning red rocks of Sedona- an enchanting place indeed. My friend Greg of SipptySup said afterwards, when I related the day trip to him, "I can't remember if Ive ever been to Sedona."
"Greg," I said, "if you'd been to Sedona, you'd remember it."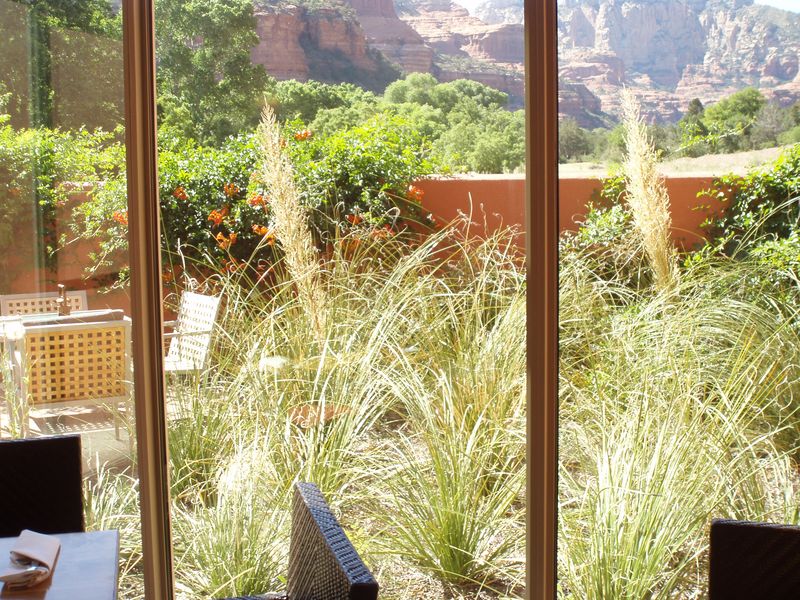 The view outside my window at lunch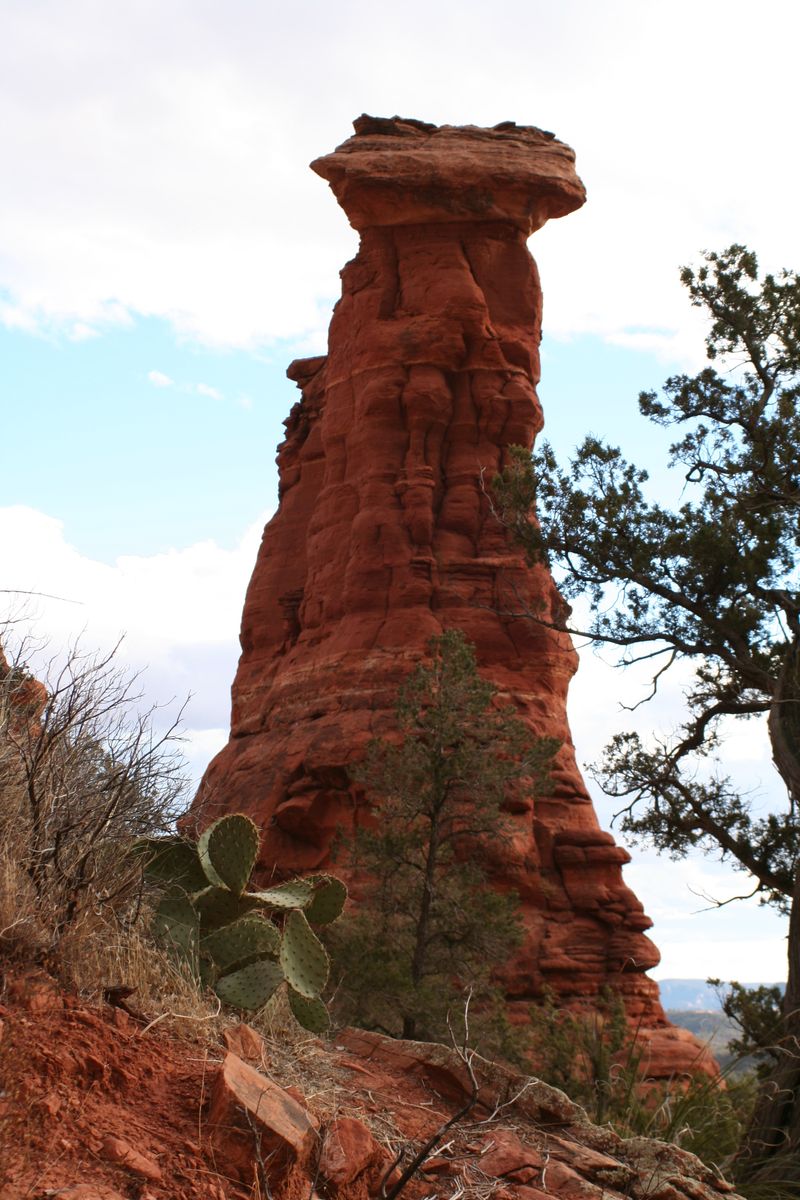 Kachina Woman (or Katsina, as we learned The Heard Museum prefers) rock formation watches over the entrance to The Enchantment Resort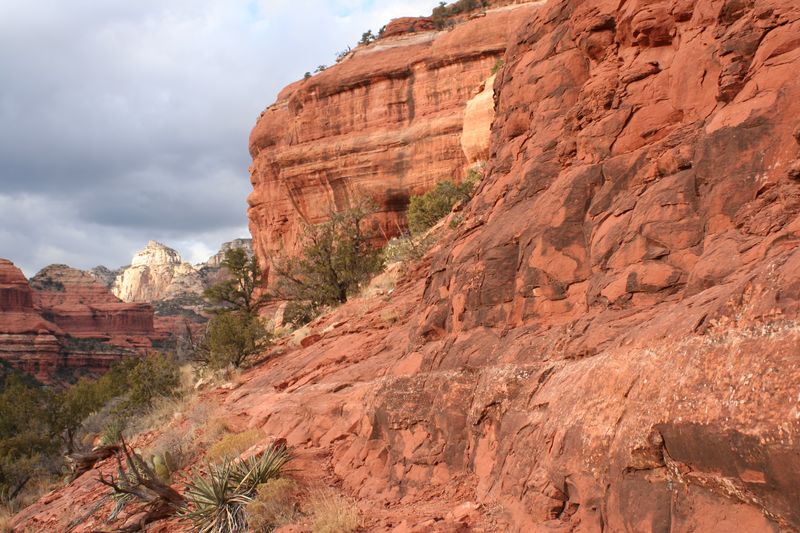 Boynton Canyon
To finish our lovely lunch- a little glass of a dense Chocolate Mousse, with a chunk of chocolate embedded in it and topped with a sugared and spiced pecan.  Ahh- now I can face the long ride back to Phoenix.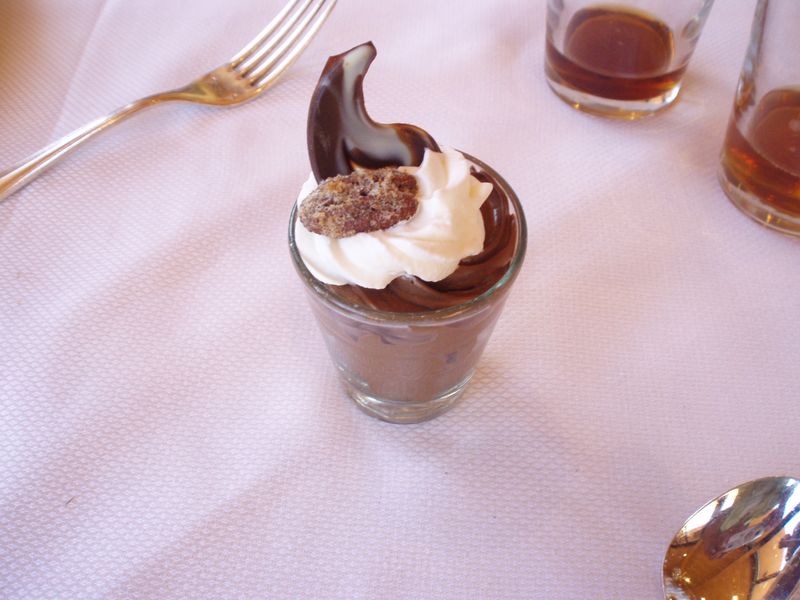 Dense Chocolate Mousse
Chef Cizma was gracious enough to share his signature recipe for the Braised Pork with me. It uses a cut of meat new to me- Karubi style pork ribs- short ribs, Korean barbecue style, served without the bones.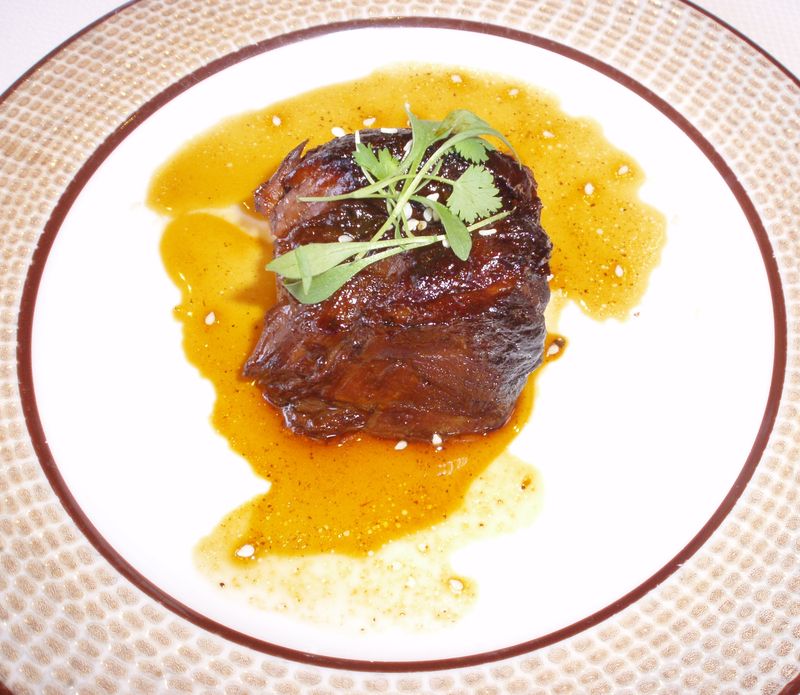 Braised Pork Short Ribs
Slow Braised Pork Short Ribs with Root Beer Glaze
 For the pork:
2 pounds of Karubi style pork ribs

1 onion, large dice

3 stalks celery, large dice

1 carrot, large dice

10 garlic cloves, peeled

2 cups of tomato paste

1 tablespoon cumin seed, toasted and ground

1 tablespoon dark chili powder

1 tablespoon ground mustard seed

2 whole Ancho chiles

2 quarts Root Beer

2 cups strong brewed coffee

2 tablespoons vegetable oil

Coarse sea salt or kosher salt
Season the pork with the salt, cumin, chili powder and mustard. Heat a heavy bottomed pot over a medium flame, add the vegetable oil. Brown the seasoned pork on all sides. Add the tomato paste, garlic, onion, celery, carrot and Ancho chiles to the pot. Continue to cook another 2 minutes, stirring vegetables.

Add the root beer and coffee to cover the meat. Bring to a simmer, cover the pot and place in a 275 F oven. Cook for 3-4 hours, until pork is falling away from bone. Remove pork from liquid.
For the Glaze:
Strain braising liquid through a fine sieve and refrigerate. When liquid has cooled, remove solidified fat from top.

Reduce the braising liquid to glaze consistency. Reheat pork in a 400 F oven for 8-10 minutes or until hot all the way through. Spoon glaze over the top. Garnish with baby cilantro.
 Serves 6 as a small plate, and 4 as an entrée.