Welcome to Phoenix
Everyone needs a little getaway every once in a while. A change of scenery, even for a few days, does wonders to rejuvenate the spirits, so off I went to Phoenix (only an hour and 15 minute plane ride away) last week for a little R &R.
In discussing the trip afterwards with my Uncle, he said Phoenix feels like the Los Angeles of 40 years ago, and that describes it perfectly. While it's spread over a very large area, there's a slower, more relaxed pace- no traffic jammed streets, or parking lots masquerading as freeways. "Is this typical for rush hour? " I incredulously asked our tour guide as she took through the downtown area at around 4:45 or so in the afternoon. Her response-the citizens there have readily adopted public transit with the launching of the Metro light rail system unveiled only a year and a half ago. The response by locals greatly exceeded expectations- the Metro carried as many riders in their first month, as they were projected to carry in their first year, our tour guide told us. Are you listening L.A.?
Anglo American, Native American (there are over 21 federally recognized tribes) and Mexican cultures coexist peacefully mostly (that's despite some controversial political issues you may have heard about recently), and it's reflected in the life of the city.
I stayed at a couple of Phoenix's best resorts. When I told my cousin Adele I'd be staying at The Phoenician, she asked excitedly "You're staying at the Phoenician?" Yep (didn't I just say that…)- and yes, Adele would be all excited about the Phoenician. She's the type who loves being in the water and lying around the pool, and The Phoenician has quite a spectacular network of pools. I'm not that type, so I fell in love with the other great resort -The Arizona Biltmore. When I walked into my room at Ocatilla at The Arizona Biltmore (the little resort within the resort), I just felt like crying with joy. The Frank Lloyd Wright inspired decor, the Mission style furnishings upholstered in rust colored leather, that little vignette of a truffle filled chocolate box (complete with the imprint of the blocks used to build the Biltmore), fresh fruit on a rectangular glass platter, and a folded linen napkin on the glass topped, iron legged round coffee table- well, I was ready to exhale, if you know what I mean.
I haven't seen a chocolate box since the days right after my graduation from pastry school when I was ambitious, and made a few of them. BTW, the truffles were yummy, too, although there was so much great food on the trip, I didn't even get to them until I returned home.
Check back over the next couple of weeks. I'll be sharing more about the Biltmore, and some of the great restaurants I dined at (sort of a eating tour of Phoenix- isn't that a great way to get to know a city?), along with a couple other great places worth a mention.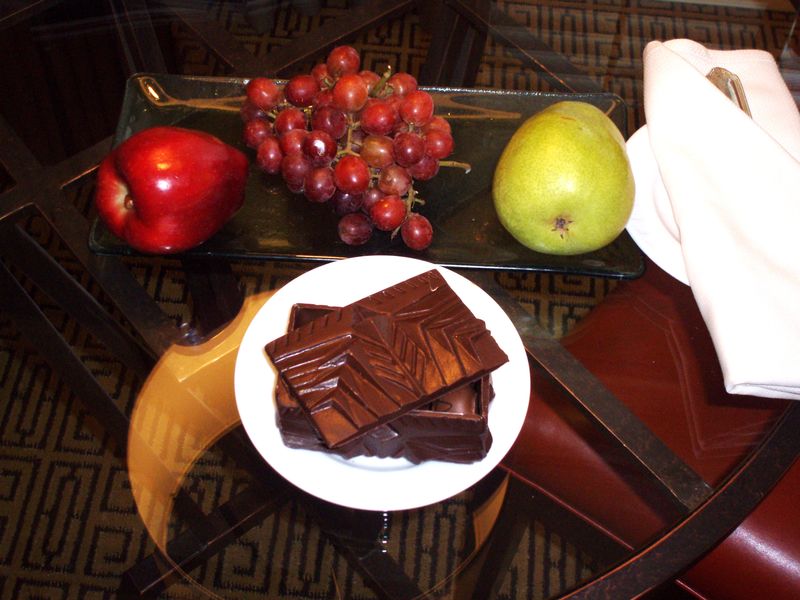 Okay-this is my not so good shot of the chocolate and fruit vignette in my room at Ocatilla, but trust me, it was a beautiful thing.
There'll be more about the Biltmore in later posts.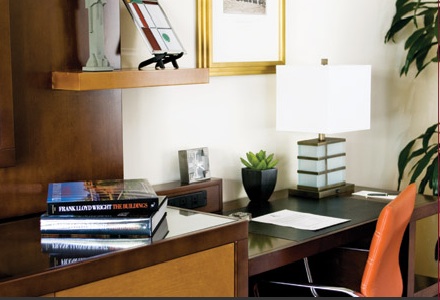 The beautiful little desk area in my room at Ocatilla