Profiteroles- a Classic!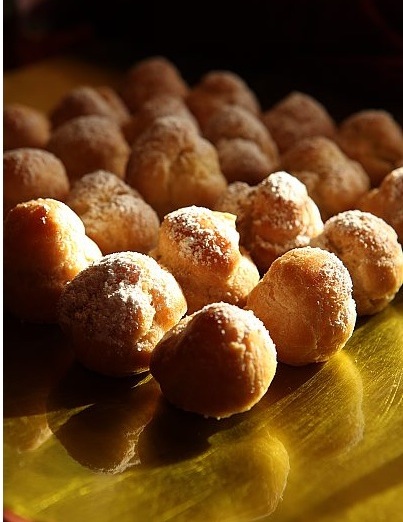 Photo Courtesy of Eric Charbonneau and Grey Goose Vodka
Several years back I was renting kitchen space on a per day basis from a catering peer who was having a particularly busy weekend. She asked if I wouldn't mind taking on one of her parties, prepping it and staffing it with some members of my team, and working the event for her. Sure, I said, why not?
I arrived at the party and began unpacking ice chests, and setting up the platters and trays for service, when I came across a bucket of frozen profiteroles intended for the dessert buffet.
Now this woman is a wonderful lady, and has a going concern (to quote Tennessee Williams) in her catering business, but frozen profiteroles? Excuse me, but frozen profiteroles completely miss the point. I turned to my assistant chef and said, "David, if I ever serve a frozen profiterole, please just shoot me."
Profiteroles (aka cream puffs to us Americans), are choux pastry (named such because they expand while baking to resemble little cabbages) piped in small rosettes onto a baking sheet, and baked at a medium high temperature, until they puff up. The outer pastry cooks to a crisp, while inside, the puff hollows out, still retaining a bit of moisture. They are then filled with pastry or whipped cream-or sometimes served plated filled with ice cream. Ah- and here's the point- when you bite into a profiterole, the outer bite should be al dente, while giving way inside to a luscious creaminess. Frozen profiteroles are soggy, inside and out.
I first learned the value of profiteroles from a caterer I worked for years ago in New York. He had trained in France- yes, choux pastry and profiteroles are among the most classic of French pastries- and served croquembouche (the cone shaped tower of profiteroles "glued" together with caramelized sugar) regularly throughout the year on his dessert buffets (we tend to reserve them only for Christmas in this country). A main reason he did this, I came to realize, is that while they are delicious and fun to eat, they are inexpensive and-once you learn simple piping skills-very simple to make. And profiteroles, like any classic, are like an old friend you haven't seen in years- no matter how long it's been since you've last seen each other, you jump right in where you left off, expanding the relationship, and leaving your time together, very grateful for the friendship. The recipe follows…
Profiteroles
Choux Pastry
1. Combine :
1 cup water
4 ounces butter (I like to use @ 1/3 to 1/2 margarine/butter combination- I think it helps them puff a bit     more)
1/4 t. salt
in a large pan and bring to a boil, stirring occasionally.
3. When it comes to a boil remove it from the heat and dump in:
1 cup all purpose flour, all at once, stirring to combine.
4. Return the pot to the  heat and cook, stirring constantly, until the paste dries, leaving the side of the pan and forming a ball, and a slight skin forms on the bottom of the pot.
5. Transfer the paste to the bowl of a stand mixer, and beat with the paddle attachment on first speed to cool the paste slightly.
6. Add:
4 eggs, one at a time, and increase to second speed, continuing to beat until all of the eggs are absorbed.
5. Place the paste in a piping bag fitted with a #4 tip for bite sized puffs, and pipe onto a parchment covered baking sheet. I pipe neat little rosettes, as we practiced them endlessly during my time in culinary school, but even a plopped squeeze of dough will form a little puff.
6. Bake at 375 degrees until the rosettes puff up and brown, about 35-40 minutes.
7. Remove them from the oven and when they are cooled slightly (I use a cotton towel to pick them up), and cut a little hole in the bottom of the puff. This helps the steam to escape, thereby retaining the crispness, and I also pipe the pastry cream into the same hole when the puffs are cool. If you are filling them with a scoop of ice cream for plating, you can just slice them horizontally- getting a bottom and top.
This recipes yields @ 4 dozen bite sized puffs.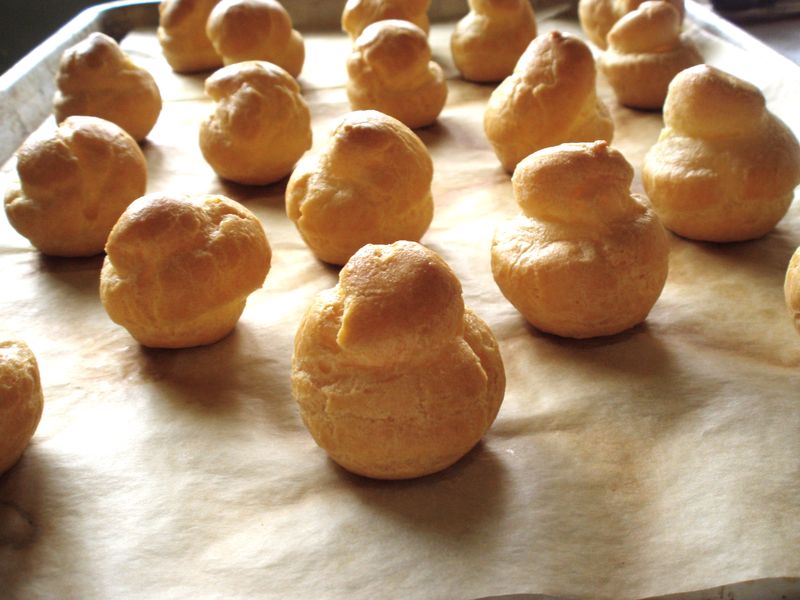 Pastry puffs right out of the oven lined up like little soldiers
Pastry Cream
There are many pastry cream recipes out there, some thickened with flour, some with cornstarch. I much prefer the cornstarch thickened variety. This one is adapted from a recipe I got years ago, from the now renamed Peter Kump's New York Cooking School, where I was a stagiere, and where Nick Malgieri was director of the pastry program.
1. Measure out:
1 C. whole milk and 1 c. half and half
2. Dissolve:
1/4 C. of  cornstarch with 1/2 C. of the pre-measured milk in a medium sized stainless steel bowl.
3. Beat:
2 whole eggs
4 egg yolks
into the cornstarch mixture
4. Combine the remaining milk and the half and half  in a large pot with:
3/4 C. Sugar
bringing it to a slight boil, and stirring to dissolve the sugar.
5. Pour 1/3 of the heated milk into the egg ,milk, cornstarch mixture to temper the eggs. Return the remaining milk to the heat, and pour in the hot egg mixture, in a steady stream whisking constantly, until the mixture begins to thicken and boil.
6. Transfer the cream to the bowl of a stand mixer fitted with the whip attachment. Beat on second speed, beating in:
2 oz. Butter
2 t. vanilla
7. Pass the cream through a mesh strainer into a stainless steel bowl. Sprinkle a handful of sugar on the surface or dot with a bit of butter, and place plastic wrap directly on the surface, Chill for several hours or overnight.
Oh- btw, I like to take half or all of the cream and mix in a scant T. of instant espresso powder moistened with a t. or so of rum, to make a coffee cream filling.
To assemble profiteroles, fill a pastry bag fitted with a #3 or 4 tip with the pastry cream and pipe filling into the little whole you made previously in the puff. Sprinkle with powdered sugar before serving, and you're good to go!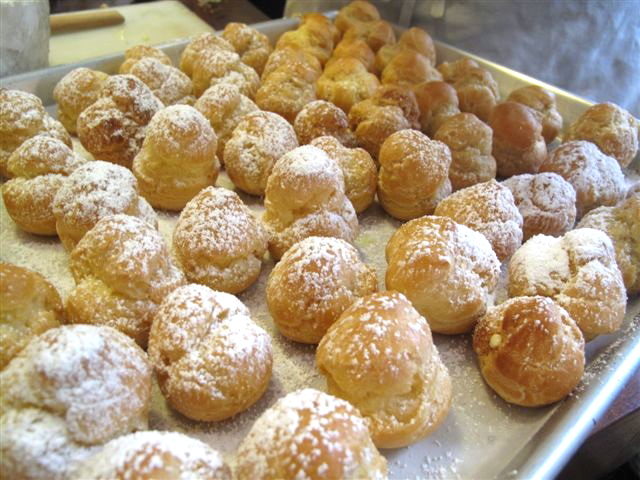 Sprinkled with sugar and ready to go