A Special Cake for a Special Day-German Chocolate with Milk Chocolate Buttercream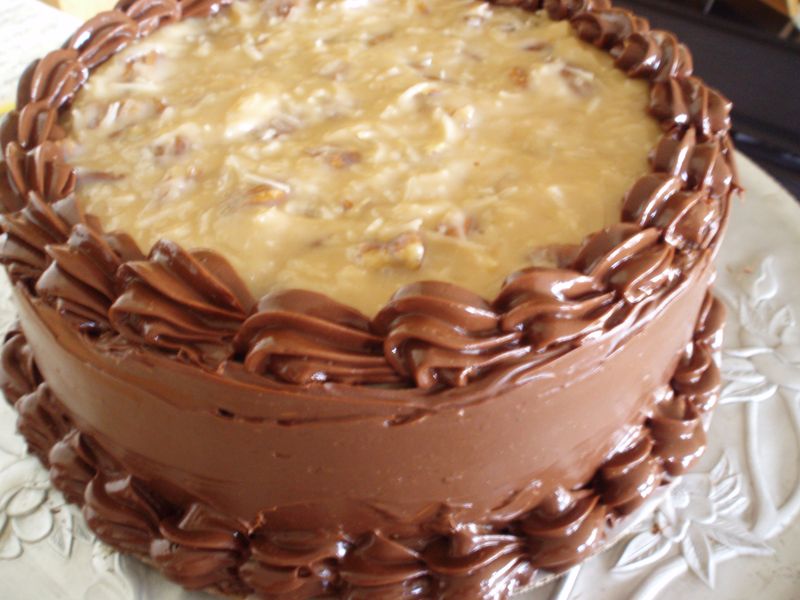 German Chocolate Cake
My family gathered this past Sunday to watch the New Orleans Saints kick and run their way to the NFL championship in the Super Bowl, an event of tremendous importance to all of us who love New Orleans, whether or not we love football. Ah – and we also celebrated my mother's 84th birthday. As an added bonus, we learned that the first of a new generation is on its way, as my young cousin, Ayana, announced that she and her husband, Ian, are expecting their first child.
Now that's a day for a special cake, right?
Most of my family are at a stage in our lives where we're watching our calorie and sugar intake, but I am of the firm belief that if you are going to indulge, it better be well worth those calories. And for us, an all time favorite indulgence is German Chocolate Cake.
Most New Orleanians love pecans and coconuts – we've been flavoring our pralines with them for generations. And come to think of it, we love that caramelized sugar flavor, too – think pralines again.
I use the tried and true recipe for German Chocolate Cake that has been printed for years inside those little green packages of Baker's Sweet German Chocolate found on your grocery's shelf. Yes, I've seen pastry chefs and bakers out there who use other (like Devil's food) chocolate cake recipes. It's true they may contain more chocolate, but as I scarfed up the crumbs Saturday while putting my cake together, I realized there's a wonderful chocolate maltiness to this cake recipe, that would be lost with a darker chocolate flavor. And yes, I've seen other nuts (like macadamias) in the fillings. Okay, I've already mentioned above that we New Orleanians have an attachment to pecans – so it's the classic recipe for me.
I do depart from tradition by icing the sides and piping a border with Milk Chocolate Buttercream, a truly luscious buttercream, which has become an important component of my repertoire over the years. The recipe is from Rose Levy Beranbaum's The Cake Bible
. Because the cake is slightly crumbly, I find the buttercream helps to better "sandwich" the cake together, while the caramel overtones in milk chocolate perfectly complement the malty quality of the cake and the milky sugar and pecans of the filling, adding up to one "chocolaty, caramely" extravaganza. Iced sides and a piped border also makes for a beautiful presentation, The buttercream is simple to make, but must be brought to and kept at just the right temperature to ice a cake and to pipe a border. It's definitely worth the trouble, though.
I give the cake a "crumb" coating, then let it set in the fridge for a few minutes before giving it a final coating, and piping the border.
This cake is very rich, and will serve 16-20 people. Watch out though, Ayana's younger brother Martin, says it's like crack cocaine!
Milk Chocolate Buttercream
adapted from The Cake Bible
1 pound milk chocolate, chopped

8 ounces bittersweet chocolate, chopped

12 ounces unsalted butter, at room temperature
Place the chocolate in the top of a double boiler (I use a stainless steel bowl over a pot of very slowly simmering water).

Remove the top of double boiler (or bowl) form heat when the chocolate begins to melt, and stir until smooth and fully melted. You can return the bowl to the heat if it needs a bit more melting. Set aside to cool slightly.

While the chocolate is cooling, beat the butter at medium speed in the bowl of an electric mixer until it is light and fluffy. The beat in the chocolate at slow speed, until the butter and chocolate are fully combined.

Set the bowl of electric mixer over a bowl of cool water to slightly cool the butter cream, which makes it easier to spread and pipe, but beware, if it gets too cool, it becomes too hard to pipe.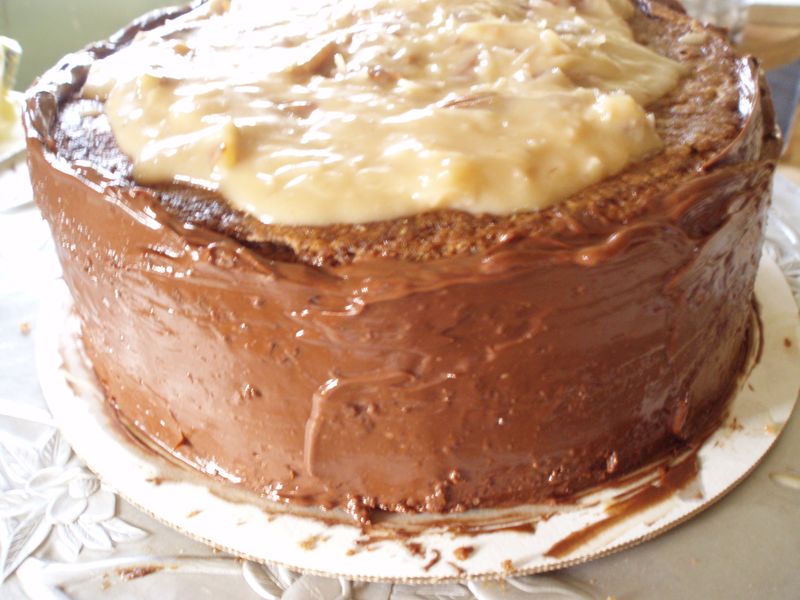 Cake after Crumb Coating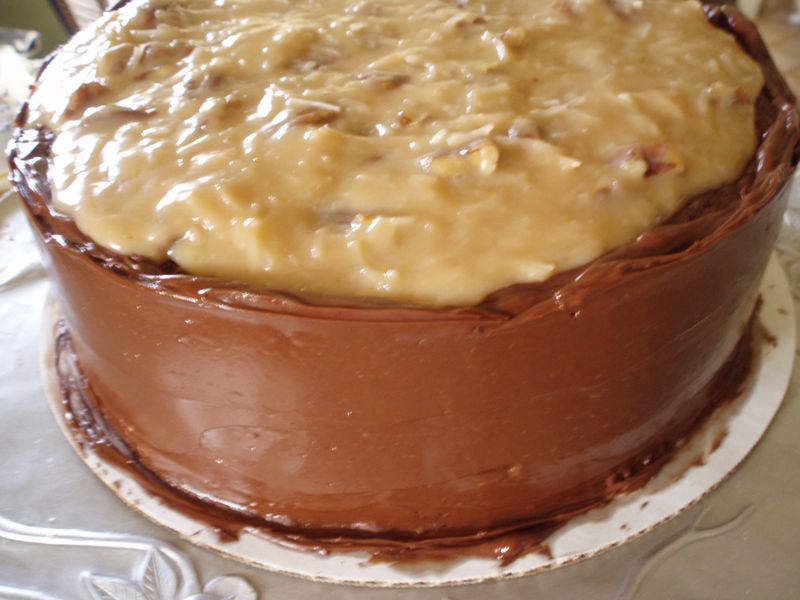 Cake with second coating of Buttercream
 P.S. Here's a pic of our Mardi Gras Flag which presided over the party.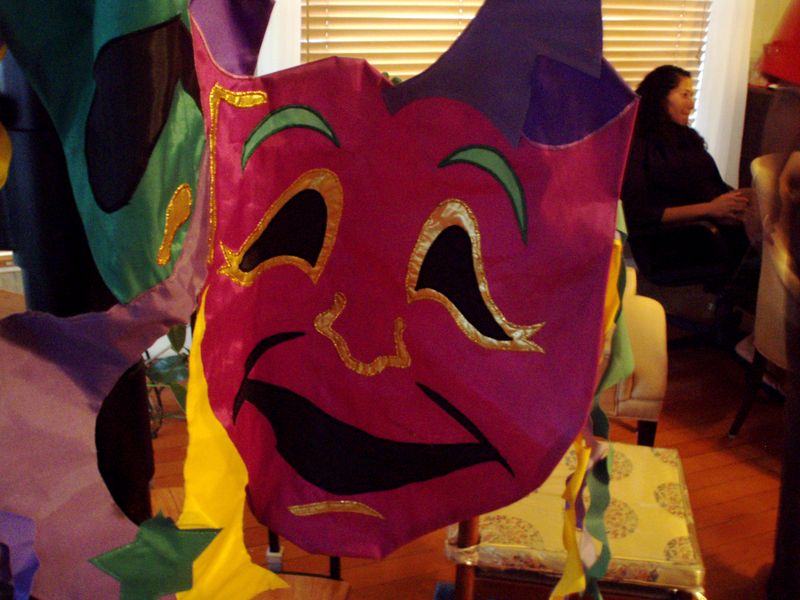 Save