An Autumn Tea Party Offers Great Value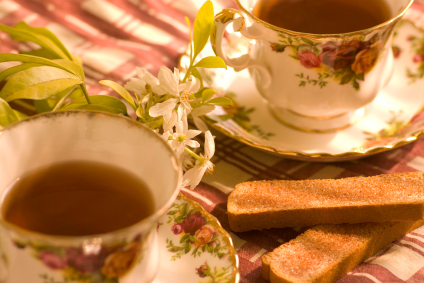 It's a gloomy, cool day here in Los Angeles, and even though I'm not a regular tea drinker, my thoughts often turn to a cup of tea on days like this. So I spent some time writing an article about tea parties. I often associate tea parties with spring time, and indeed, that is a lovely time for a tea party. But each season offers its own special appeal, and autumn is a lovely time to break out your fine china and linens, play some soothing chamber music in the background, and take advantage of the harvest for tea treats.
A tea party is a cost effective way to entertain, and because tea parties are so associated with refined elegance and charm, you, the hostess or host will come out smelling like a rose. They are also versatile and can be expanded into a brunch or luncheon by including a selection of fruit and cheese, salads, or a poached salmon for a more substantial meal.
For autumn tea treats I would go with mushrooms, pumpkins, apples, pears and figs, all available in abundance at the local farmer's markets now. I would also include cheeses, I like to pair smoked and blue cheeses with autumn produce for dainty little bites- a Fig or Pear and Gorgonzola Tea Sandwich on walnut bread, a Smoked Mozzarella and Wild Mushroom Tart, Mini Pumpkin Muffins with Chunky Apple Butter, Smoked Turkey on Rosemary Biscuits with Cranberry Chutney. BTW, an after Thanksgiving tea party is a perfect choice for an overworked hostess wanting to recharge her batteries and reconnect with close family and friends.
I have always loved catering tea parties, and I think I do a pretty good job at it, too. A long time client of mine who has thrown several tea parties over the years, wrote this lovely review for me after one of hers.
"Saw someone who attended our party today, and she said the food was better at our house than her Easter brunch at the Peninsula Hotel. Another unsolicited compliment (you're good.)!"
   -Best Regards,

    Nan