Rosé Fest 2012- Part 1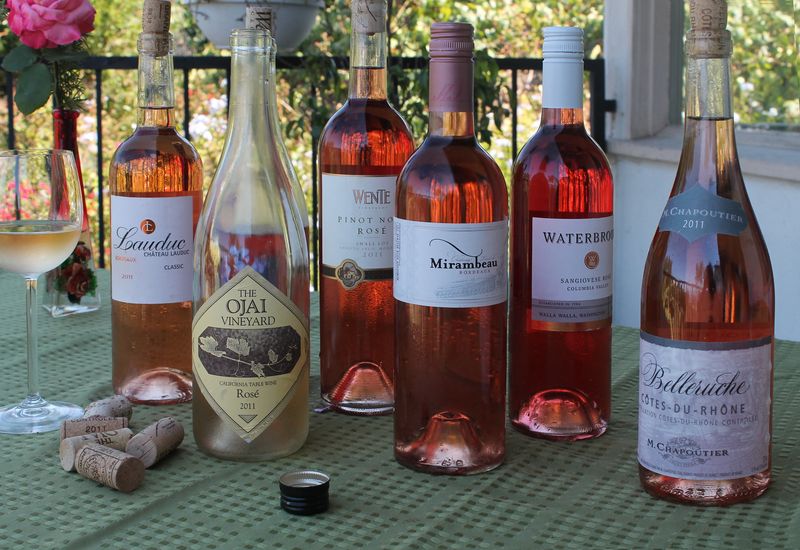 There are so many great things about summer to eagerly anticipate-heirloom tomatoes (I especially like the pineapple ones), peaches from Regier Farms, tender, young green beans, prune plums- but the thing I most look forward to is Rosé, that most food friendly of wines. From the delicate salmon hued ones, to the voluptuous magentas, I love them all.
I've loved Rosé wines almost since I first started drinking wines- and that (ahem!) was quite a while ago. About 12 years ago, I started fêting them, along with the lusty, sunny-climate foods they complement so well, with friends and colleagues, at a regular (but not quite annual) Rosé Fest.
The menu changes somewhat from year to year, but the basics are always represented.
A piece of grilled fish or lamb, a juicy tomato salad, some roasted new potatoes and veggies, all slathered with aioli, along with a glass of Rosè, transports me to the Mediterranean coast. Okay- so lucky for me, I live in So Cal, along the Pacific coast, and maybe it's not such a stretch, but I bet wherever you live, the above formula will transport you, too.
Here's a first peek at our Rosé Fest 2012, with a great big thanks to all the wineries who shared their product with us. Come back next time to check out the menu. Wine List on next page…