I had a great time today chatting with the lovely Kim Moss of Black Bag Productions in Washington D.C. We chatted about tips on hiring a caterer, and thinking outside of the box to create an economical and  personalized wedding celebration. Please give a listen. Just click on the link below. Wedding Wednesdays Ciao, Gisele...
read more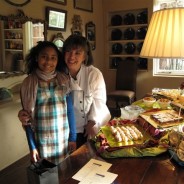 Okay, here are my further thoughts on the advantages of hiring a "boutique caterer" (I hope you've taken the time to read Part 1 on the advantages of hiring a boutique caterer)-oh, and btw, in case I didn't say it before, let me admit to you right up front that I'm biased. I strongly believe that unless you're having a party for say, a 1,000 or so of your closest friends (I have to insert a little aside here-a catering friend of mine, who does sometimes cater for a 1,000 or so, once told me that she thought it was pretty easy for a caterer used to doing parties for 100 to scale up to parties for a 1,000. Hmmmm, I wonder if that's easier than the other way around ?), there are definite benefits to hiring a smaller caterer, and getting more attention from your caterer (the owner of the company, not just someone in their office) is one of them, especially if you are having a smaller party. I once had a client who was planning a wedding for 40 guests, tell me that she called one of the big name caterers in town before she called me. "Frankly" she said "I felt like they weren't even that interested in talking with me." Often larger caterers will preoccupy themselves with the overall operational aspects of the business, but tend to delegate the management of individual events (again, especially smaller events), while the owner of a smaller company will most likely actually show up and work at your event. I make it a point to attend just about all of my events- in 14 years, I've missed only a handful. The larger "household name" catering companies may have several events at the same time, and since they can't be several places at once, yours may not rate them personally being there. And I know I talked about the staffing advantages with a small caterer last time, but here's another little secret. If a large catering company has several events at the same time, they may have to supplement their regulars with brand new staff, or even temp agency workers. Now it's very possible that the staff will be excellent, but you may very well lose the benefit that comes with people who have worked many parties together and understand each other's shorthand. Here I am below with a young party guest! Bon Appetit! And please visit my other blog, pain perdu. Gisele...
read more
I was chatting this morning with someone about the food business, in general, and the catering industry specifically, and when she asked more about my company, I used the term boutique caterer to describe Small Pleasures Catering. "You mean like a boutique hotel" she asked. Exactly! Wikipedia describes boutique hotel as a term used "to describe intimate, usually luxurious or quirky hotel environments. Boutique hotels differentiate themselves from larger chain/branded hotels and motels by providing personalized (and highly attentive, I might add) accommodation and services…" I went on to give her what I thought were a couple of the advantages to hiring a boutique caterer, and related this story to her. I once-in the early days of my company, lost a job (an office party for 250 guests), because the prospective client was concerned about my being able to handle that large a number. The office manager, who had recommended me for the job, had been a guest at an intimate wedding shower I had catered, and really fought for me. In the end, she said, they decided to go with a company that catered parties for 1,000's. Talk about overkill! A truly successful event depends largely on the quality of the team, and even though I was new to running a catering business, I knew this dirty little secret. Bigger companies often have less experienced staff people working their parties. Here are some of the reasons why. Catering staff are freelancers, they work with a variety of caterers around town. So, at best, you will get the same quality staff with a smaller caterer as with a larger one. More likely, you will get less experienced people. People starting out working in the catering world will often start with the big companies, but eventually get burned out, and move on to smaller companies. They will often get paid more at smaller companies (yes- another dirty little secret- even though the larger companies will charge at least as much and maybe more for their staff, they usually pay most of the staff less). Additionally, the servers, bartenders and chefs, prefer working in a more personalized environment. In my company for example, I have had a core group of party staff that has been with me for years. I know everybody's name (larger caterers often don't even know the names of people working their parties). In fact, I know them very well. I know their likes and dislikes, their strengths and weaknesses, and their "energy", if you will, so I can staff them accordingly. They also know each other very well, and we all have a sort of short hand when it comes to working together. And because they have been loyal to me, I like to believe they are happier working with me (and I work to keep them happy), and have more of a stake in the success of my company. Tune in next time to hear another advantage! And please visit my other blog www.smallpleasurescateringblog.com/painperdu  ...
read more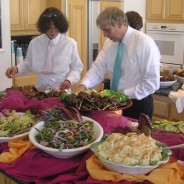 The caterer's job is to fulfill their clients' desires-giving my clients what they want.
read more
The  first and second weekends of December are prime time for holiday parties. Everybody in town will be busy. This includes not only your primary contractor, i.e. hotel, restaurant, caterer, but sub- contractors (ie.  rental companies, food purveyors, florists, servers, etc),as well.  Most servers, for example, are independent contractors, with many of them working with several different establishments. When they get booked for those hot dates, it lessens the available pool. You will have someone serving your function, but it's likely the most seasoned service staff will be booked early. And usually at some point, the top rental companies will close their reservations for the busiest dates. And here's an important point- a caterer or sales person will be able to give more of their time if you call a month or two early rather than in December.  So, if you are thinking about a holiday party and want to make sure you receive the attention you deserve, the key word is...
read more
Last night I was asked a question I've come to hate. It's the one question I am most asked when I tell people I am a caterer. It is- "what is your specialty"? Now granted, a questioner doesn't necessarily mean "what kind of food do you specialize in?" (they might mean do you specialize in private parties, corporate etc.), but often that is the intent of the question, and it is asked just that way.  And unfortunately, after 12 years of hearing the question I'm afraid I don't have much patience left for it. I've explained to people that I don't specialize in any one type of food, that I believe the caterer's job is to suit the client's taste, and hopefully to match my tastes to theirs. Sometimes it does, and sometimes it doesn't. Sometimes I have to prepare and serve items that I would never serve at a party of my own. I've even had a client once give me her family's recipes to work from for her mother's birthday party. And this leads me to the insight I had driving home last night. A catering company is not like a restaurant. Diners will often pick a restaurant specifically for the kind of food it serves, as in- "I feel like eating Italian tonight, or Mexican". But the starting point of a catered event is not the food, but the event, the special occasion. A high school graduation party where the guest of honor is an 18 football star, will require very different food than a bridal shower where the guest of honor will be a 28 year old woman. And who are your guests? Are they primarily clients and associates, or friends and family?  A holiday party where clients and associates are the invited guests will require very different food than a backyard 4th of July bash for family and friends. What is the client's intention for the event and in entertaining their guests? Is the event casual, or more formal? Is it to impress, or to kick back or get down? Even a wedding may be a hybrid sort of event where clients and associates are invited, in addition to family and friends. This may require juggling different styles of parties, and a more varied menu if your family expects a certain kind of food that may not necessarily be to the liking of some of your other guests. And yes, I will always consider my client's tastes, and their food likes and dislikes. Are you and your guests adventurous diners? Do you love spicy ethnic foods?  Or would you like to stay more "middle of the road" if there are many guests whose taste you don't know quite as well? So, what's my specialty? Well, I believe, it's to fulfill the needs of my clients and their guests, and to do it supremely well, of course. Until next time- Bon Appetit! Gisele  ...
read more
Several months back I met with a woman who was in the early planning stages of a small backyard wedding reception for her daughter. She told me that she had called a couple of the bigger "household name" caterers in town. Although one had given her an estimate over the phone, "frankly" she confided, "I just got the impression they didn't want to bother with me." Another prospective client planning a smaller party told me she asked a caterer she called if her chef would be coming to work the party. The caterer responded it would be one of several party chefs, and she could not tell her for sure which one it would be. I am proud to say that the woman's daughter had a small, but truly lovely wedding reception in June. "It was more than we ever expected", she told me the afterwards, which is one of the greatest compliments she could have given me. I was able to give her the attention she deserved in planning her special day. And as with all of my parties, while I had a great support crew, I attended and worked the party in the capacity of chef. If you're planning a special occasion, here are some question you may want to ask your caterer. Will they be attending the party, or sending a surrogate? If they are planning to send a surrogate, is it someone you have met during the planning stages? How well versed are they in the particular needs of your party- did they receive a page of notes sent out with the party, or have they actually had a meeting with the caterer to discuss the details?...
read more