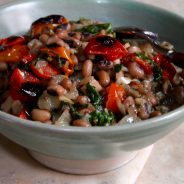 The discovery of Melissa's Produce pre-cooked black eyed peas led to a updated dish for the New Year's tradition, where the sum is better than the parts.
read more
An all grill menu, including Grilled Artichokes for a summer birthday gathering.
read more
A delicious Roasted Tomato Salsa from Melissa's 50 Best Plants on the Planet.
read more
I recently served Baby Bok Choy- not only very tasty, but a nutritional powerhouse, too, at the party of an adventurous client. It was the hit of the party!
read more
This luscious Lemon Caper Mayonaisse is the perfect sauce to accompany oven roasted asparagus- one of the planets most nutrient dense plants- on a special occasion.
read more
A Kale Caesar salad using a blend of baby kale and other greens, as well as ribbons of Tuscan kale.
read more
I had the opportunity to meet 3 very different farmers on a recent farm tour of Central California, and gain a new appreciation for those who grow the fruit I consume.
read more
Rosé Fest features a Cal-Med menu designed to transport you to the Mediterranean coast. This year we welcomed a new love- Roasted Cippoline with Basil.
read more