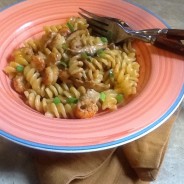 A bit of Dianne Reeves at New Orleans Jazz and Heritage Festival, and a recipe for my version of Crawfish Monica.
read more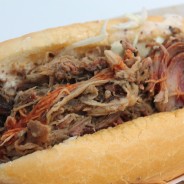 October brings an embarrassment of riches to get out and experience in New Orleans.
read more
A day at the Playboy Jazz Festival, enjoying Trombone Shorty, among others, and tasty treats, like this great Heirloom Cherry Tomato Salad.
read more
Whenever a group of New Orleanians is gathered, either in Los Angeles or the Crescent City, they rise to their feet and start waving their handkerchiefs, and often umbrellas, when the Second Line's funky beat wafts over them.
read more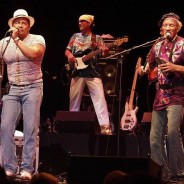 Looking over the last 5 years, there's no doubt that the two main engines fueling the restoration of New Orleans post-Katrina, are the food and the music. As I began to mull over what I would write, I knew I had to write about this concert.
read more
I walked in the door to be greeted by a small man in a baseball cap  and slightly rumpled shirt grinning toothlessly at me and family friend Lloyd Gonzalez. Lloyd introduced me to him. "Perez- I know some Perez's" he said. I would never have dreamed that this was Dooky Chase, owner and namesake of this well known restaurant.- a porter maybe, or a dishwasher. Hey, but that's how the Chase's are, so humble, approachable and accesible to everyone. "Emmanuel Perez" Dooky continued. I demurred, not connecting the name to myself. "Yeah- that's your uncle" LLoyd piped in. "Manuel". Oh Manuel, I thought. Now where in the world could you walk in a door, and have someone connect you to, and accept you as one of their own through your father's uncle who has been dead for over 60 years? Emmanuel- until my brother Eric recently sent me biographical material he had unearthed on Uncle Manuel, I had not even known his naem was Emmanuel. Uncle Manuel-Manuel Perez – the legendary New Orleans trumpet player, who I had once heard Louis Armstrong say he followed around as a child. Lloyd dropped another name or two as the conversation continued- Ann DuPlessis (Du PLessis is my mother's maiden name)- currently a New Orleans councilwoman, who I know nothing about. Just a name I'd come across in newspaper articles after Katrina, along with Llopeis, another of my ancestral names. All these " perhaps" relatives I've never met. Even Leah Chase is related to my mother somehow we figured out afer my last visit. As we left Dooky we were still discussing origins, and Dooky was still calling off family names and their connections to each other. That's New Orleans- who's your mama? Ciao,...
read more
Here's a look at a really hot ensemble I heard my second day at Jazz Fest, Ensemble Fatien featuring Seguenon Kone, Dr. Michael White and Jason Marsalis (hiding behind the saxophonist on the vibes), with Margie Perez (no relationship to yours truly) adding the vocals. Dr. Michael White is on the faculty of Xavier University in NOLA, and was the owner of a substantial collection of New Orleans history and jazz memorabilia, but lost it all in the flooding that followed Hurricane Katrina. There's nothing to say… ciao,...
read more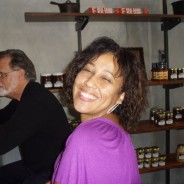 Back in L.A. after a long day of flying. Up at 5 A.M. with a 55 minute drive to the airport in Kenner. The plane from New Orleans was almost on time, but the connecting flight in Houston was delayed. Yikes- 2 hours in the airport in Houston and no free WiFi , unlike the enlightened New Orleans and Phoenix airports. In spite of being wiped, I had an early morning appointment today, and had to make a trip to Costco, but didn't want to end the day without at least sharing a few sights and sounds. Pics are of Deb Cotton and her mom, Carolee, and the Crab BLT and Fries at Luke's I wrote about in the last post. And the video is Randy Brecker and Friends on stage, and longtime friend, Monique and new friend, David off. More to...
read more
I am Gisele Perez, native daughter of New Orleans, Louisiana, who was transplanted to Los Angeles as a young child, along with a large number of residents of the 7th Ward of New Orleans. I began a blog in the wake of the flooding that besieged that city in the summer of 2005. It has been posting at another platform since then on my journey form LA to L.A> and points in between. As of today pain perdu is moving here to Typepad. I will be in New Orleans for the next 9 days, attending the Jazz and Heritage Festival. I'll be following some chefs, food vendors and great home cooks, as well as, of course, hearing some fabulous music, and reporting back some tasty tidbits here. Please check in, and please visit http://painperdu.blogstream.com to read up on the past 3 i2 years of my LA to L.A....
read more