My Mexican Adventure Part 5 – Puebla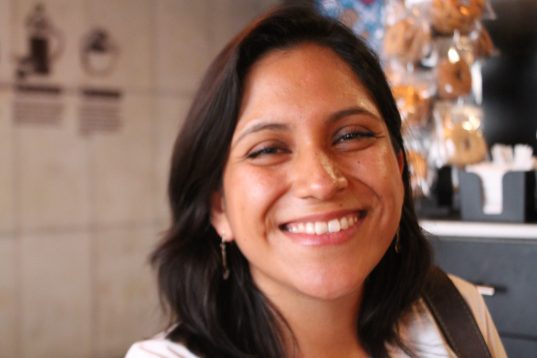 Maria
I ducked out of the class at Casa Carmelita a bit early on my last day there, to ride about an hour away to Puebla. I arrived at the zócalo to meet my guide, Maria, co-owner of Pueblo de Ensueño, for my Puebla Behind the Scenes: Food and Culture tour.
The first thing I took note of were the street musicians playing – the first, a Caribbean type steel band just finishing up – not a huge surprise as Puebla is about halfway between Mexico City and VeraCruz, the port on the Gulf of Mexico. The second band was a bit more of a (delightful) surprise  – Collectivo Klezmarino.
We started our afternoon-long trek through the city with a stop at a large bakery selling traditional Mexican bread and pastries, as well as some European pastries. Then it was time for a Pueblan style street taco (with rice) – and yes, it looked more like a semi-open burrito to me.
We covered a lot of ground in an afternoon. Some of the highlights:
A pottery factory making traditional ollas and cazuelas (I especially enjoyed this, as my family's long time contractor and friend, Victor, who hails from Puebla, told me that making cazuelas was his first job. And since it was only a few weeks before the celebration of Dia de Los Muertos, the factory was also cranking out urns placed on altars during the celebration.
And a stop at a small tortilla factory.
As we left the tortilla factory, we stopped across the street to pick up some freshly rendered manteca (lard) at a carneceria to take our next and last stop:
Celia's Cafe.
I was greeted with a big hug from the grandmotherly Maruca, owner of Celia's Cafe – named after Maruca's mother.  Maria told me that Maruca was formerly a physician – who has now found other ways of nurturing people – running the lovely colonial style cafe (where I was, unfortunately, a bit too early for the Friday night happy hour) and producing and thereby  helping to preserve the endangered art of traditional Pueblan pottery known as Tellera pottery. There Maruca gave me a private lesson in making Picaditas, which I can only describe as a cross between sopes and mini-pizzas. Tip – we ground a whole roasted tomato, along with a whole garlic clove and sprigs of cilantro in a molcajete, for a delicious salsa. The thick masa tortillas we made were crimped and then cooked quickly on a comal, in a healthy amount of that lard, topped with the salsa, more cilantro, chopped onion and crumbled cheese. We enjoyed them with a hearty Mexican style chicken vegetable soup, the sort of which I remember seeing in Mexican restaurants as a young person in Los Angeles, but almost never see now.
All in all, I'd say it was a very good way to end my Mexican adventure.