My Mexican Adventure – Part 1 – Arriving in Baja
I didn't set out to have a Mexican themed month, but I had been hearing about the Valle de Guadalupe – Baja's wine country – for several years. I'd hoped to add on a visit to a friend from Los Angeles who had retired to Baja several years back on one of my So Cal trips. It was she who suggested I check out the valley there.
Around the same time, I found myself suffering from Mexican food lack, and a general lack of cooking and getting into the kitchen to try new things. I'd say a lack of adventure was definitely in play, too. So last month, when an e-mail passed through my inbox advertising a sale on Mexican themed culinary vacations, my mind latched on to the idea.
So, at the beginning of the month, I added the Baja trip on to an L.A, visit, and within only a week of returning to New Orleans, I was on a plane again – this time to Mexico City. From there it was on to a hacienda in a little town outside of Tlaxcala, in the state of Puebla, where I would participate in a week of Pueblan home cooking classes.
It's amazing that I hadn't been to Baja in at least 30 years considering its proximity to Los Angeles. And I hadn't been anywhere in Mexico since my teen years when my father loaded the family into a car, and we drove through the country (now that's adventurous!).
My Baja friend, Anna, and her husband, generously offered me a place to stay for a couple of days – along with an offer of a day of touring Valle de Guadalupe, about a 40 to 50 mile drive from her home.
Anna's house is situated right along the coast – and the view from her bedroom and living room look out directly on to the ocean – almost as close as this spot where we dined one night, down the road from her house.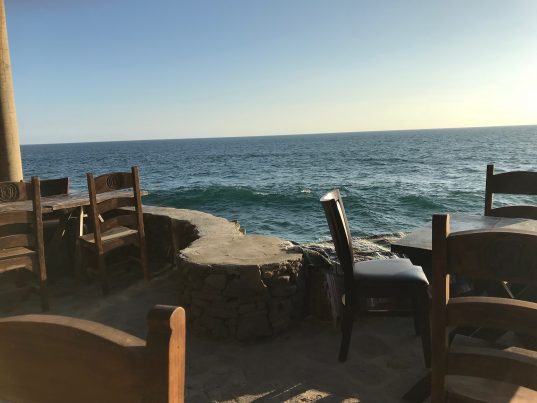 I'll continue writing about this trip for the next few blog posts, so please come back and travel with me through my Mexican adventure.
BTW, after a day of driving through the wine country, I felt a massage was in order. A tiny spa less than half a mile from Anna's home provided, Spacifico, the perfect spot with treatment rooms right alongside the ocean and the gently breaking waves offering all the peaceful sounds needed. Aaahhh….