How to Spend a Wintry Afternoon in Oakland
It was just a hunch, but the cool, gray weather had me thinking about sitting in a sauna on this side trip up from Los Angeles to Oakland. So a Google search for hot tubs/saunas in Oakland turned up Piedmont Springs. Pretty lucky, I'd say – $25 will rent you a private combo sauna and hot tub room for an hour (which, btw, goes by very quickly when you're blissed out). And it happens to be right smack on the middle of Piedmont Avenue – a street lined with little book and other artsy shops, coffee houses and very decent neighborhood restaurants – several of which I sampled on last summer's trip to Oakland.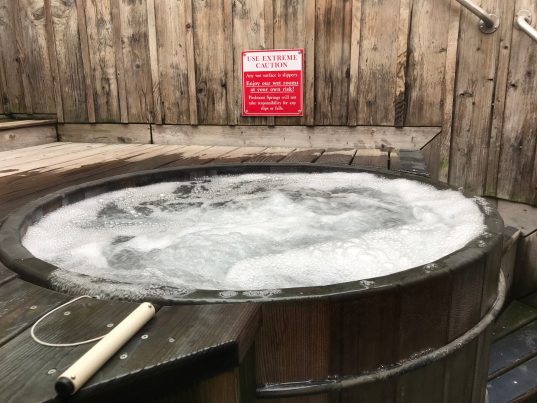 On one side of the street sits Bar César, where I shared tacos and excellent Margaritas on Sunday with Justin, who drove up from Stanford where he's in graduate school,  to have an early dinner with me.
Hmmm… but I on this day think  I'll stop at Ninna Thai and have their Lemongrass Salmon. With a glass of Sonoma County Chardonnay alongside, it's a perfect California lunch. The coconut sauce bathing the sauteed salmon is infused with kaffir lime leaf, holy basil, lemongrass, shallots and cilantro, and sits on a bed of sauteed vegetables which include peppers, onions, cabbage, zucchini and broccoli.
And then, right next door to Ninna, there happens to be a branch of La Farine, one of the East Bay's most long time and best bakeries. La Farine was the first place I discovered the beloved Morning Bun (I still think theirs is the best of all I've tasted), and they still sell more of those than any other item. But the other items are great looking, too. So, I picked up slice of their Le Sicilien cake – a moist chocolate cake, soaked with Frangelico, filled with creamy pistachio mousse and chocolate ganache and finished with white chocolate buttercream to go – an exercise in decadence and perfect balance, at the same time.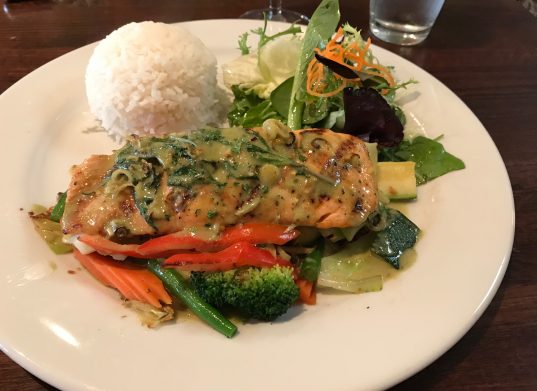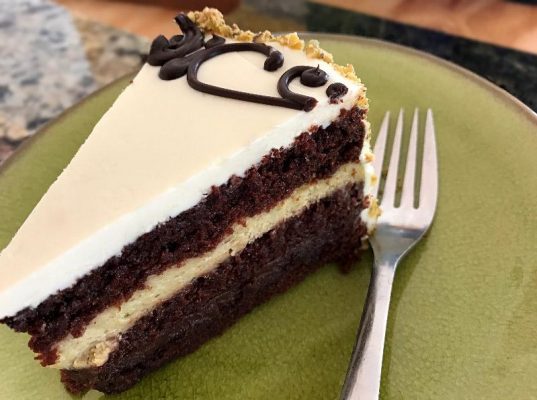 Ahh- life is good. Now it's time for a little nap…
Piedmont Springs. 3939 Piedmont Ave. Oakland, CA 94611
Ninna Restaurant. 4066 Piedmont Ave, Oakland, CA 94611
La Farine . 4094 Piedmont Ave.Oakland, CA 94611