Crab and Sausage Stew aka Gumbo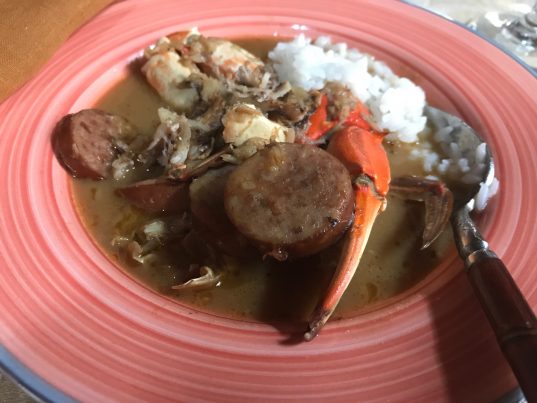 This what the weather was like in New Orleans last week, the first week of December. On Tuesday, it was 85 degrees. By Wednesday morning it was only slightly cooler, but by Wednesday afternoon it was 45 degrees, and on Thursday morning, it was 35 degrees. Brrr…
So that, my friends, meant it was time for gumbo. I knew I had some gumbo crabs (the small blue crabs from the Gulf) in the freezer, and a little deeper dig revealed some smoked sausage, too. I also had a can of picked crab meat in the fridge, and then recalled that I had seen a recipe for something John Besh called Crab and Sausage Stew in his Besh Big Easy: 101 Home Cooked New Orleans Recipes (John Besh)
– which, btw, makes for a nice little stocking stuffer gift. While Besh calls it Crab and Sausage Stew, it really is yet another variation of gumbo (yes, starting with a roux) – albeit one with a bit more crab meat than one might usually find.
It's quick to put together, takes less than an hour of simmering to be ready to eat – although, as always, tastes better the second day – and is perfect for a chilly day.
This week, I'm on to sunny and temperate So Cal, where I'll be heavily indulging in all those cuisines ( i.e. Chinese, Indian and Mexican) we don't see too much of in New Orleans.
Enjoy!
Crab and Sausage Stew
1/2 cup canola oil
1/2 cup flour
1 medium onion, chopped
6 blue crabs, opened and cut into 4 pieces each
1 pound smoked sausage, sliced
1 stalk celery, chopped
2 cloves, garlic, minced
6 cups Shrimp Stock
2 bay leaves
1 pound crab meat
Dash of Tabasco
2 green onions, sliced to garnish
Salt, black pepper and hot sauce to taste
To make the roux, heat the oil in a large heavy pot. Then whisk the flour into the oil. Be careful as it will sizzle, and you don't want the oil to spit up on you. Reduce the heat to medium, until the roux is a medium brown, about 10 minutes – 15.
Add the onions and celery to the roux, and continue stirring with a wooden spoon until t hey are soft. The roux will continue to darken somewhat.
Add the crabs and sausage, stirring for about 2-3 minute, then add the garlic.
Add the shrimp stock and bay leaves, then bring to a boil, stirring occasionally. Reduce the heat and simmer for 45 minutes, skimming any foam or fat that rises.
Remove the bay leaves, then gently fold in the crab meat.
Add the salt, pepper and hot sauce to taste.
Serve over steamed white rice and garnish with thinly sliced green onions.
Yield: @ 5-6 servings