Visiting Natchez, Mississippi
In August, at the busiest part of hurricane season, I consulted with my friend, Monique – who knows the roads and highways of the Gulf Coast extremely well, and who always has an evacuation plan in place – about what I might do if a hurricane threatened New Orleans. After looking at the map, we decided Natchez, Mississippi, an easy 2 1/2 hour drive from New Orleans, was an excellent candidate for my evacuation spot.
Because I live on the Westbank of New Orleans, I could take an alternate back highway out of the city and avoid the Interstate where everyone else would be. Natchez lies north of Baton Rouge, situated on the highest bluff above the Mississippi River, and was a town I wanted to see anyway.
The town first caught my attention way back in the 90's, when a women I met in Beverly Hills told me she owned an antebellum mansion there which she operated as a bed and breakfast inn. It turns out Natchez, the oldest incorporated settlement along the river, has the largest number of such mansions in the nation, many of them still occupied privately, although some are now B and B's, and others have been preserved for public tours.
Fortunately, none of the three hurricanes threatening to hit New Orleans actually came our way, but I wanted to visit Natchez soon anyway. An opportunity came up last week, when I drove to Dallas for a conference. A slightly alternate route easily put Natchez on the route.
I booked a very reasonably priced and comfortable room at the Casino Bluffs Hotel (yes – there are casinos all through Mississippi and Louisiana), and the staff was kind enough to move me to a river view room when I requested it. A delight, since I enjoyed perfectly clear autumn weather while I was there.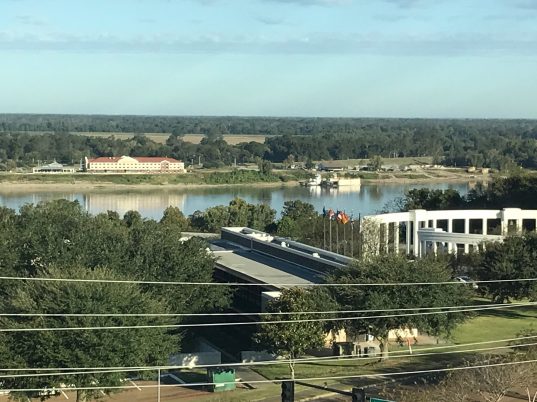 The town has its own Museum of African American History, which digs deeper into local history, as opposed to the new, much large African American Museum in Washington DC, which remains more general since it deals with the entire nation. The loquacious director of the museum personally guided me and another woman through a full tour and history of the town and region. There I learned that one third of the original settlement was African and that King Cotton reigned on local plantations, as opposed to Queen Sugar, which dominated Louisiana plantations. And also, that many of the owners of those mansions were the Southern homes of Northeners who had business interests with the surrounding plantations.
The town provides lovely walks – nature trails and a riverside hike (and the larger Natchez Trace Park with several trails if you're up for more), tours of those lovely homes (I toured Rosalie Mansion), a couple of charming coffee shops – there was even an historic Jewish temple, B'nai Israel, congregation founded in 1840, original temple built in 1871 and rebuilt in 1904 after a fire. Although I have known for a long time that there were Jews scattered throughout small towns in the Deep South, it was a pleasant surprise for me to come across a spot like B'nai Israel – given the history of the KKK, et al. And for those inclined towards such things, my hotel reservation even came with a credit to play at the local casino.
There's a fairly good selection of restaurants, mostly serving traditional Gulf Coast cuisine. One spot of interest to me – a little counter cafe along Main Street which offered the famed Mississippi tamale, most likely a legacy of Mexican migrant workers working alongside and sharing their lunch with native African American cotton pickers in the early 20th century. The Mississippi tamale – smaller, spicier, made with traditional Southern cornmeal rather than Mexican masa and served with saltine crackers, have stuck around and now become a Mississippi culinary tradition.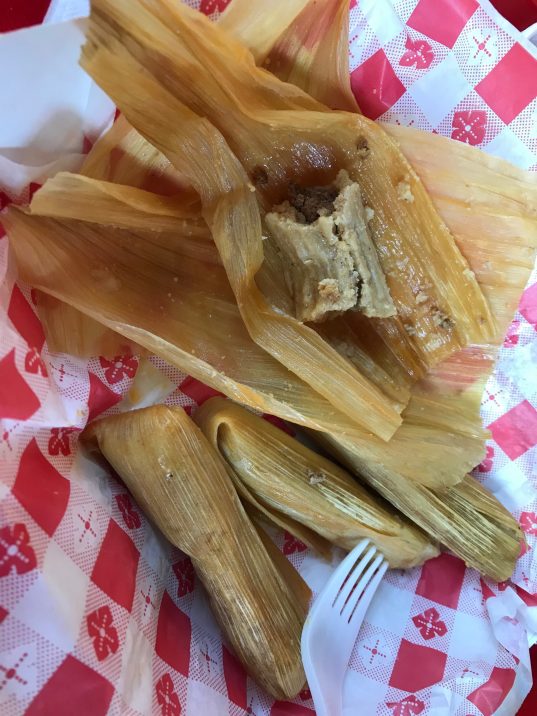 Oh, and on my way out of town, I did stop by the casino and use my credit in a slot machine. As you can surmise – the house usually comes out ahead.
Save
Save
Save
Save
Save
Save
Save
Save
Save
Save
Save
Save
Save
Save
Save