Black Eyed Peas with Mustard Greens
A few weeks ago I was lucky enough to attend the Produce Marketing Association's Expo here in New Orleans' Convention Center.
Not only was it an expansive feast for the eyes with gorgeous produce displays from around the world, it was also an opportunity to catch up with a couple of So Cal associates – among them Robert Schueller from Melissa's Produce.
Melissa's had the  expo's most beautiful (IMO) displays of fruit and veggies – including these eye popping striped peppers and eggplants: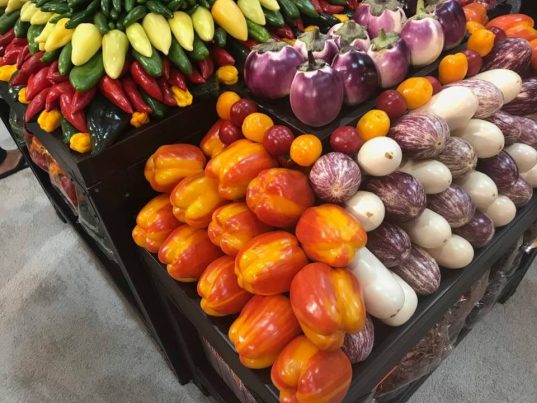 And because it was a bit before Halloween, the "Freaky Fruits" :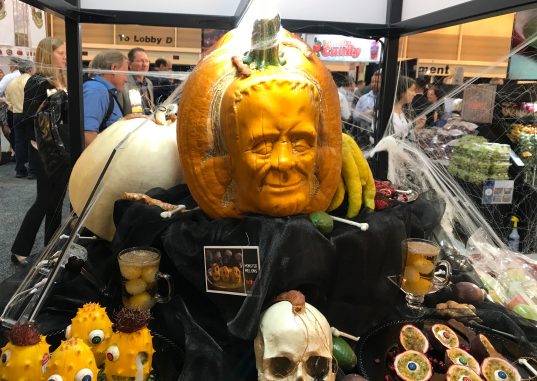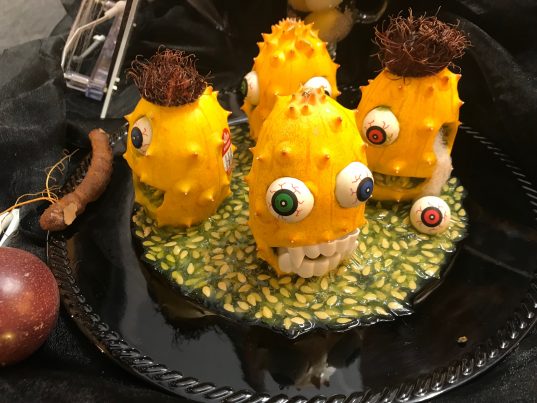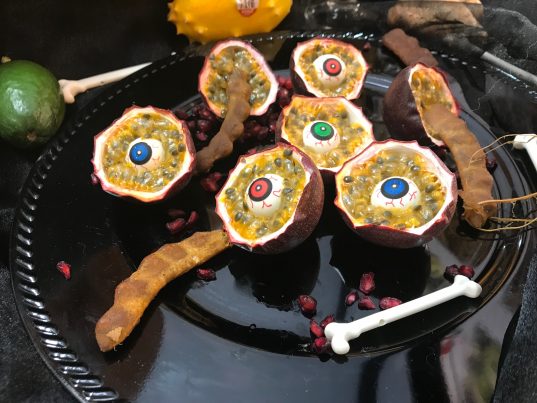 Robert also took the opportunity to update a few of us on the hottest trends in produce of the past year. One of the top 3 trends was specialty convenience items.
Melissa's has been a pioneer in bringing to market pre-cooked and cryovaced items – using a technology not even available in the U.S. yet, but rather they are imported from France, where they've been popular for a while.
I was already familiar with the steamed lentils (of which I am a big fan), baby beets and mixed beans, which were available at Trader Joe's, in my L.A. days. But here in New Orleans, I discovered their steamed black eyed peas.
Last holiday season I bought a pack, solely out of a sense of obligation to the tradition of serving black eyed peas and greens (for luck and prosperity) at the New Year. While I've always been a fan of greens, I've never really cared for the black eyed peas part of the tradition.
But a side dish I spied on a menu at a local restaurant inspired me to combine the two into one dish – and what do you know? I found the the black eyed peas and greens dish that I now serve and enjoy with relish – even during the rest of the year.
This recipe is definitely one where the sum is better than the parts.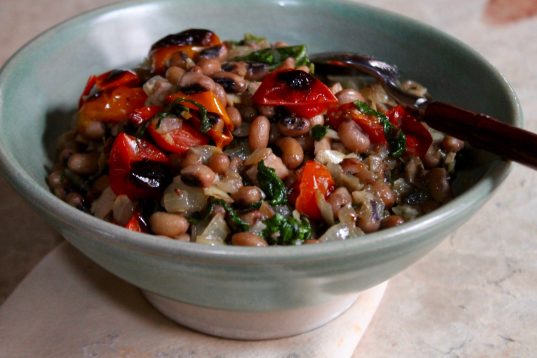 Black Eyed Peas with Mustard Greens
I served honey roasted turkey at my New Year's brunch, so it was easy to crib a few slices for this dish, but a bit of ham can be substituted. And I used part bacon fat to add a smoky hit of flavor to the dish. I particularly like the interplay of the salty smokiness and honey.
BTW, the black eyed peas are available at Trader Joe's year round in southern states, but only during the months of November and December in California.
1 medium onion, medium dice
2 large garlic cloves, minced
1 chile de arbol, sliced thinly
@ 2  tablespoons vegetable oil
@ 2 tablespoons bacon fat
3-4 ounces honey roasted turkey, cut into 1/4 inch cubes
1  – 11 ounce package Melissa's Steamed Black Peas
1/2 bunch mustard greens, washed and cut into ribbons
@ 12 -14 large cherry tomatoes or mini-heirloom tomatoes, cut in half
Sea salt and freshly ground black pepper, to taste
Sauté half the onions in a large pan over low to medium heat until they begin to turn slightly brown, about 8-10 minutes, then add the rest of the onions, cooking for another 4-5 minutes*. Add the garlic, chile de arbol and the diced turkey, cooking for another 2-3 minutes .
Add the black eyed peas to the pan, stirring and incorporating well. Stir in the mustard greens, season with the salt and pepper, and cook until the greens are wilted. Add more salt and pepper, if needed.
Place the cherry tomato halves on a baking sheet, and place them under a broiler, until slightly charred. Gently stir the charred tomatoes into the peas and beans. The flavors, as is usually the case, will marry and improve overnight. If you choose to do this, the cherry tomatoes can be charred and stirred in the next day, shortly before serving.
*This technique of adding onions at two different stages of cooking was one regularly employed by Paul Prudhomme to add varying depths of flavor to a dish.
Yield: About 4 side servings
Save
Save
Save
Save
Save
Save
Save
Save
Save
Save
Save
Save
Save
Save
Save
Save