A Visit to Washington DC – and the New African American Museum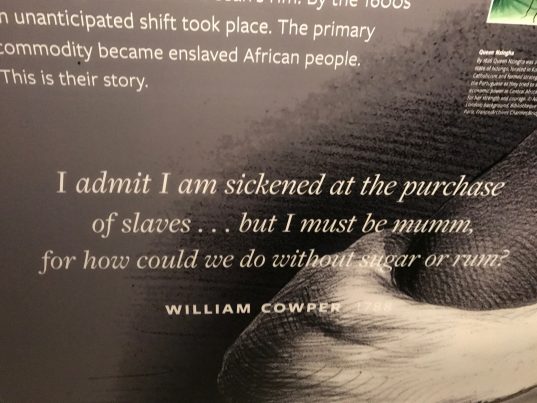 June has brought a month of travel and a chance to escape at least some of New Orleans' heat and humidity.
The month began with a trip to Washington DC, where my friend, Susan, joined me from California. Susan complained, btw, of the humidity – I just laughed, as I laughed later in the month when I hit Oakland and everyone was complaining about their heat wave.
Before this year, it had been over 35 years since I had last visited our nation's capitol – now I have been twice in a five month period. It's a fairly short (and inexpensive) plane ride from New Orleans, and as I've rediscovered, a lovely city to visit. It's full of museums along the National Mall, not to mention the big monuments (Washington, Lincoln, Jefferson, Martin Luther King, Vietnam War Veterans), and as I discovered, it's a very ethnically diverse city, too. It makes me happy, in these times, that I encountered immigrants from all over the world there. That diversity also happens to be a big boon for food lovers – restaurants offered an abundance of Vietnamese, Ethiopian, Lebanese, Thai, Greek, along with the more traditional French, Italian, Chinese, and local Chesapeake Bay seafood cuisine, etc., eateries. Dining out, for me, included an early dinner/happy hour of tapas at renown Spanish chef's José Andrés Jaleo, along with a lunch at Lebanese Taverna where I enjoyed a Lamb and Artichoke Stew.
A visit across the Potomac from our hotel in the Crystal City section of Arlington, Virginia*, to the new National Museum of African American History and Culture was high on our agenda.
The thing most notable to me about the new African African Museum is its positioning on the National Mall – making quite a statement with its placement diagonally across from the monument to the "Father of Our Country," and the first in an almost century long series of slave owning Presidents. It stood out to me in this era when we are still fighting over whether we should remove Confederate monuments displayed in cities across the southern United States of America.
The building housing the Museum is striking, too, although I was a little disappointed with the exhibits – the historical ones, at least – we did not venture into the three floors of cultural exhibits, as even the exhibits we saw entailed about two miles and several hours of walking down spiralling ramps into the belly of the building. Visitors are informed that once you begin, there is no turning back up the ramps. There was not a lot new to learn for those already familiar with African American history and the Civil Rights movement. Susan expressed disappointment that there wasn't much regarding African descended people in the West – a topic of great interest and research on her part. Most of the exhibit focused on the Eastern seaboard and Gulf Coast South.
I had particularly wanted to visit the Emmett Till exhibit, including his casket, but the lines to see that exhibit were exceptionally long – no doubt it was a very powerful sight. And yes, the Museum is still a huge draw, attracting crowds.  And although they are free, it takes work to nab a far in advance ticket.
So, who knows, perhaps another trip to the Museum is in my future.
*Arlington, btw, proved to be very pleasant with lots of outdoor parks and squares, also offering an abundance of Zip car and daily bicycle share rental spots.
** This photo by Fuzheado (Own work) is shared thorugh [CC BY-SA 4.0 (http://creativecommons.org/licenses/by-sa/4.0)], via Wikimedia Commons