Remembering Deb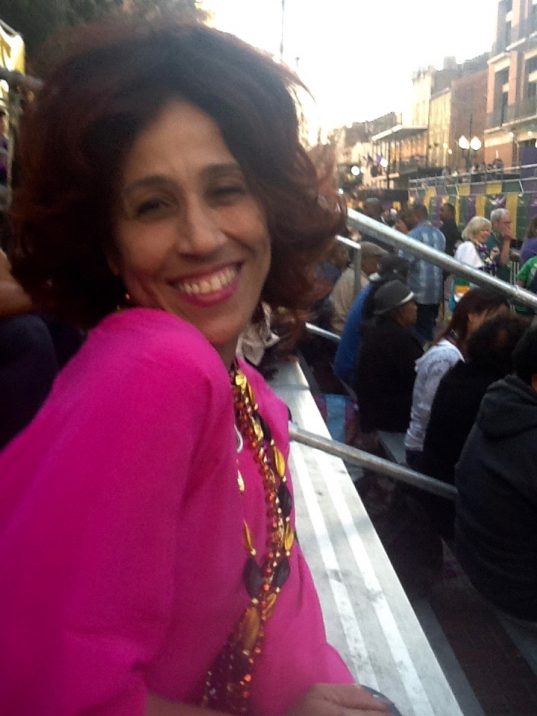 "It is my belief that you don't choose New Orleans — New Orleans chooses you. Those who have fallen for her, live with her, are sprung, lost and turned out in love with her, know exactly what I mean. Ain't no amount of wind, water, gunfire, potholes, 'ignant' politics or doomsday predictions can pry your death grip from her. Come hell or high water, you stay — or return."  – Deborah Cotton
I met someone a few weeks ago, who had, like me, moved to New Orleans from Los Angeles not long ago. We were discussing how the transition here to the Crescent City had been for us. I confessed that my experience had been not as happy as hers. She said, yeah, people know after 6 months here, whether they love it, or hate it.
Deborah Cotton was one of those people who knew right away that she loved New Orleans – with a passion.
I first became acquainted with Deborah in those early weeks following "the storm". In those days, people were passing all sorts of articles and news items along to me. Among them was an essay that stood out, entitled "Optimism on the Pontchartrain". I was so moved by the piece that I determined that I had to meet, in person, the woman who had written it.
A few months later, I had that chance, when I visited New Orleans, in January of 2006. Deborah had moved to New Orleans in June of 2005, scholarship funds and a spot in cooking school secured, with the intention of moving into a culinary career. Then, in August, Katrina came. The cooking school was wiped out. Her friends back in California (it turned out she had spent a lot of her growing up years in Los Angeles, too), assumed that she would not stay in the city, but she liked to refer to herself as one of the "New Orleans chosen".
Deb was among the last to leave the city, not realizing the seriousness of the situation (she told a great story about convincing a NOLA taxi driver to take her to Houston), and was also among the earliest returnees. She began blogging about what was happening in those early chaotic days in the city, stumbling into becoming an important voice for displaced New Orleanians. People she said she felt a responsibility towards, as was to become clear to me, was her way.
I had come to the city to volunteer with Common Ground in the Ninth Ward, and to join in the first post- Katrina Mardi Gras. She asked if she could interview me for one of the online sites where she was blogging. While we were chatting, I learned that she was moonlighting at Susan Spicer's Bayona (one of the few fine dining restaurants to return to early full service). I mentioned to her that my brother, Eric, and I were thinking about going there for dinner, and that I would love to meet Susan. Deb took it upon herself to secure a reservation for us (not an easy feat in those days with very spotty phone service), and made sure that Susan came by to chat with us while we were dining. We stayed in touch – she came by to visit me a couple of times when she traveled back to L.A., and I would visit with her when I came here.  She was the one who took me to Cochon Butcher for the first time, and who  introduced me to my first John Besh restaurant on Jazz Fest visits to the city.
When I moved here almost 3 years ago, she was one of the first people I contacted. She put me in touch with others she thought I should know, and early on, took me to lunch at Domenica, where she made sure I was introduced to the chef there, the up and coming Alon Shaya, who was just about to burst on to the national scene
Deborah eventually fell into chronicling the second line culture of New Orleans, which she absolutely loved.  She was out almost every Sunday, video-taping and reporting from second line parade routes. Then, sadly, 4 years ago, she paid a price for her passion when she was shot at the Mother's Day second line parade in the 7th Ward.
After that, her friends in L.A. again assumed that she would leave New Orleans, but in spite of her life threatening injuries, she insisted this was her home, and where would she go, anyway?
Over the past 4 years, Deborah had more surgeries than I can count or remember – she lost a tremendous amount of weight, parts of vital organs, and the last time I ran into her at an event, she was sporting a wig because she had lost so much of her hair. When I was leaving, I looked around for her to say goodbye, only to learn that she had snuck out early because she was feeling so poorly.
Deborah found another passion after that fateful day. Even though it became clear to me, early on,  that Deb would never be the same after the shooting, she seemed indomitable in her pursuit of her newfound cause – giving a voice to the perpetrators of the crime, and their ilk. She visited her shooter in prison to forgive him – something I'm sure many of us wonder if we could find within us to do. She spoke out at City Council and NOLA for Life (a pet program for at-risk youth) meetings, in defense of young black men with extremely limited futures and hope, here in this city. She called city leaders to account for their lack of action, their lip service only, and their failures to this segment of their constituency.
Sadly today, Deborah sucuumbed to those injuries she incurred 4 years ago. It is a solemn day here in New Orleans.  She will be sorely missed.
Rest in peace, brilliant sister.
Save
Save
Save
Save
Save
Save
Save
Save
Save
Save
Save
Save
Save
Save
Save
Save
Save
Save
Save
Save
Save