Warm Lentil Salad with Butternut Squash and Brown Butter Vinaigrette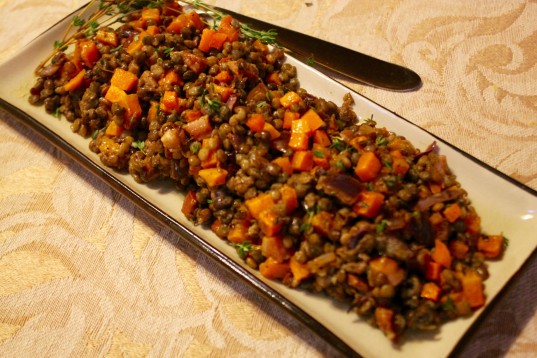 As I shared a few weeks back, I took on an elimination eating plan a few months ago. One of the things I found most difficult about the diet was the elimination of olives, which also meant olive oil. Yikes! – a mainstay of my California style cooking, not to mention my almost every day go-to salad dressing oil.
Coming up with interesting sauces and dressings for salads was a real challenge and required thinking outside my box. Fortunately, canola  and grapeseed oils were acceptable, if not too exciting. I experimented with various  premium nut oils, like hazelnut and walnut – okay, mostly to be consumed in small quantities, and also not an option I particularly loved. And a tahini dressing was on the table occasionally. One of the most surprisingly pleasant dressings I experimented with, though, was a brown butter vinaigrette (fortunately, dairy was only mildly restricted). It may not be the most suitable for light lettuce salads, but I found it quite a yummy option for other kinds of salads.
I came up with this legume and vegetable salad for a neighborhood Christmas potluck, and found myself devouring the leftovers in the days afterwards. Besides lentils, a main ingredient in the salad is roasted butternut squash, an item I fell in love with while on this eating plan – and okay, it didn't hurt that the salad is studded with crispy cubes of pancetta, either. But one has to splurge a bit on luxurious ingredients when there are so many to avoid. Thankfully, one of New Orleans' most long time and famed Italian groceries, Central Grocery, has wonderfully meaty pancetta.
A bonus tip- lentils are the Italian equivalent of  Southerners' black-eyed peas, eaten at the New Year for luck and prosperity. So enjoy this lucky out of the box salad soon!
Warm Lentil Salad with Butternut Squash and Brown Butter Vinaigrette
If you really feel a salad needs greens, a few arugula leaves tossed into this salad works great, too.
Ingredients
@ 2 tablespoons vegetable oil
3 ounces meaty pancetta, medium dice
1 medium to large butternut squash, medium dice
1 pound cooked lentils,
1/2 large red onion, medium dice
1/2 tablespoon fresh thyme leaves
1/2 tablespoon fresh sage, chopped
2 tablespoons white wine vinegar
1/2 scant teaspoon Dijon mustard
4 tablespoons butter
Sea salt and freshly ground black pepper, to taste
Instructions
Toss the butternut squash cubes in about 1 1/2 tablespoons of the oil and roast in the oven at 375 degrees, until tender about 10 minutes.
Heat the remaining oil in a medium saute pan, then add the pancetta. Cook over medium heat until it's lightly browned and crisp. Remove from the pan leaving the fat.
Add a tablespoon of butter to the pan and add the red onions, cooking slowly until slightly caramelized. Then remove the pan from the heat.
Add the butter to a small sauce pan and cook until it begins to bubble and turn a medium nutty brown. Watch it carefully, as it can burn in a few seconds after it gets to its perfect nutty brown state.
Add the vinegar and mustard to a large mixing bowl, then slowly whisk in the browned butter.
Toss the lentils, butternut squash, red onions, thyme and sage in the brown butter vinaigrette. Gently stir in or top with the pancetta. Serve while still warm.
http://www.painperdublog.com/2017/01/lentil-butternut-vinaigrette.html
Save
Save
Save
Save
Save
Save
Save
Save
Save
Save
Save
Save
Save
Save
Save
Save
Save
Save
Save
Save