Breakfast Pasta with Eggs, Bacon and Sautéed Onions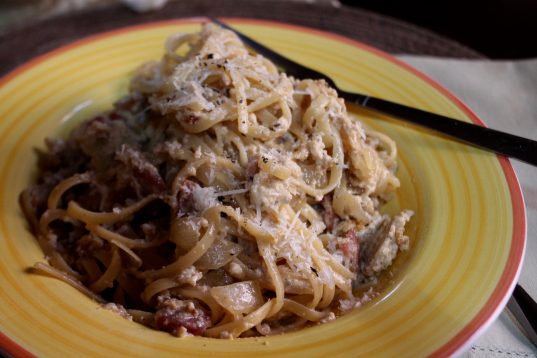 I needed comfort food this weekend – you know, starchy, fatty, salty, chocked full of umami cheesy goodness comfort food.
Eight years ago on this weekend, I planned an inaugural party for friends where we feasted on appetizers from Hawaii – Char Siu Baby Back Ribs, and Indonesia – Satays with Peanut Sauce. Then we moved on to Beef Rendang, the classic Indonesian stew with coconut milk, and Nasi Goreng, Indonesian fried rice, all to honor our new President's childhood. I served Palaver Sauce, a dish of African stewed greens to honor his ancestry, and then Chiles Relleños, as he reportedly loved Rick Bayliss's Mexican food in his adopted home city of Chicago. We finished with fudgy chocolate Brownies, that quintessentially American dessert, as all of us gathered were, and as was our President, quintessentially American.
Continuous loop recordings of Senator and candidate Barack Obama's speeches played on a couple of laptops displayed around the room. We had all  delighted in watching the throngs at the Concert for America earlier – the celebration where generations and races came together, where Pete Seeger met Bruce Springsteen met Beyoncé met James Taylor met Herbie Hancock met Bon Jovi met Garth Brooks met U2 met Stevie Wonder and so on.
"America is in love with herself again" proclaimed one of the party guests.
This year, America is anxious, apprehensive, waiting to see what happens now, and considering how we will respond. The throngs are coming together not in celebration but in resistance at a time, where once more in our history, we relearn how patriotic dissent is. And we realize it is our responsibility to pick up that mantle.
So I needed fortification this weekend to get through these days, and to prepare myself for the march, for the fight. So yes, I pulled out an old favorite this weekend – breakfast pasta studded with bacon, eggs and sautéed onions – starchy, fatty, salty and chocked full of umami cheesy goodness comfort.
We are America and we are here to stay. Do not despair. Do not give up.
Breakfast Pasta with Eggs, Bacon and Sautéed Onions
Pasta with scrambled eggs and bacon was a dish popularized at The Hollywood Hills Coffee Shop in the 1990's. I took it home and tweaked it to my taste, and think I've created a better dish 😉 As with any dish utilizing only a few simple ingredients, it's important to use the best quality ingredients possible.
Ingredients
2 tablespoons butter
2 ounces best quality bacon, large dice
1 1/2 ounces onion, large dice
2 eggs, mixed with salt and pepper
2-3 tablespoons half and half
2 ounces best quality Parmesan cheese, grated
1/4 pound linguine
Salt and freshly ground pepper
Instructions
While the pasta is cooking, melt @ 1/2 tablespoon of the butter over medium heat in a large sauté pan, then add the bacon, cooking until it just becomes crispy. Remove the bacon from the pan with a slotted spoon. Add a bit more butter, if needed, then add the onions, sautéeing them until they soften. Remove the onions from the pan.
When the pasta is cooked to al dente, drain it, then add to it the saucepan with a bit more of the butter. Add 1 tablespoon of the half and half and the eggs, stirring and scrambling lightly. Add the bacon, onions and cheese along with more half and half as necessary to keep the eggs loose.
Serve the eggs immediately topped with more of the Parmesan and freshly ground black pepper.
http://www.painperdublog.com/2017/01/breakfast-sauteed-onions.html
Save
Save
Save
Save
Save
Save
Save
Save
Save
Save