Remembering Dooky Chase, Carmen Morial and a Recipe for Devilled Crabs
New Orleans lost two elders of its community of Creoles of color this year.
In November, just before Thanksgiving,  Edgar "Dooky" Chase was laid to rest. Mr. Chase was the patriarch of a large close-knit family, the scion of  famed restaurant, Dooky Chase's,  and wife of  renown Creole chef, Leah Chase.
Dooky was born into the restaurant business – his parents owned and operated a neighborhood sandwich shop. His true passion, though, was for music, New Orleans' other great cultural institution, and he put together and fronted his own band, The Dooky Chase Orchestra, while he was still a teenager.  He met Ms. Leah at a dance when he was just 17 years old, and married her a year later. Ms. Leah was a few years older, and it was a bit of a scandal in those days.  "Everyone said she robbed the cradle" my mother told me. Not that it hurt them – they remained happily married for 70 years.
He eventually left the musician's life, as they began to raise a family.  It was said at his funeral that he didn't really care for the restaurant business. You couldn't tell by his presence there. He was at the bar most days warmly greeting every guest that came through the door. The first time I walked in, as an adult returning to New Orleans, he immediately asked who my people were, a kind of New Orleans cultural norm. Perez, he said, I know some Perezes, and then mentioned my father's uncle, Manuel Perez, a seminal New Orleans musician who had died before I was born. I was able to talk with him about my father's Uncle Manuel, and the influence he'd had on a young Dooky Chase.
Mr. Chase maintained close times to the musical world, becoming a entertainment promoter for a while, and Dooky Chase's – greatly upgrade beyond the original sandwich shop by Ms. Leah – became a haven for musicians (as well as notable figures in other fields) of color passing through New Orleans on tour, who were denied entry to other fine restaurants – a fact memorialized in the film "Ray" – partly filmed at Dooky Chase's. Ray Charles was a regular visitor, along with other historical greats like  Count Basie, Duke Ellington, Thurgood Marshall, Martin Luther King, Jr. and many more, including in recent years, Barack Obama.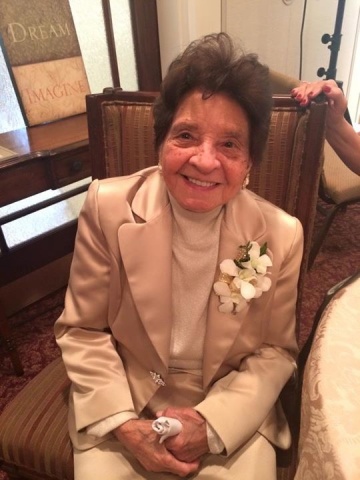 Earlier this year, on the eleventh anniversary of Hurricane Katrina, I attended the funeral of Carmen Morial, who passed into eternity after living 101 very full years on this earth.
Mrs. Morial was an iconic figure in our Creole community, especially among teachers and others who cared about education in the generations before New Orleans began staffing its schools from the ranks of Teach for America. She was also sister-in-law to Ernest "Dutch" Morial, New Orleans' first mayor from our community of Creoles of color – a fact that my Mom posited might have helped to "grease the wheels" when they dined at one of the city's fancy restaurants, and saw Carmen's last name on the reservation list.
She was not only a well loved and revered teacher, but also served as a mentor to many young teachers at Valena C. Jones School. My mother was one of them. Although my family moved to Los Angeles when I was a child, Mom and Mrs. Morial maintained a friendship throughout their lives, until my mother died 5 years ago, and she often figured prominently in the stories of New Orleans and of Jones School that my mother related to me.  A visit with the ever perfectly coiffed and meticulously adorned in a fashionable suit, Carmen, was always on the agenda whenever Mom returned to New Orleans, and I was often was lucky enough to be taken along.
In the spring of 2005, just months before Katrina's storm surge and levee failure devastated New Orleans, my mother made her last visit to the city of her birth, accompanied by her younger brother, my Uncle Reiss. As usual, they visited with Carmen, this time at her lovely antique filled Gentilly home.
During that visit, Uncle Reiss brought up the antique glass crab dishes he remembered from from his childhood, used to serve the Creole delicacy, Stuffed or Devilled Crabs. The glass dishes had long since been replaced with paper foil "dishes." It had been years since he had seen them, he said to Carmen, and he asked her if she knew where he might find some. Carmen stood right up, went to one of her cabinets and pulled out a motherlode of the glass dishes. Being the gracious soul that she was, Uncle Reiss went home with several of them that day. A few years later, he gifted me with some of them. I certainly hope the rest of her collection survived Katrina's flooding.
In the two years since I returned to New Orleans to live, and have been fortunate to visit Mrs. Morial on a couple of occasions, even lucky enough to be at her 100th birthday celebration last year, where, as always, she was completely gracious to me.
Rest in peace, Mr. Chase and Mrs. Morial.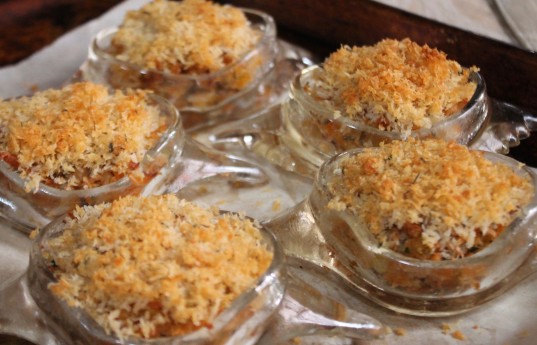 Louisiana Style Devilled Crabs
Louisiana Styled Devilled Crabs
I remember seeing this elegant little first course dish often at "company" dinners when I was a child. By then they were being served in the foil "dishes" or sometimes, if the hostess was ambitious, in the cleaned out crab shells. I have never made it myself before now, so when I started searching out recipes from old books and friends, I noticed that the recipes varied a good deal. The biggest variation has to do with whether mayonnaise is used as the binder, or a bechamel sauce. I strongly suspect the the bechamel sauce is the older method, but the convenience of mayonnaise took over in later years. I'm sure the bechamel sauce is quite delicious, but I have to say I get the convenience aspect, and that's what I offer here.
Ingredients
2 tablespoons butter, in all
2 tablespoons celery, finely minced
2 tablespoons scallions, finely minced
1 tablespoon parsley, minced
1/3 to 1/2 cup fresh bread crumbs (or Panko), plus another 2/3 cup for topping
1/4 teaspoon dried thyme, plus another pinch for the topping
1/4 teaspoon, Creole seafood seasoning, like Seafood Magic
1/4 teaspoon garlic salt, plus another pinch for the topping
A pinch of cayenne
3 tablespoons mayonnaise
Instructions
Heat 1 tablespoon of the butter in a sauté pan over medium heat. When the butter is bubbling add the celery and scallions, sautéing for a couple of minutes.
Add the first addition of bread crumbs, the thyme, seafood seasoning and garlic salt, and toss well until the bread crumbs are fully coated and just beginning to brown slightly. Then stir in the parsley
Remove from the heat and stir in the crabmeat and mayonnaise.
Stuff the dishes, or cleaned shells and place on a baking sheet.
Wipe out the pan well, then add the remaining butter, heating until bubbling, then stir in the remaining breadcrumbs along with the pinch of thyme and garlic salt.
Top the stuffed crabs with the breadcrumbs. Place them in a preheated 375 degree oven and cook about 15- 20 minutes until the crabmeat is heated through and the crumbs are browned.
http://www.painperdublog.com/2016/12/recipe-devilled-crabs.html
Save
Save
Save
Save
Save
Save
Save
Save
Save
Save
Save
Save
Save
Save
Save
Save
Save
Save