Dresden Stollen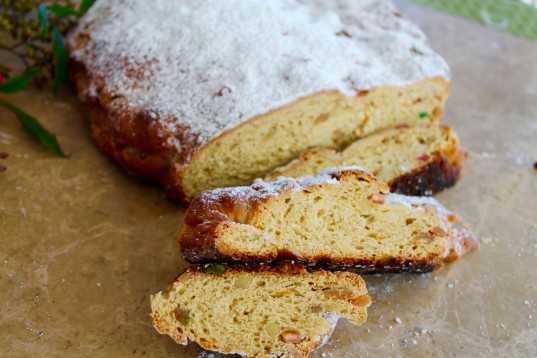 The German baked treat Dresden Stollen was certainly not a tradition in our Louisiana Afro-Latin Creole culture, but I developed a real taste for it during my New York City days where I first learned to bake it at what was then Peter Kump's New York Cooking School. And why not? I love a good semi-sweet bread to enjoy with morning coffee, and it's always a lovely thing to have special seasonal delicacies to look forward to.
I would often bake a few of the candied fruit laden yeasted loaves for my family a couple of days before Christmas. Initially, it was consumed a bit slowly. When I asked my father why once, and whether he liked it or not, he replied, I do, it's just that there are so many other sweets to eat around Christmas.
But the good thing about the Stollen, is that this moist loaf has a very good shelf life, lasting quite well for several days. It also makes great toast which helps extend its life even further. And then, of course, it can always go into a very interesting bread pudding  beyond that.
I hope you'll find room for this treat in your Christmas traditions.
Dresden Stollen
Yield: 3 loaves
Ingredients
For the Sponge:
2 cups milk
3 envelopes dry yeast
2 cups of flour
The Fruit:
2 cups candied fruit, or a combination of candied fruit and raisins
1 cup whole blanched almonds
Zest of 1 orange
Zest of 1 lemon
1 teaspoon vanilla
1/3 cup of brandy or rum
For the Dough:
1 cup brown sugar
1/2 pound unsalted butter
1 teaspoon salt
3 egg yolks
3 1/2 cups all purpose flour
For finishing:
Melted Butter
Granulated Sugar
Powdered Sugar
Assembly
For the Sponge:
Warm the milk until just warm to the touch, then dissolve the yeast in the warm milk.
Stir in the four and cover, allowing it to rise for @ 45 minutes.
The Fruit:
Toss the fruit, almonds and zests well in the vanilla and brandy, and allow it to sit while preparing the other ingredients.
The Dough:
Cream the butter, sugar and salt together until they're light and fluffy.Add the yolks one at  a time mixing in thoroughly.Add the flour and mix until smooth.Add the soaked fruit, almonds and zest. Add the sponge and knead until the dough is evenly mixed.
Place it in an oiled bowl and let it rise until doubled in size.When the dough has finished rising, dump it onto a well floured surface. Divide the dough into 3 pieces, and flatten each piece into an oval. Fold a piece of each dough oval over onto itself (this folding is done, it's said, so that the loaves will resemble the Christ Chile wrapped in swaddling clothes).
Place the loaves on a parchment lined baking sheet, and allow them to rise until light but not quite doubled, for about 45 minutes.
Bake at 375 degrees for about 45 minutes.
Brush the stollen with melted butter while still warm. Sprinkle them with granulated sugar, then dredge them  with powdered sugar.
Save
Save
Save
Save
Save
Save
Save
Save
Save
Save
Save
Save
Save
Save
Save
Save
Save
Save
Save