Nutty No Sugar Granola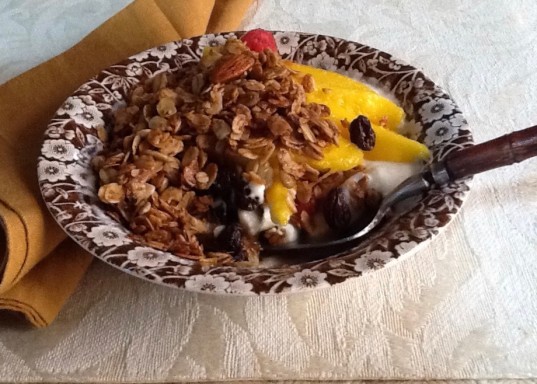 When I returned from my detox program in Costa Rica a couple of months ago, I continued the journey toward cleansing my body with a personalized elimination diet designed to reduce inflammation.
I was quite surprised when I received the results of the test I took to determine what my best way of eating was. None of the foods that are endlessly touted across the Internet as foods to be avoided applied in my case. Nightshade vegetables – okay for me, except for a mild reaction to eggplant and which I can eat on a rotation, and a food I enjoy occasionally, but certainly not a food I eat on a regular basis. Gluten- okay. Dairy – mostly okay, if consumed on a rotation (although one of the most difficult things for me to follow). Even corn, which I was sure I had a reaction to, is on a rotation and I can eat it from time to time.
Some of the things I am asked to avoid are really surprising – like celery (an ingredient in almost every stock, sauce and soup, not to mention most Louisiana Creole food), and cumin (my favorite spice). And some are just downright God-awful difficult to give up, like olives and olive oil, which I consumed daily.
It's taken me a while to adjust and find alternatives – like fennel for celery in soups (I'll share more of that in coming posts), and grapeseed oil for cooking. And, in at least this particular case, I was delighted to find substitute ingredients I would never have used otherwise, like date syrup as a substitute for sugar (I am asked to avoid both cane and maple sugar for a few months, and allowed beet sugar and honey only on the occasional rotation). While I haven't tried baking with it yet – and have my doubts about it – I have come up with a very satisfying granola.
This granola is nutty (you can add even more nuts, if you like), extra crunchy, and not too sweet with a slightly caramelized flavor. I'd say it's worth adding to the repertoire even if you aren't eliminating sugar from your diet. BTW, yes, I did have one friend when I told her about the sugar restriction, pipe in "well, sugar is not really good for anyone",  but we all have to have some indulgences, in moderation, once in a while, right? And fortunately for me, this eating plan is not forever, but it is nice to find healthier alternatives.
I mix plain yogurt with a bit of vanilla extract and serve with fruit and this crunchy granola topping it.
Ingredients
2 1/4 cups old fashioned oats
1/4 cup each raw almonds, cashews and pecans
1/4 cup sunflower seeds
3/4 cup raisins
2-3 tablespoons flax seeds
1/4 cup mildly flavored oil, such as canola or grapeseed
5 tablespoons Date Lady Date Syrup Organic Pure Squeeze Bottle, 12 oz
1 teaspoon vanilla
Instructions
Preheat oven to 225 degrees.
Mix together the date syrup, oil and vanilla.
Mix all the remaining ingredients together in a large mixing bowl. Pour the date syrup/oil mixture over them and mix well.
Spread the mixture evenly on a parchment lined baking sheet. Bake in the oven for @ 2-1/2 hours. Stir the mixture taking care to spread it evenly every half hour.
Notes
If you like your raisins softer, you can stir them to the other ingredients on the baking sheet halfway through the cooking.
http://www.painperdublog.com/2016/11/nutty-no-sugar-granola.html
Save
Save
Save
Save
Save
Save
Save
Save
Save
Save
Save
Save
Save
Save
Save
Save
Save
Save
Save
Save
Save
Save
Save
Save
Save