Individual Quickbreads Part 1 – the Morning Glory Muffin and Coconut Creme Honey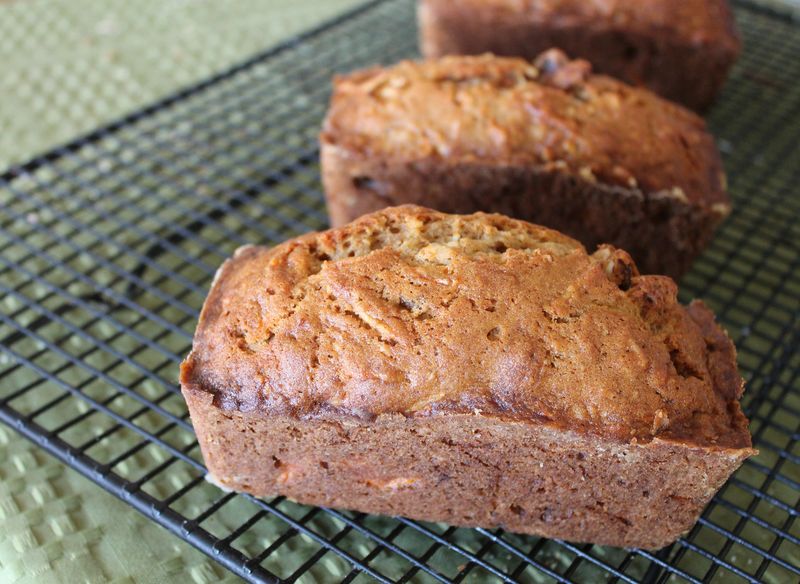 Quick breads are called such because they are leavened with baking powder rather than yeast and therefore don't need the long period of rising that yeast requires. They are ready to bake quickly – hence, quick breads.
Any loaf cake or muffin batter can become a quick bread. Operating with this definition, I've come to embrace the variety offered by quick breads. They don't have to be limited to the ubiquitous banana, pumpkin or zucchini breads.
In fact, in my catering days, I hit on the idea of serving sliced mini quick breads (they don't have to be baked in only one sized pan either – I use Wilton Mini Loaf Pans
), rather than serving muffins, at breakfast and brunch events. It offered guests a wider variety of tastes, as they could pick up two or three slices of differently flavored breads rather than having to commit to an entire single flavored muffin (have you ever noticed how people so often will cut a muffin  and only take half, anyway.)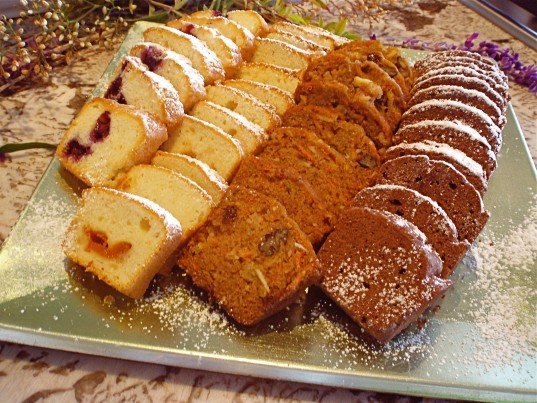 Some of my favorites – chocolate loaf cake, sweet potato, almond pound, and lemon pound cake recipes – adding fresh or dried fruit, nuts, candied ginger, chocolate chips – whatever, to add to the variety. My all time favorite quick bread recipe, though, is the popular Morning Glory muffin recipe. Since those days, I have tried to always keep a few mini loaves in my freezer (they freeze extremely well, just make sure to wrap them very well). They're great for breakfast (where I sometimes serve it with whipped cream cheese to spread on a slice), tea time or even as a simple dessert.
Bonus story: A little while back, my friend Ronnie Campbell, who reps Honey Ridge Farms, sent a selection of the farms wonderful flavored Honey Cremes. I had already come to love the Lemon Honey Creme, which I often stir into ginger tea – or sometimes even pop a spoonful into my mouth unadorned, and the berry flavored cremes, which I serve with scones or Irish Soda Bread (another quick bread, btw), but this time my goodie package included a Coconut Honey Creme. Coconut- now that's intriguing. I happen to love coconut, but just what to do with coconut flavored honey? Then the thought came to me one day to try a dollop of it atop the whipped cream cheese and sliced Morning Glory quick bread. I had some strawberries along side at my breakfast table, so topped it all off with a couple of slices of strawberries. And a new favorite was born – great for breakfast, with afternoon tea, or as a bed time snack…
Enjoy!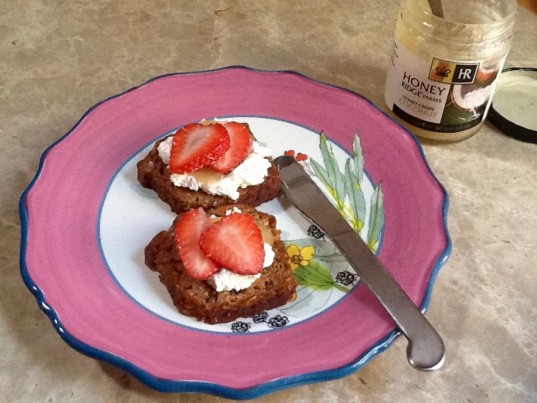 Morning Glory Muffin "Tea Cakes"
Ingredients
4 cups all purpose flour
2 1/2 cups sugar
4 teaspoons baking soda
4 teaspoons cinnamon
1 teaspoon salt
4 cups carrots, coarsely grated
1 cup raisins
1 cup walnuts, lightly toasted and chopped
1 cup sweetened shredded coconut
2 tart apples, peeled and grated
6 large eggs
2 cups vegetable oil
2 teaspoons vanilla
Instructions
Whisk together in a large bowl the flour, sugar, baking soda, cinnamon and salt.
Stir in the carrots, raisins, walnuts, coconut and apples.
In another bowl, whisk together the eggs, oil and vanilla. Add the mixture to the flour mixture and stir the batter until it is combined.
Spoon into buttered loaf pans.
Bake in a preheated oven until a toothpick inserted in the center comes out clean, about 40-45 minutes.
Yield: I get about 9 mini loaves from this recipe.
P.S. If you decide to make muffins, they will take only about 30-35 minutes to bake.
http://www.painperdublog.com/2016/06/quickbreads-morning-glory-muffin.html