Celebrating Dooky Chase's Restaurant and Ms. Leah Chase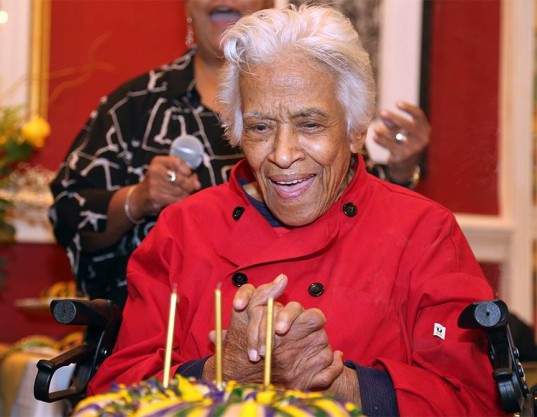 This week, on King's Day, and the official beginning of Carnival season (coincidentally enough), I was privileged to attend Ms. Leah Chase's 93rd birthday celebration, and the 75th anniversary of Dooky Chase's restaurant.
When I posted the above picture of Ms. Chase and myself at the party on Facebook, a friend commented, "Wow, she is a legend." I responded, "You have no idea". Not only was the event attended by plenty of New Orleans' everyday citizens like me, but a couple of the city's younger legendary chefs, like John Besh and Susan Spicer, showed up.
The event wasn't primarily a culinary one, though. In attendance were the current mayor, Mitch Landrieu, his father and former mayor, Moon Landrieu, and their sister and former U.S. Senator, Mary Landrieu dropped by to pay tribute. Mrs. Sybil Morial, wife and mother to two former mayors, was there and gave the keynote tribute address. More than half the city council – including one who my dinner companion pronounced will be a future mayor – was there. And Dr. Norman Francis, Presidential Medal of Honor recipient, who first brought young Senator Barack Obama in the earliest days of his bid to become President, was there (btw, she chided the young Senator for adding hot sauce to her gumbo). Halfway through Mrs. Morial's tribute, Ms. Chase's phone, sitting at her hand on the table, rang. "Oh, excuse me, she said, "It's Bill Clinton." So she was forgiven for taking the call.
Much of the tribute focused on Dooky Chase's role in the civil rights movement of the 1950's and 60's. When a young Leah married then band leader, Dooky Chase, the restaurant was a sandwich shop founded by Dooky's parents. Ms. Chase built it into a white tablecloth establishment, the only one in the city for people of color. It became the place to go for visiting musicians (Ray Charles was a regular and it was featured in the movie Ray), the city's colored elite, and also for civil rights leaders to meet and strategize. I was first taken to lunch there as a young teenager visiting the city with my family. It was definitely an occasion for dressing up. And in the last year of my Aunt Eura's life, when she was not getting out at all, and hadn't much desire to do so, she picked up at the prospect of venturing out to a lunch at Dooky's.
New Orleans role in the civil rights movement is not as well-known as that of other cities, but many a strategy planning meeting, which included not only local attorneys, like A.P.Turead, Lolis Elie, and young and upcoming Ernest "Dutch" Morial, the city's first African American mayor, as well as national figures like Thurgood Marshall, who was reportedly a regular, took place at Dooky's, and much was made of that at the celebration. In a personal aside, Mrs. Morial told us that she and her future husband, Dutch Morial, courted at Dooky's and Ms. Chase "encouraged" the courting.
Ms.Chase always opened up a back room in the restaurant for meetings. Chase could have been arrested herself, Morial reminded us, as it was illegal for blacks and whites to meet together in those days. Takeout orders of fried chicken and gumbo were sent to nearby homes from the restaurant after long days of home meetings or street protests. Ms. Chase even sent food to jail for those who were arrested. "They didn't eat that prison food,"  she said.  An army marches on its stomach, eh?
"We couldn't do what some of the others were doing, but we did what we could", Ms. Chase told us. "I like to think we changed the course of America in this restaurant over a bowl of gumbo."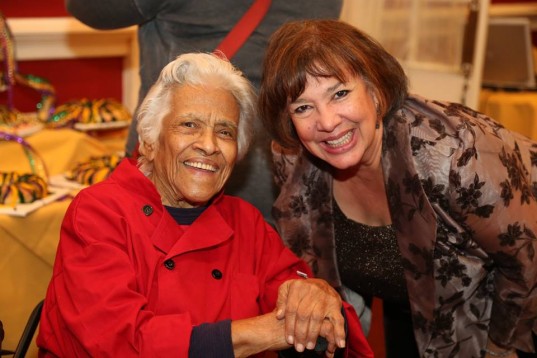 Photos are courtesy of Christopher Porche-West, who does such a fabulous job of chronicling Creole and African American life here in New Orleans.