Remembering Paul Prudhomme and Crawfish Cornbread Dressing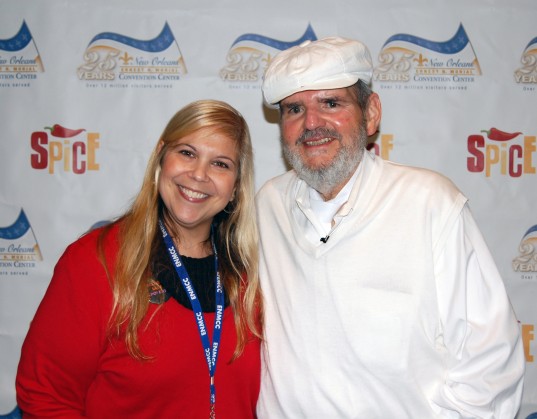 Chef Paul with my friend, Rose
New Orleans lost two towering figures this fall. One each from the pillars of our unique culture – legendary musical producer and singer/songwriter, Allen Toussaint from the music world, and seminal American chef, Paul Prudhomme from the world of food.
People here usually like to favor either the music or the food as being the most important part of our culture. There were those who wrote after Katrina that it was the music that brought the city back,  just as there were those who wrote it was the chefs and restaurants.  I won't take a side on that – they are both so important, but I obviously have more a personal connection to the culinary world. So while I won't say much about Mr. Toussaint, I will say this. The day New Orleans sent Allen Toussaint off in its inimitable style (of which he was a perfect example), I wrote that in spite of the many frustrating things about life in this city, you just gotta love the completely unique way of doing things here. Trombone Shorty, who's at the top of the heap of  the city's newest generation of musicians, Mayor Mitch Landrieu and members of the Preservation Hall Jazz Band, among other of the city's prominent musicians, got down together, kicking off the funeral march  and  "second line"  at the head of the procession outside the theater where the celebration of Toussaint's  life was held. You  can watch the video at the bottom of this post. I teared up at times watching it because in spite of all of those frustrating moments,  I just couldn't help but be proud of and moved by that special way of doing things.
More importantly for my purposes, I wrote the following remembrance of Paul Prudhomme on October 12th, the day he was laid to rest:
One thing I often do when going into a person's home for the first time, is check out their bookshelf. Because I spent many years running a catering company, I had numerous opportunities to go into other people's kitchens. Paul Prudhomme's Louisiana Cooking (which I have heard referred to as the Bible of Louisiana cuisine) i one of the couple of cookbooks I found on almost all of those kitchen bookshelves. As I'm sitting down to write this  today, Prudhomme is being remembered at his memorial Mass at St. Louis's Cathedral, in New Orleans' Jackson Square, and  celebrated at what is sure to be a very lively gathering following the service at his K-Pauls' Restaurant in the French Quarter.
Ella Brennan, proprietor of Commander's Palace, and often referred to by names like the Queen of New Orleans cuisine, has been quoted as saying that of all the many chefs who have worked for her, Chef Paul was decidedly the best. In this day when recent culinary school grads (not to mention many others) somewhat arrogantly call themselves chefs, it's worth noting that Paul Prudhomme never went to culinary school, but learned to cook first in his mother's kitchen, then by working his way through all sorts of eateries, from the lowest to highest brow.
A couple of years back, the chef/owner of an Oakland restaurant asked me (again, in my opinion, somewhat arrogantly) if Chef Paul was still respected in New Orleans. I've thought back on that question many times. I could have well responded by asking him if Alice Waters was still respected in the Bay Area. Like Waters did in California, Paul Prudhomme began a culinary revolution in Louisiana, grounded in local and seasonal products and cuisine, and subsequently influenced, trained, mentored and helped, sometimes financially, an entire generation of younger chefs establish their own restaurants. And it's reported that every chef in town is at his funeral today.
Chef Paul had a reputation for being a real character, if you know what I mean. I had one small experience with that, as he regularly visited the California Culinary Academy in San Francisco when I was a student there. I, of course, introduced myself to him, and let him know that my roots were in Louisiana, too. One day shortly after that, while he was scooting around the school's cafeteria on his little motorized cart (which he had taken to using to support his weight – a weight that he once admitted reached 480 pounds), he bluntly chided me about how much food was on my lunch tray as I exited the line. I was a little put out given his size. I explained, a bit flustered, that all of my friends and classmates filled my tray with their daily dishes and creations, insisting I to  try what they had made.
I don't know whether or not it was a conscious decision on his part, but the famous cookbook was prudently named Paul Prudhomme's Louisiana Kitchen, bypassing the whole Creole/Cajun food seemingly ever-present debate which goes on now in some circles. Prudhomme didn't grow up in New Orleans, but in the town of Opelousas, in what is often referred to as "Cajun country". When his cookbook hit the scene in the 1980s, it included recipes for dishes like Maque-Choux, and the heavy use of tasso and Andouille. I remember my father being skeptical, asking "what the heck is Maque-Choux?", and stating that we never used Andouille. Crawfish was also liberally represented in his recipes. At that time, traditional New Orleans Creoles didn't eat very much crawfish, or if they did, they hid the fact. And as for Blackened Redfish, btw, as beloved as it's become, that's just a dish Chef Paul made up. But the book also included recipes for decidedly New Orleans specialties, like Red Beans and Rice, and cross-over dishes like Jambalaya. In those days, the distinctions between Creole and Cajun cuisines seemed clearer – at least to some of us. Now those distinctions are completely blurred – but that's a topic for another post.
While I almost always refer to Chef Paul's book in making Louisiana dishes (it's a great teaching cookbook), I don't usually follow his recipes to the letter. I like to say that I leave out half the butter in his recipes, and they still come out fine. Today, I am sharing one of his recipes – with all the butter in tact, although I've changed a couple of others things – but just slightly.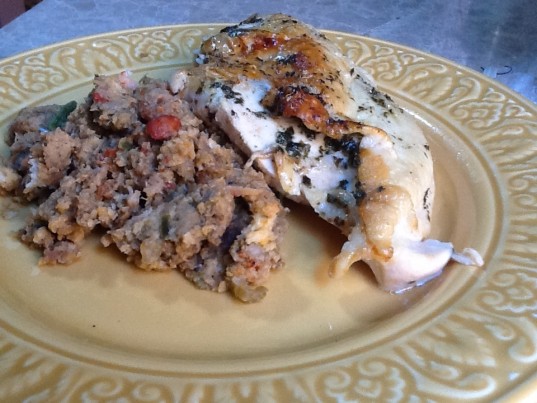 Crawfish Cornbread Dressing
From Chef Paul Prudhomme's Louisiana Kitchen
For the Seasoning Mix:
2 whole bay leaves
1 1/2 teaspoons sweet paprika
1 teaspoon salt
3/4 teaspoon dried thyme
1/2 teaspoon freshly ground white pepper
1/2 teaspoon dry mustard
1/2 cayenne pepper
1/4 teaspoon freshly ground black pepper
For the Dressing:
4 tablespoons unsalted butter
1 cup bell pepper, finely chopped
1 1/2 cup celery, finely chopped
1 cup onions, finely chopped
1/2 pound peeled crawfish tails
2 cups shrimp stock
3 cups finely crumbled dried cornbread, or  packaged cornbread stuffing
Combine the seasoning mix ingredients in a small bowl and set aside
In a large skillet, melt the butter over medium high heat, then add the bell peppers, celery and onion and sauté for 2 minutes, stirring occasionally. Add the seasoning mix and sauté for about 4 minutes more, stirring occasionally.
 Add the stock and bring to a boil. Add the crawfish and continue cooking about 10 minutes, stirring occasionally. Remove the pan from the heat.
With a slotted spoon, lift out the crawfish and vegetables and place in a food processor, and pulse a few times until smooth, but still retaining a little bit of texture. Return the mixture to the skillet and place over high heat. Stir in the cornbread and continue to cook for about 2 minutes, stirring occasionally.
Yield: about 4 cups
Chef Paul recommends this as a stuffing for chicken or other fowl, but let it cool completely if you are going to stuff a fowl with it.