Bourbon Hibiscus Cooler – Perfect for a Signature Holiday Cocktail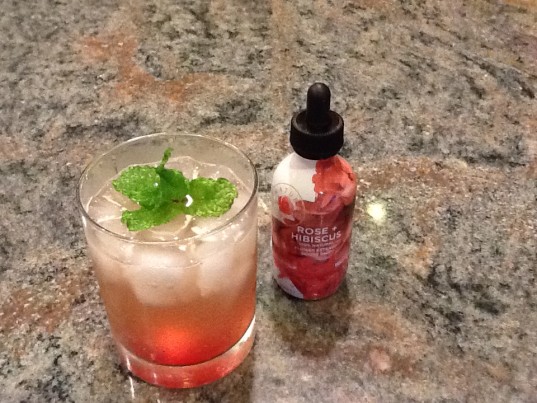 "It would be lovely if you could meet Jocelyn," (that would be Jocelyn Etherington, founder along with her husband, Lee, of the Wild Hibiscus Flower Company) my fellow foodie friend and PR rep, Ronnie Campbell wrote. "She'll be attending Tales of the Cocktails."
Tales of the Cocktail has taken over bars, restaurants and hotels every mid-July in New Orleans since 2002, celebrating, teaching and promoting all things cocktail in the city where cocktails were born. Mixologists, seasoned and apprentice, product representatives and curious imbibers flock to it each year, as it continues to grow.
So I found myself trudging through the French Quarter after a late morning yoga class, sweating in my already damp yoga clothes on a humid summer day, to meet Ms. Etherington in the lobby of the venerable Hotel Monteleone (headquarters of  the conference), where she was showcasing her company's products. Me – in my doubly drenched yoga clothes, and Jocelyn – cool as a cucumber with perfectly in-place long blond hair, and wearing a slinky one shouldered red sheath dress. Oh well… she was quite gracious, nonetheless.
I was readying to leave on my cross-country trip in a few days, so I packed the box of Wild Hibiscus goodies Ronnie sent me. The goodie package included not only the Hibiscus Flowers in Syrup, which are great additions to Margaritas, punches and glasses of Champagne, but  Wild Hibiscus Flower Salt and a couple of bottles of flower extracts, products new to me. The Wild Hibiscus company suggests using the flower extracts like bitters to flavor, as well as color, cocktails. I took them with me to a family gathering in L.A. where we experimented with a couple of ideas. We added Rose and Hibiscus Flower Extract to a white Sangria (which I'll share with you some other time), and my cousin, Adele (of Kale Salad fame) came up with this Bourbon Hibiscus Cooler which I think would be perfect to highlight as a signature cocktail at holiday parties. Hope you'll enjoy it.
Bourbon Hibiscus Cooler
For each drink:
Add the flower extract to the bourbon in a cocktail glass, and stir.
Add the ice, then top off with the ginger beer. Garnish with mint sprigs.
Cheers!