Mourning the Loss of a Gentle Spirit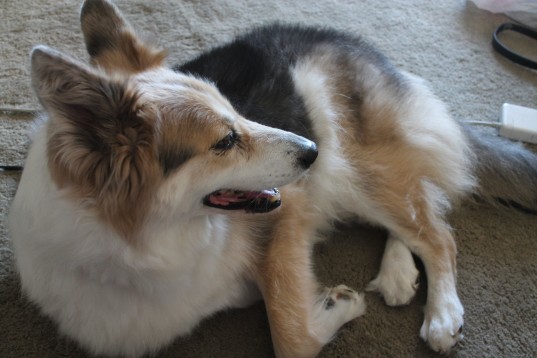 A very gentle spirit left us this week- Rapunzel, a foster dog who came to stay for what I thought would be a few weeks, but ended up staying for close to five years.
I absolutely didn't want a dog then. I had lost Riley not long before. Riley had a very difficult last year of her life, suffering from hip dysplasia which caused her to eventually lose the use of her hind quarters. It was heart-wrenching watching her bravely doing her best to move around dragging her back end along. Towards the end, her back end and often her whole body, had to be picked up and carried everywhere. Whether she just couldn't be bothered to make the effort to get up, or because it actually affected her inner workings, she became mostly incontinent, so I had to get up early each morning, and drag her outside before she just pooped right where she was lying.
Riley had come from an abusive situation, and when she first came to stay with me, feared (and outright refused to do so) going up and down the long flight of white marble stairs in my house that led to the lower level and entrance to the back yard. Eventually, with a lot of coaxing and coaching from several of us, she ventured down. It was gratifying to watch her run up and down those stairs in the following years – a testament to what can occur when a rescued dog comes to a home where she feels safe and secure.
I distinctly remember the moment when I watched her struggle to pull her legs up those stairs in her older, ailing days, and realized this was the last time I would ask her to go up or down them. She still managed to go outside via a smaller flight of stairs, in my split level house, until the end. Most afternoons, I would drag her out to the front porch and let her lie there in the sun.
So you see, it was diffcult for me to open myself to caring for a new dog soon afterwards.
Mom was still alive then. She said, maybe someone will adopt her because she's so pretty when she first met Rapunzel, but it was not to be.
I insisted to the rescue organization that I did not want to keep her, that I did not want another dog.  But they kept coming back, pleading, sweetening the deal – Rapunzel did not show well at adoption fairs (she hated being cooped up in a kennel surrounded by other dogs and objected loudly, sometimes snapping at them), so finally I relented.
It took me a while to bond with Rapunzel, as I was still worn out from mourning Riley, and had felt pressured into taking her, but really, who wouldn't? She was such a sweet, gentle spirit, and once again – like Riley – settled in well, and eventually even, when she felt safe and secure in her new home, learned to play well with other dogs.
She had an unlucky break in life. When she first came to stay, she had already lost one eye to glaucoma. The remaining eye needed constant monitoring, and daily, increasing applications of eye drops.
Eventually the second eye had to be removed, too, but she took it all in stride (better than I did), and once she recovered from the surgery, learned to maneuver well around the house – just as she adapted to my dragging her across country, where she had to learn her way around a new home.
I dragged her across country one more time this last summer- in and out of hotels and others' homes, where again, she made friends and won hearts (human and canine) all along the way.
Rest in peace, Rapunzel. I'll miss you.