Meet Alon Shaya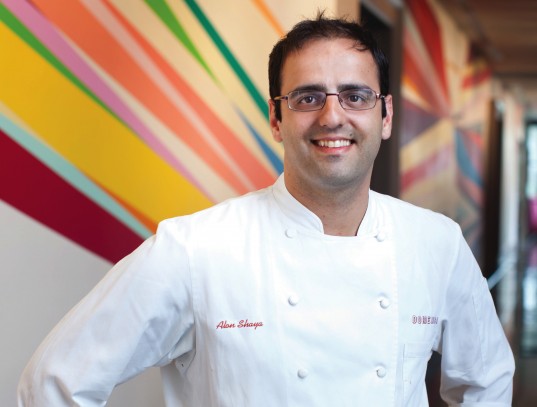 Alon Shaya is having a very good year.
He's just won the James Beard Award in the Best Chef South division. This on the heels of opening his newest restaurant (his third in New Orleans), Shaya. I regret to say I have not yet had the chance to dine at Shaya.  I had hoped to celebrate my first Passover seder in many years of not cooking for a client, there at the invitation of a NOLA buddy, but unfortunately, the night of the seder happened to also be the first day of the French Quarter Fest, and I had a house guest who had come to the city to enjoy that. Sigh… some seasons in New Orleans there's just so much to do you, and I just haven't figured out how to be in two places at once.  But soon, Shaya.
I thought I would take this opportunity, however (briefly interrupting my road trip series), as we are approaching the 10th anniversary of Katrina's land fall and the subsequent flooding of New Orleans, to introduce you to Alon Shaya. I sat down to speak with him earlier this year, and he shared with me his experience of the early days following the disaster.
Shaya had been in New Orleans for 3 years before Katrina, and told me he fell in love with the city immediately. "And I've only grown to love it even more.  I love the fun that people have down here. I love the fact that people don't take everything so seriously."
He began working at Besh Steak only months before the hurricane hit the city. Chef John Besh, invited Shaya to ride out the storm at his home, even though they really had not spent much time together, at that point.
"He (Besh) was really busy at Restaurant August (Besh's flagship restaurant), and I was really busy at Besh Steak, and so we never really had tons of time to spend together, but then, during Katrina, we had plenty of time to spend together," Shaya says. "We were with each other day and night."
"We evacuated for the storm and came back within a week."
"Really?, I asked. " So before they were allowing people to come back."
"Yeah. We came back with a convoy of workers. That was one of the most invigorating times of my life, and one of the saddest times of my life. All those things…" his voice trails off.
"We came back and cooked together for whoever was hungry – nurses, doctors, just people on the street, and it was during that time that we really became friends, and were able to build a solid relationship."
It was fortuitous for Shaya. Besh, after that, cooked up what I've heard him refer to as his "little Communist plot", that being to help all of those who eventually came back to help him feed the first responders, workers, et al set up their own restaurants when they were ready. It's hardly a Communist plot, though. It's been quite a lucrative capitalist venture for all involved.
"You know, I didn't know what he was thinking about that. I always knew that I eventually wanted my own business, for sure, my own restaurant. That was always the plan for me, and you never know how that's going to happen as a young cook. After Katrina, we reopened the steak house and got that back up and running. And I was kind of at a point in my life where I knew I was ready to make a change and go for something that I was really passionate about. I really wanted to open an Italian restaurant, so I came up with a business plan, presented it to John, and said, you know, this is what my dream is. This is what I want to do. And he goes, that's great. Let's do it. So several weeks after that, I left the country and moved to Italy – spent close to a year out there, and when I returned, he lived up to his promise, and we went into a partnership together."
And all of us are so glad they did.
That first restaurant, Domenica, is a very popular spot housed in the historic Roosevelt Hotel in New Orleans' Central Business District. Its wood fired flatbread pizzas are so popular that a second restaurant, Pizza Domenica, was spun off from it. Domenica also has an amazing wine list serving all Italian wines. BTW, they are half price by the glass at the daily 2- 5 PM happy hours, so get yourself over there when you're in the city.
And now, Shaya, which I hope to be able to report back about very soon.
Thank you, Alon and Chef Besh, for all you did, and continue to do.