A Few Sights and Sounds of Mardi Gras – Part 1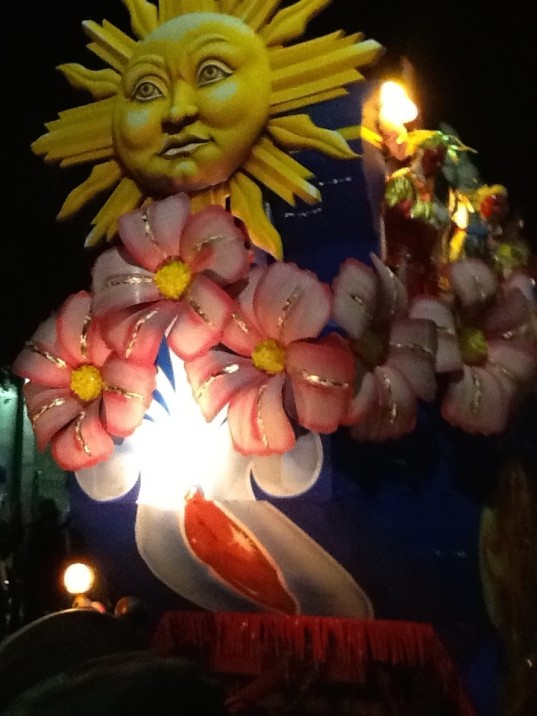 As I sit and write this, it's Mardi Gras. I stayed home and watched the morning's festivities on the tube. That's mostly because the parading and carousing has been going on for weeks now. Seriously,  I don't know how people here do it. My friend, Monique, who was riding in the Muses parade (last Thursday night) told me she had a pre-party, a pre-pre party, and a post party to attend on the day of the parade. The parade rolls for about 4 hours – for those of us viewing, it was the last three parades in a row. And that doesn't include the days of the few weekends before when she attended costume and headpiece fittings which included luncheons and parties, too. And many people ride in several parades! Next year I am going to have to go into training ahead of time to try to keep up with it all.
There are many different ways to experience Mardi Gras and the Carnival season. In the early 1980's I visited with my mother, whose contacts among her friends and family made sure we had quite a grand time. We were invited to formal balls and parties leading up to Mardi Gras – even the Mayor's Ball in the beautiful Gallier Hall. As the parades reached the hall, we sat out on the balcony, a prime  and coveted spot for viewing, to watch them go by. After my time that year, I wrote that it was a seminal experience for me.  It was the beginning of understanding what a completely different and rich, historical and cultural background my community had. It was not the American history I had been taught in school, of the 13 Eastern seaboard colonies, the history rooted in Anglo Saxon Protestant culture, but rather, a history rooted in Latin Caribbean culture.
After that, I thought I had truly "done" Carnival season in the way it should be done, and would never feel the need to do it again. Then came Katrina. The first Carnival season following the flood, I traveled back just as the city was coming back to life, to do volunteer work in the kitchen of camp in the 9th Ward (where we were feeding some of the people who had come from all over the country to help clean, strip and rebuild flooded homes by day), and enjoy the club and informal scene with my brother and his friends by night. We spent Mardi Gras day walking through, and people watching in the French Quarter. A task, by the way, that is much more difficult in years when the customary crowds are much bigger.
Then, in the "you never know what's coming up next" category, I found myself, 10 years later, living in New Orleans. Go figure!
Monique and I started out a couple of weeks back, at Krewe de Vieux, a more old-fashioned (and also the bawdiest of them) parade. Don't worry, though, the couple of images I'm sharing are the G-rated ones. The Marigny neighborhood, where we came to watch it, was already buzzing a few hours before the parade began. In addition to these ladies pictured below, there were plenty of other characters – lots of purple, green and gold feather boas and capes, doggies with bejeweled collars and their own Mardi Gras beads draped around their necks, troupes marching in Bermuda shorts and propellor beanies; in school girl uniforms and bright pink wigs; in doctor's coats with plastic breasts and penises glued all over them – well, you get the idea…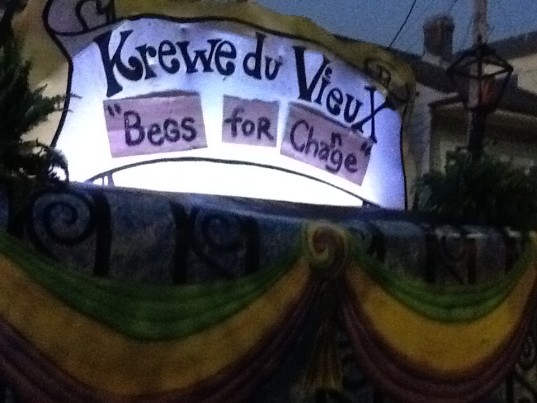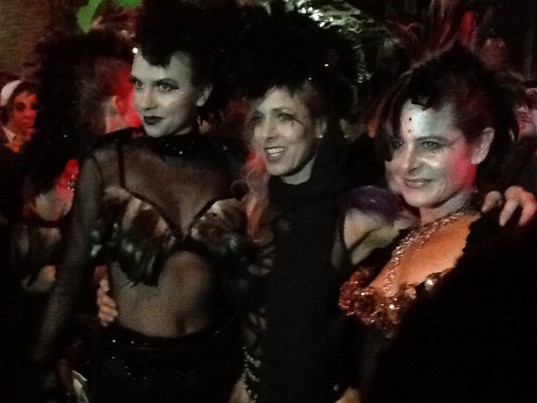 Ladies of Krewe de Vieux
The following weekend, I joined my friends Lori, and the unstoppable Deborah Cotton to view the all female Krewe of Femme Fatale's parade, and a couple of others. This time we got to sit in fancy bleaches right next to the mayor and city council members. We celebrated with some bubbly and King Cake.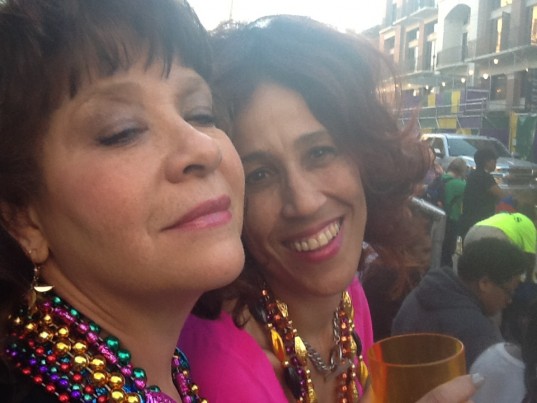 Then there was the also all-female Krewe of Muses parade, later that week, where I was handed this beautiful, and I hear, much coveted Mardi Gras throw – the Muses shoe – from one of the riders. I felt very lucky, indeed.
At these non-bawdy parades, there were lots of children along the parade route, as you can imagine. Deborah commented as she watched the kids enjoying, that she wished she could still experience them with the wonder of a child. I have to say, that I felt fortunate to experience them with a great deal of wonder and amazement, after not having seen any of the big parades for 30+ years. And one of the truly wonderful things, is watching how the children experienced them, and joining in their joy. Next time – pics of the kinds along the parade route.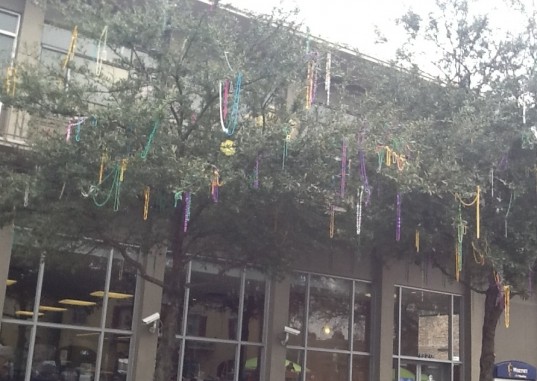 Even the trees wear beads!