October in New Orleans- It's Festival Season!
I know that the middle of summer is not the best time to arrive in New Orleans, but when my friend, Lori, said to me in August "just wait until festival season starts in October", my response was "festival season? You have Jazz Fest, French Quarter Fest, New Orleans Wine and Food Experience, and the Strawberry and Creole Tomato Festivals – all in the spring, Mardi Gras in the winter. What do you mean 'festival season'?"
"Well, yeah" she said, "but October is the Blues and Barbecue Fest, and all the outdoor concerts start up again. You'll see."
And she was right. There are several great events every weekend I want to attend now that we are in October, and a good amount during the week, too. I've been out to several Thursday night concerts in beautiful Armstrong Park, the site of historic Congo Square, where jazz percussionist Bill Summers, of Los Hombres Calientes reminded us last week, he loved playing drums right near where his ancestors (when slaves in New Orleans were allowed to drum on Sundays) did 150 years ago or so. Those concerts start each week with a local marching band or Second Line crew, and then feature a couple of local artists. In addition to Los Hombres, I've seen Jon Cleary- a local piano man fave, jazz vocalist Stephanie Jordan, and  Russell Batiste. Next week it'll be the acclaimed Rebirth Brass Band and Kermit Ruffins- oh, that's after a stop at the launch party for Roux Carré, the new open air Food Port of New Orleans. Hey- it's just so much easier to get out and about in this smaller than Los Angeles city!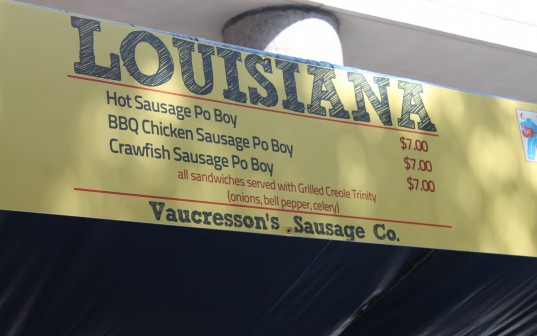 And  I did check out the Blues and Barbecue Fest – where  I ran into my old friends, Vaucresson Sausage,  and where I also have to admit I enjoyed the food more than the music – guess I'm more of a jazz, rather than a blues, gal. I had a lip-smacking Cochon de Lait  (the south Louisiana version of the Caribbean-style Roast Pork) po'boy with a tangy Creole mustardy and slightly sweet cabbage slaw.  Yum! I could certainly go for another of those soon.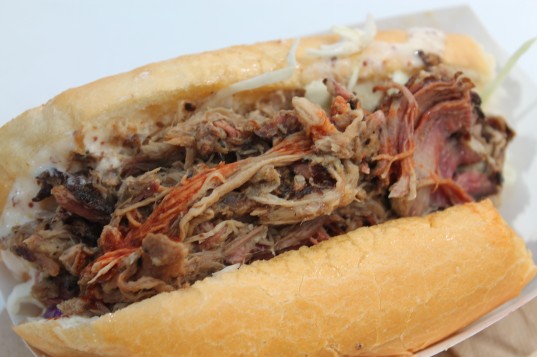 So many events, so little time and energy. And the weather is splendid this time of year. I know- an embarrassment of riches. As things go, I guess that's a pretty good problem to have.
Oh, and BTW, I've put together a snippet of some of the music I've heard to share with you.