The Morning Call in City Park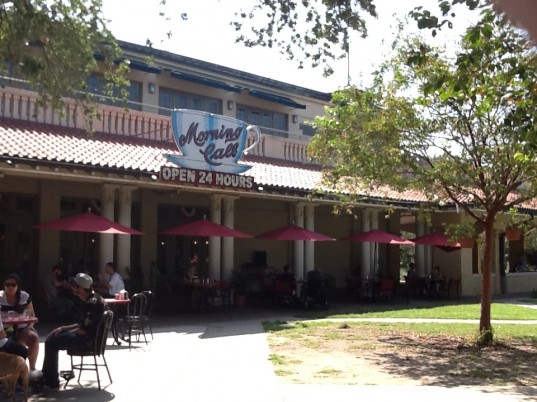 The Morning Call
I was greeted by cool air this morning as I stepped out onto the deck this morning to take the pooch out. You just can't imagine how happy that made me. So I decided to take myself and my journal on a ride to have my morning coffee and beignets at The Morning Call in City Park.
Now I know many of you have visited New Orleans, and make an obligatory stop at the Cafe du Monde in the French Quarter for your beignets, but I was lucky enough  to have my friend, Lori, take me to The Morning Call for a birthday café au lait last month.
The Morning Call has existed for almost 150 years in New Orleans – nothing against Starbucks, but this city had a coffee culture way before they, or Seattle for that matter, even existed. Up until the early 1970's it was in the French Quarter, and it was where my father took us when we visited as kids, for our obligatory beignets. Then the owner decided to move out to the suburb of Metaire. Fortunately for us city dwellers, another location was opened in the beautiful City Park in 2012 where it's surrounded by ancient live oak trees, and sits on the edge of a section of Bayou Metairie. I met a young man recently who moved to New Orleans shortly after Katrina, who refers to his neighborhood as Pleasantville. As I sat enjoying my treats and watching kids donned with the Morning Call paper hats the servers wear – and will give to any customer who asks – cover whole tables, as well as themselves with powdered sugar from the self serve shakers in this idyllic setting, I couldn't help but think, now this is indeed, Pleasantville.
BTW, if you'd like to try your hand at making your own beignets, I posted a great recipe at this blog last year.