Lunching at Blanco's- a Pretty Damn Good "Chain" Restaurant in Phoenix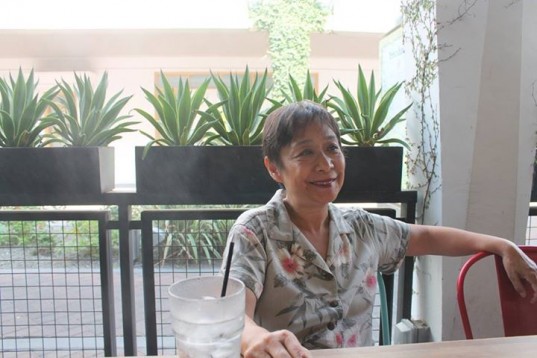 Last month I set out on the trip my parents made with their young family over 50 years ago, in reverse. They were moving from New Orleans to Los Angeles, and all these years later, I was returning to New Orleans.
My father, on the couple of vacation trips we made after that, chose to get through the drive as quickly as possible. One long day from Los Angeles into New Mexico. Then another 2 days through the rest of New Mexico, all of Texas and western Louisiana. It made for very long and tiring days. My friend, Paul, and I chose to take it a bit more leisurely, with stops in Phoenix, Sedona and Santa Fe. We still chose to hightail it through Texas, with only a brief lunch stop at Smokey Joe's Texas Cafe along Route 66 in Amarillo, where I was delighted to spy a gentleman in a 10 gallon hat strolling by with his lady on his arm – and a quick overnight in Dallas. There was one last lunch stop on our journey, in the picturesque town of Natchitoches, situated along Cane River in central Louisiana.
Even with the stops, it was quite tiring. It is a long drive, after all, and we had Rapunzel (my pooch) with us, not to mention a car packed to the gills. Some of the scenery along the route is absolutely gorgeous, but in some places it became monotonous, so stopping, visiting with friends, and eating well along the way went a long way to making the trip enjoyable.
As we approached Phoenix – our first dining stop – we put in a call to Gloria, who I had just run into when we were both visiting Berkeley a week or so earlier.
"We have to find a dog friendly place for lunch," I told her.
And thanks to the modern miracle of the Internet, she found there were several places we could bring the pooch with us at the Biltmore Fashion Park. Upon entering the lovely outdoor mall, we stopped for a moment and seriously considered eating at Zinburger Wine and Burger Bar, one of the first spots we ran across. But tantalizing photos of a ceviche flight and flavored Margaritas outside a restaurant across the way caught my eye, and I persuaded the others that we had to go to Blanco. Well, it turns out they are both owned by the same restaurant group, anyway, which brings me to the point of this blog post.
It had been a long deserted drive from L.A. , so by the time the food was placed in front of me, I was so famished, I dug into my great looking dish of Crispy Shrimp Tacos with Drunken Beans and Rice with Corn Pilaf, accompanied by a completely refreshing Grapefruit Pomegranate Margarita, without any thought for a taking a picture. Okay – I know, just what kind of food blogger am I, anyway? So I put the word out to a friend who I mistakenly thought possibly had a financial stake in this restaurant. The response came back, "Chain restaurant. I don't go to chains." Then she let me know the name of the restaurant she is involved (okay- in my defense, it also began with a B and also serves Southwestern food) with, "brought to us by" – and added the chef's name.
So I had to wonder – what is it that constitutes a chain in our day and age? Okay – chain restaurants – I'm not talking about the nationally advertised eateries with Cryovac'ed food coming in from a central commissary.  The food and drink at Blanco was scrumptious, regardless of who owns it and is behind the concept. And really – does a stand alone, "chef driven" restaurant ensure great food and a great experience? Hmmmm – I don't think so.
Yes, a few years back, I sat and judged "chain" restaurants from my high horse, too. But things have changed. Chef John Besh here in New Orleans, is working on opening his 10th restaurant now, a few of whom I count among my favorites. And he's not alone. As venerable and revered a chef as Jean-George Vongerichten owns multiple restaurants of differing concepts through out the world, just to name one other.  Are those chefs in the kitchens of all those restaurants? Certainly not. So, are their restaurants chains?
When I lived in Los Angeles, my go-to restaurant for a burger was Houston's, which IMHO, served absolutely the best burger in the city  – along with a much more extensive menu. They had a great wine list, and every time I left there, it was with the wish that they could train the service staff at every L. A. restaurant. Is it not worthy of my dining dollars?
I don't know, I'd like to hear what you think. I can tell you that our meal at Blanco was greatly enjoyed. Oh – and even though I forgot to take pics, Fox Restaurant Concepts generously sent me a few, so you can drool, too.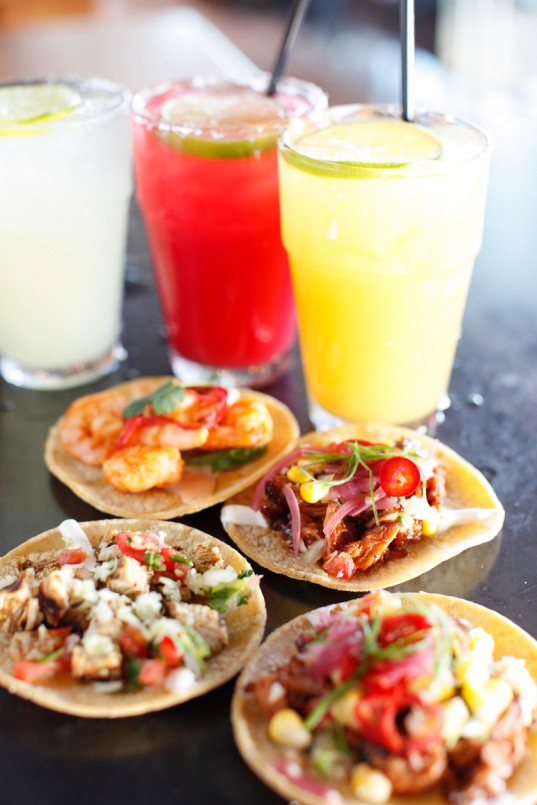 A Variety of Tacos from Blanco