Barefoot at Bistro Ralph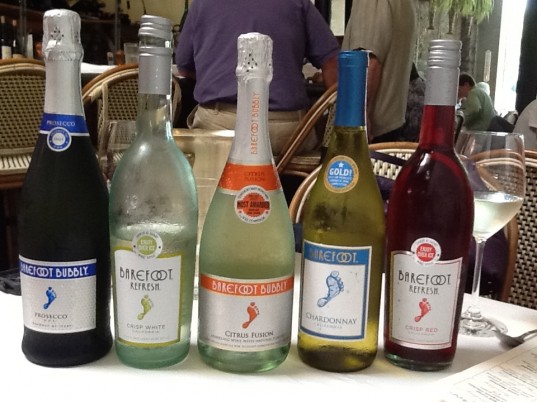 I first met Jennifer Wall at the New Orleans Wine and Food Extravaganza in 2012, when I was invited to a  luncheon at Antoine's in the French Quarter sponsored by Barefoot Wines. I've tried – on my visits to Sonoma County – to catch up with her ever since.  Jen's a wife and mother of three, as well as winemaker at Barefoot Wines, however, so she's a very busy lady. But this summer, we were finally able to connect, in the last couple of days of my Healdsburg stay, when she invited me to join her for lunch at Bistro Ralph's, one of my favorite eateries there. A no-brainer for me, right?
And Jen came bearing gifts. I watched as she unloaded a small collection of wines on to our table. Because Bistro Ralph is one of her favorite spots, too, she and George – who took such good care of me on a previous visit – were old friends, so George brought several glasses over to the table.
Okay, I know some of my sommelier and wine snob friends are sniffing a bit now, at the thought of Barefoot Wines – and I get it, but as I listened to Jen talk, it became clear that their mission is making wine accessible to (and affordable for)  a market that doesn't think of themselves as a wine drinking crowd.  A couple of the newest wines she brought to sample – Barefoot Refresh, a light and slightly frizzante red wine blend of Pinot Noir, Pinot Rose and Pinot Grigio, and Barefoot Bubbly Fusion, a sparkling wine infused with natural citrus and other fruit flavors. I could taste the Barfeoot Refresh
"It's like a Mimosa that you don't have to add orange juice to," Jen's colleague, Kelly, who also joined us, said.