Discovering Bravas Amidst a Bit of Sunday Synchronicity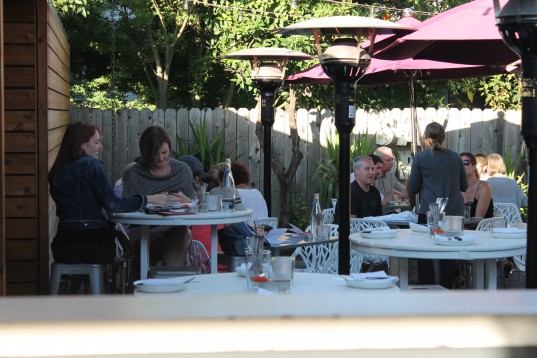 Where to begin?
I've been so many places in the last few weeks. Healdsburg, Phoenix, Albuquerque, Sedona, Santa Fe, Amarillo – and over the next few posts, I'll be telling you a bit about them, starting now with my last few days in the S.F. Bay Area.
During the 4th of July weekend, I traveled down from Healdsburg to Berkeley to visit the 1st Presbyterian Church. 1st Pres., as we affectionately refer to it, was a sort of "cathedral" for all of us in my countercultural Christian community of the early 1970's. We all had other smaller fellowships we were a part of, most of which met in homes, but we all visited and were involved in 1st Pres. to varying degrees, as well.
Many of us still return to visit, from wherever we may be, while some have stayed all these years and become active members. Thankfully, on this Sunday as I was visiting, so were others of my long time friends. I stopped by to see Larry and Arlene, who I (along with fellow street theater members Peggy and Susan) rented a room from for a while in those olden days, and was lucky enough to also run into David and Lucia, who had returned to Berkeley to retire after working in Boston for many years, Larry and Mary Ann, who have been in Berkeley for 40 or so years, and – a delightful surprise, Gloria, like me, who was visiting, from Phoenix, where she now lives.
After a stop at Keith and Beth's – who I often stay with when in the Bay Area, for a lunch of 4th of July BBQ leftovers it was back to Healdsburg to meet David and Susan who were up there from Oakland for the day.
David is currently sommelier at Boca Nova, and starting his own wine club, so, of course, part of our time involved stopping in at a couple of wine tasting rooms. One of the spots David always drops in at, is Selby Winery, right off the main square. In a bit of synchronicity, it turns out Susie Selby served as the Grand Marshall of the Krewe of Cork's (who I was first introduced to at NOWFE"s  Royal Street Stroll a couple of years back) Mardi Gras parade last year.
After that, it was time to eat. Tyler, our delightful young wine pourer at Selby, told us we had to try Bravas, where his fiancee (proudly showing us his ring), Spencer, worked. The walls at Bravas were covered with Bill Graham posters from the late 60's and early 70's –  another real bit of synchronicity which I took as a good omen, as Gloria had worked for Bill Graham at the Fillmore West back in the early days of our community. When our server came to greet us, we couldn't remember whether Spencer worked on the floor or in the kitchen, so we just said, "Tyler sent us."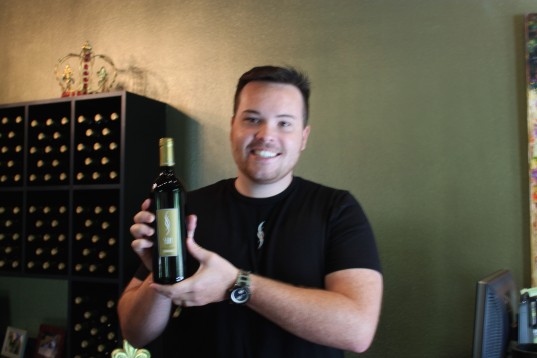 "Oh, he's my fiancee", Spencer quickly and cheerfully piped up. We found Spencer and Tyler to be so much alike.
What a pleasant surprise Bravas was. We were so starved, and chatting so much, that by the time our food came, I just dug in without taking pics (that happened a lot in the past few weeks), but I was so impressed, that I went back for an early dinner by myself a couple of days later to get some pics.
David and Susan started with Salmorejo Soup, described as an Andalusian style Gazpacho. I'm not a huge  Gazpacho fan, but they both loved it. I started with a Rioja Braised Pulled Oxtail Tostada with Fennel Slaw and Aioli. Not what you'd picture as a tostada if you are used to eating in So Cal, but more like a slightly oversized Bruschetta. Quite yummy, indeed.
And then we all moved on to the best Croquetas – that Spanish tapas stalwart (of Ham, Smoked Chicken and Gruyere)  that I have ever had – an extra crunchy bite gave way to molten ham and cheesy goodness. A few more small plates rounded out the menu, Bacon Wrapped Dates with Blue Cheese and Marcona Almonds (courtesy of Spencer) and a Bocadillo (little sandwich) of Serrano Ham, Manchego and Truffle Paste, then it was on to the big plates, served family style. We opted for the Whole Crispy Skin Mt. Lassen Trout. All of the large plates come with a delicious Kale, Manchego and Fennel Salad, and Pan Oliva – huge slabs of Spanish style garlic bread. The large plates, obviously meant to be shared, are truly large. In fact, when I went back the second night, I saw a Coffee Crusted 32 oz. Tomahawk Chop with Slow Roasted Roja Garlic set down on the table next to me. It looked like something Fred Flintstone might order. Let's just say everyone left well sated.
The next day, I e-mailed my friends Betty and Donny, with whom I had just the night before, shared a disappointing meal at a highly touted restaurant in the town of Sonoma, and told them they must try Bravas next time. And so should you.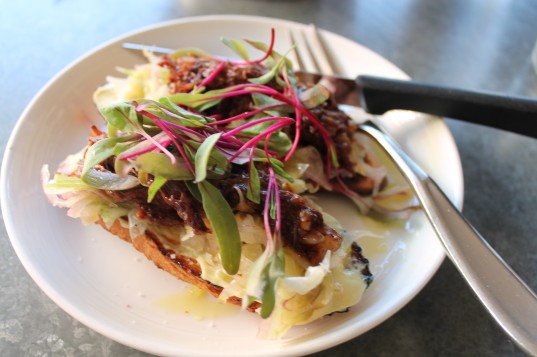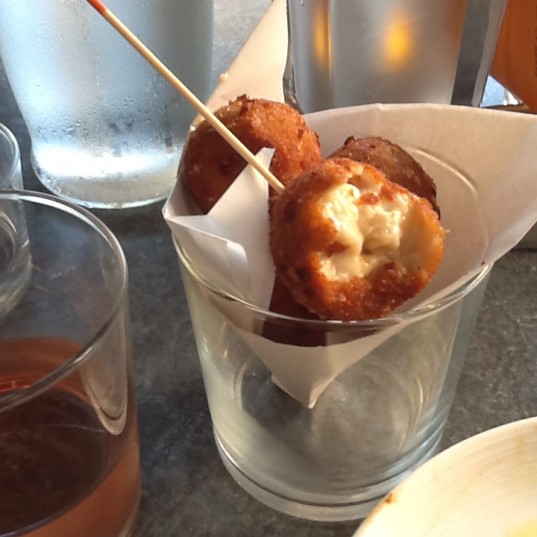 Bravas Bar de Tapas
420 Center Street
Healdsburg, CA 95448
p: 707.433.7700