Bodega Bay to Jenner – and a Simple Salad with Shrimp and Quinoa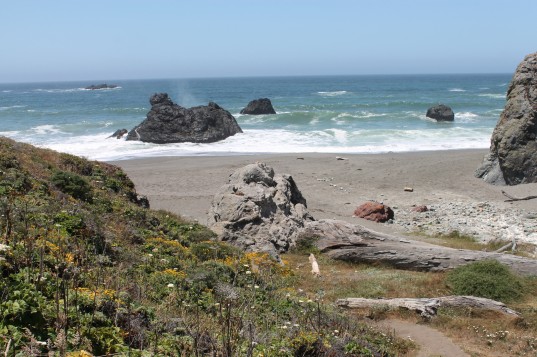 I'm sitting on a large piece of driftwood – my makeshift bench – to contemplate the waves as they crash on a rock before me. My only distractions – the occasional cry of a seagull, and a young family which has just climbed down the bluff with a picnic lunch.
The drive here, along Highway 12 West to Bodega Bay, was through gentle hills, winding roads – cows grazed in little meadows alongside the road. So far removed from the tourist bustle of central Healdsburg on this eve of a holiday weekend.
The woman at the bank this morning asked if I 'm going to see the fireworks in Windsor tonight. "Maybe " I said. "I didn't know about it."
"I think I'm going to drive to the coast today" I tell her. " I haven't been to the Sonoma Coast in about 17 years."
I've also done no wine tasting stops since I've been here. Maybe I will this afternoon if I happen across the winery along the coast Kirk mentioned. "A great little winery" he said.
I made myself a simple salad  before I left – some of those little gem lettuce leaves from the farmers' market, along with some bagged salad mix from Trader Joe's, a couple of handfuls of the lemon curry quinoa, a few tomatoes and some shrimp sautéed in olive oil with red pepper flakes, lemon-black pepper seasoning, minced garlic and a few squeezes of lemon juice(recipe, such as it is, below).  Still, I am a little hungry again, now, sitting in this craggy cove,  and hoping I'll find a great place to eat along the coast.
Rapunzel is fidgeting a bit. Maybe she's ready to move again. It was amazing to watch her (my blind dog) walk to the edge of the cliff earlier "looking" out at the ocean as if she could see it, intently taking in the smell, the sound of the roaring waves, and each cry of the seagulls above.
The waves break over the rock with a different size and intensity each time – like nature's fireworks – each creating its own burst of spray pattern. After an hour or so, a flock of what appears to be vultures are swirling in overhead. It's time to leave.
We continue up the coast to Jenner, where the Russian River empties into the ocean, and then it's back via the 116 towards Guerneville passing through small towns like Duncan's Mills – population 85. It's a heavily forested area. When we pass through Guerneville, it is confirmed that this was not a town I would want to live in, although I flirted a good bit with a house I saw listed online there.
I never did see the little winery on the coast, and wait until we get back to Healdsburg to eat, where we stop in at the Healdsburg Bar and Grill. There's a large patio and lawn out back where Rapunzel can join me. I order a Cubano –  a decidedly California version – with chipotle aioli, and a very smoky ham smoked in house in the huge outdoor smoker I see off to the side of the lawn area, along with some garlic  fries and a glass of Rosé. With a full tummy, I drive back up the hill to my little temporary tree home.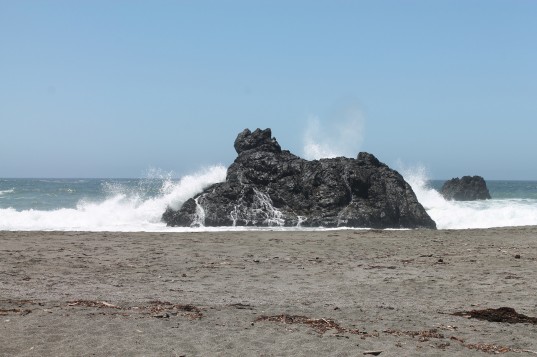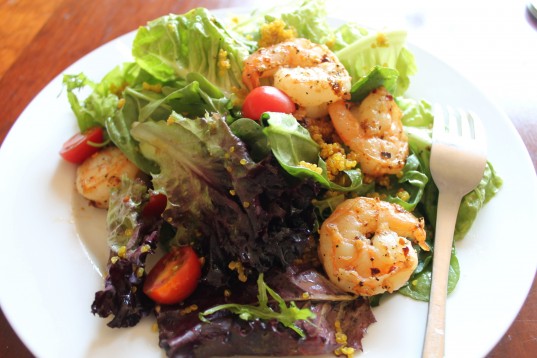 Simple Salad with Shrimp and Quinoa
To sauté the shrimp:
1 tablespoon   olive oil
5 large shrimp
A healthy sprinkling of red pepper flakes, about 1/4 teaspoon
The same of Lemon Black Pepper Seasoning
1 small garlic clove, minced
The juice of half a lemon.
Heat the olive oil in a medium sauté pan.
Sprinkle the shrimp with the red pepper flakes and Lemon Black Pepper seasoning.
Add the shrimp to the pan, cooking on one side for about 2 minutes. Then turn on the other side and cook for about another 2 minutes. Stir the garlic into the pan, cooking until just softened. Then squeeze in the juice of a half a  lemon to deglaze the pan.
1 head baby gem lettuce
1 healthy handful baby salad mix
1/2 cup, or so, cherry tomatoes
@ 2 tablespoons extra virgin olive oil
@ 2 tablespoons Roland Quinoa, 5.46 Ounce Pouches
Juice of 1/2 half a lemon
Freshly ground black pepper
A sprinkling of Feta cheese (optional)
Mix the lettuces into a bowl. Add the tomatoes, shrimp and quinoa. Toss the salad with the olive oil, then the lemon juice. Finish with a generous few turns of a pepper mill. Top with the Feta , if desired.