My (Almost) Top 10 Thoughts on Packing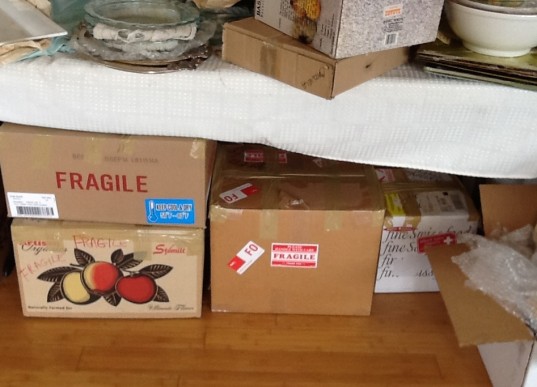 It won't be long now before I head across country to my new home. In the meantime, there's been this – you know-  packing to leave. Yep, I'm up to my butt in boxes and bubble wrap now. Sigh…
Here are my top thoughts to share on this packing process- in no particular order.
A cubic foot is a cubic foot, as my brother keeps reminding me. Tuck things into every possible nook and cranny. Pack the drawers of cabinets and dressers. Fill in loose spaces in boxes with pillar type candles.
Throw pillows are perfect for cushioning fragile items.
Pamper yourself occasionally. Clearing out and packing up a house you've lived in for many years is hard on the emotions, the body and the spirit. Treat yourself to a massage, a facial, a soak in your bathtub with scented mineral salts. Go to yoga classes. And get plenty enough sleep!
And along those lines, because this has been such a stressful task, I've treated myself to the breakfast foods I really like – you know, more croissants  with homemade jam and Brie instead of granola and yogurt (I still add fresh berries to the mix either way). Believe me – I'm not gaining any weight during this process. I'll work on cholesterol lowering when I get moved in and settled.
When you buy cases of wine from Bev Mo' ( yes, you'll definitely need wine throughout this time), save the boxes and dividers. They're great for packing wine glasses. Put a little crinkle paper on top of the glasses and fill the space with votive holders, espresso cups, etc.
Since I've been catering for so many years, I am an inveterate saver of bubble wrap, but now I beg my friends and family to save theirs for me, too. A big thanks to Patti Londre for letting me nab all the bubble wrap, styrofoam peanuts, etc. she would have normally tossed from the Camp Blogaway swag shipped to her.
When you go to Trader Joe's and ask them to save boxes for you, remember you still have to call them again in the evening and remind them to leave a note for the morning crew. And get there early –  they don't hang on to them long.
If you end up having to buy boxes, Box City is the most economical place.  And they carry lots of specialty boxes, like ones for flat screen TV's. BTW, you can also buy a single red Sharpie (as opposed to a variety pack with a red Sharpie in it at an office store) there to mark fragile boxes. Of course, if you want, you can also find a whole roll of Fragile stickers at Box City, along with other helpful packing supplies.
This should probably go without saying, but If you have friends who are brave enough, and generous enough to help you, treat them to lunch!
And a special thanks to my family members who've taken me out on a regular lunch dates throughout this process. I look forward to hosting you all in NOLA! BTW, one of the things that is keeping me going in this final stretch, is planning a vacation in a spot I love (Sonoma County) before I hit the highway. Ahhh- reading,writing, sleeping, enjoying walks along the river. I'll be sending little love posts from there soon. Okay, Gisele, get back to packing.