A New Take on Roasted Asparagus – Serve with Roasted Pepper Salsa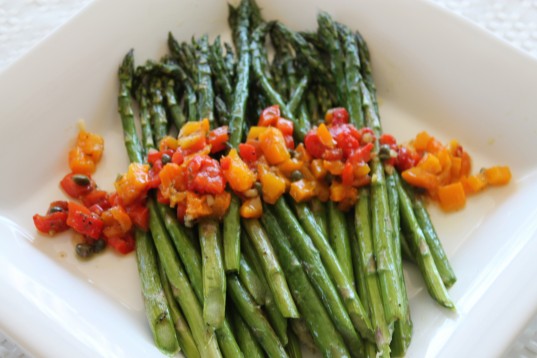 Even though we can buy them year round now, asparagus remain a quintessential harbinger of spring for me. And I (apparently like most Americans, according to surveys) count it as a favorite vegetable. I usually like to serve them roasted, with a flavored aioli or mayonnaise.
Recently, I had a friend who was invited to join in a small dinner party at my home, call the day before the party to say she would be unable to join us that night, but would love to come over the evening after to share leftovers and catch up with me.  I had served Roasted Asparagus with Lemon Caper Sauce (a great way to enjoy them) at the party, but my friend is allergic to egg yolks. Because of the allergy, I had to quickly devise something else to serve over the asparagus. Roasted bell peppers, marinated in olive oil, oregano, capers and garlic had also been on the dinner party menu, served as an antipasto, and there were a few pieces of leftover roasted peppers. So I decided to chop them into a chunky salsa and serve them over our asparagus – a case of necessity being the mother of  (brilliant, in this case) invention.
The peppers had the chance to soak up the marinade overnight, and their sweetness perfectly accompanied the asparagus, with the capers and garlic adding a bit of salt and zing. Not to mention the lovely interplay of colors – a factor I find so important to a good dish, but is often overlooked. Et voila! A new dish to add to the repertoire.
I hope you'll enjoy this invention of mine as much as I did.
Oven Roasted Asparagus with Roasted Pepper Salsa
1 pound of asparagus spears, trimmed of their tough ends
1 large red pepper, or a 1/2 large yellow and 1/2  large red pepper
! large clove garlic, minced
1 tablespoon capers, rinsed and coarsely chopped
1 teaspoon dried oregano
Extra virgin olive oil
Kosher salt
Freshly ground black pepper
Cut the pepper in half, and place the skin side up on a foil lined baking sheet, and place under a broiler, until the skin begins to blister and char. Remove the peppers and cover them with plastic wrap or place a bowl over them, for 5-10 minutes to help the skin steam loose from the pepper. Cut the seed and membrane away from the pepper, then scrape the charred skin off the pepper with a paring knife. Try to retain the juices that release from the pepper as much as possible.
Sprinkle the garlic, oregano, capers, salt and ground pepper over the peppers in a shallow dish, and pour enough extra virgin olive oil over them to just cover the peppers. As sated above, I served the peppers as is for an antipasto course, but for the salsa, I would allow the peppers to marinate overnight. When ready to serve them as a salsa, lift the peppers out of the olive oil, coarsely dice them, then mix enough of the olive oil in to the peppers to make a good saucy consistency. Be sure to get the capers into the salsa.
Coat the asparagus lightly with extra virgin olive oil, sprinkle with kosher salt and freshly ground pepper. Pour them onto a baking sheet and roast at 375 degrees, until the spears begin to yield and brown very slightly, about 10 minutes.
Remove them from the oven, onto a serving platter and nap with the salsa.