Savoring Mussels in Green Curry Sauce at Pêche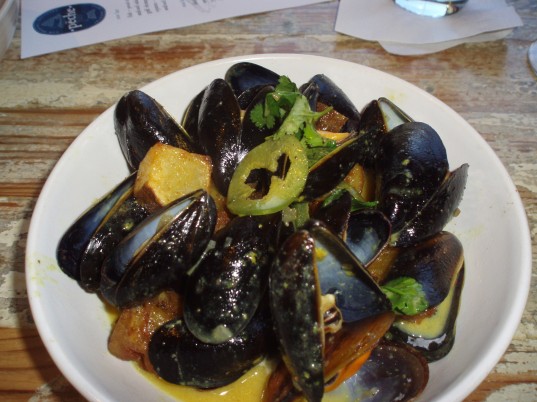 Call me too cheap, too proud, or maybe just too plain stupid to spend the extra $80 a week on the GPS system the rental car company wanted to sell me. Navigating the byzantine streets of New Orleans (where north, south, east and west don't apply when it comes to directions – but rather uptown, downtown, lakeside or riverside – if you're lucky enough to understand how those are situated, can be a frustrating experience. It means I get lost a lot when driving there. Asking for directions in this city full of tourists doesn't help much either. When I drove around searching for a way to get back on track after losing my way in the under-construction zone that is the Warehouse District a couple of weeks ago, five out of the six people I stopped to ask to point me back to Julia Street while driving along Magazine Street, had no idea where it was, and the sixth one sent me in the wrong direction. Oh well, I justify it by telling myself that's the best way to learn my way around. Perhaps… Unfortunately, my food blogging buddy, Mary Ehret of Native Palate, paid the price for my foolhardiness on my last visit, as she waited an hour for me to show up at  the newly opened, Pệche, where Donald Link, whose porky prowess – displayed at NOLA veteran favorite spots, Cochon and Cochon Butcher – now turns his hand to seafood. Fortunately, Mary was a very good sport about it, and just went ahead and ordered and ate her lunch without me. She was just about to leave when I arrived, but graciously stuck around and visited with me as I ordered and ate my lunch, too. Mary informed me that the PEI Mussels in Curry Sauce she'd had were quite tasty, and they sounded good to me, too. That, along with a side of Fried Brussels Sprouts (apparently the "it" vegetable in NOLA right now) with Chili Vinegar, and a very pleasant Provençal Rosé.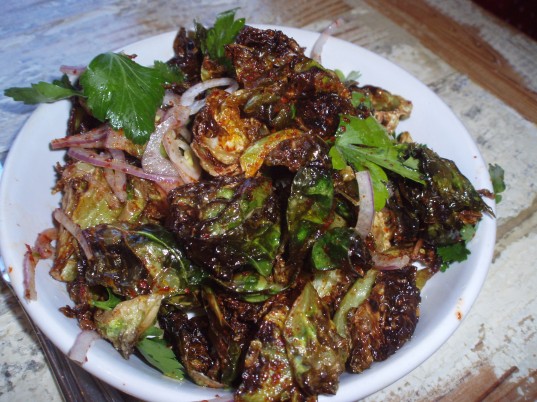 These mussels are a longways from the classic French dish, Moules Marinière (and btw, I might add, not a dish you were likely to have seen in the past on New Orleans menus – there's definitely a new culinary spirit that's taken hold).  Besides the spicy curry sauce, they are prepared with cubes of fried potatoes tossed in the broth, a take I would guess on the crusty baguette slices, and sometimes French fries, served along side Moules Marinière. I kept coming back to that as I later savored the dish in my memory. I decided that it was a stroke of brilliance, really. No more dipping and scooping up the sauce with the bread or fries that mussels are usually served with, the potatoes sit right there in the bowl and soak it all up for you. And I agree with Mary, they were quite tasty, indeed.