Adele's Kale Salad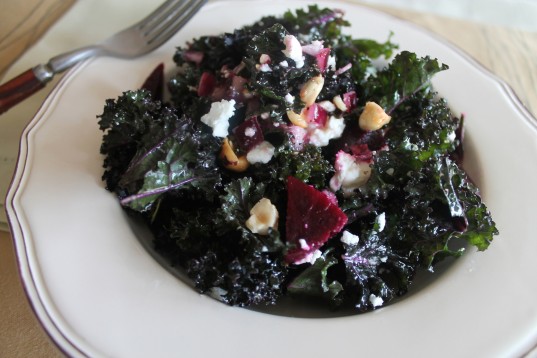 I got an e-mail, a couple of days ago, from my cousin, Adele, responding to something I had said in my interview with Michel Martin on NPR's Tell Me More.
"It is so great for me to be able to still cook with my family on a daily basis!"  she said.
It's true. Adele places a high priority on good food, and has raised her children to appreciate good food, too. They all developed a great palate and healthy eating habits at an early age.
She's also taught, by her example and by direct instruction, her 3 children to cook for themselves. The day after the interview she invited me to join her and her family for dinner.
"I'm going to ask Martin (her son and my godson) to roast some chickens" she said. "He doesn't cook, but it's something easy, and I'll explain it to him. He needs a lot of hand holding, but I'll walk him through it."
Well, Martin and his chickens were fine, as you can see.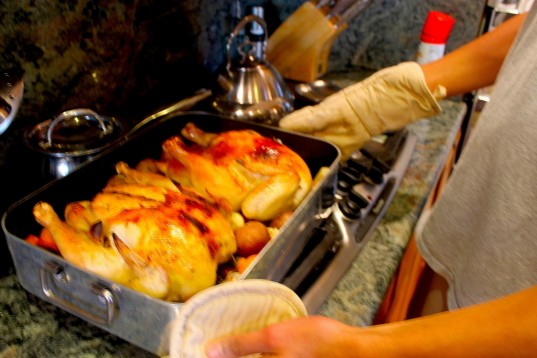 Adele also served her Kale Salad. The Kale Salad has become somewhat of a joke at times in our family. A while back, I brought a version of my Cherry Tomato, Olive and Feta Salad to a family dinner, when a comment was made that the younger cousins were thankful to have a salad other than the Kale Salad for a change. The Kale Salad shows up in some variation or other at every family meal and gathering. In her defense, Adele said, I like it because it because it will last until the next day if there's leftover salad.  "But there's never leftover salad," Justin, my young cousin, piped in.
Ah well…if there's never leftover salad, it's because it's just very good, regardless of how many times we see it. Adele varies the ingredients in the salad, rotating the traditional green curly kale, red kale, Tuscan kale, or even baby kale. She adds beets very often, sometimes avocados, diced red onions, or shallots, if she doesn't have red onions. I even saw her throw in pepperoncini, recently, when she had to stretch it for a larger group. There's generally some kind of nut (she favors hazelnuts, but has also used pecans or walnuts) and cheese (she favors Israeli Feta, but I've also seen her use Parmesan and goat cheese) to garnish. So you can see, it's quite a versatile salad. No recipe is needed, really, but I have provided a rough one here anyway. Adele and I share a love of Israeli Feta, so it shows up in my version, and although I love the hazelnuts, too, I happened to use pistachios in this salad, because it's what was available.
Adele's Kale Salad
For each serving:
1 healthy handful of either baby kale leaves, curly kale, torn into small pieces, or Tuscan Kale, sliced into thin ribbons, about 1 ounce
Enough extra virgin olive oil to thoroughly coat the greens, @ 1.5- 2 tablespoons
@ 1 tablespoon freshly squeezed lemon juice
1/2 roasted beet, cut into wedges
A healthy sprinkling of diced red onions
A healthy sprinkling of toasted nuts
A half ounce or so of Israeli Feta, or other cheese
Sea salt and freshly ground black pepper
Toss the kale with the olive oil, sprinkle with the salt and let it sit for about 10 minutes. then toss in the lemon juice.
Add the beets and red onions, mixing slightly. Sprinkle the salad with the freshly ground pepper, and top it with the nuts and cheese.  And you don't even have to serve it immediately, because, you know- she makes kale salad because it lasts.
Enjoy!