Crab and Asparagus Quiche Makes for a Great Mardi Gras Brunch
The Carnival parades and festivities have been going on for weeks now in New Orleans.  In  just a few days, the partying will culminate on Mardi Gras day, after which the city will retreat into the rest, reflection and fasting mode of Lent.
But before that happens, there will be full days of parade watching throughout the weekend along St. Charles Avenue and Canal Street, and lots of carousing in the French Quarter. To fortify themselves for the day ahead, many households will start out Tuesday morning with a brunch party.
Menu necessities will include some kind of fried cake or donut, like Beignets or Calás , and often one of these fried treats will be wrapped in a cloth to keep them warm and carried out to snack on along the parade route. And, of course, a  King Cake is a must have menu item!
There will be lots of Mimosas and Champagne consumed. If you're lucky, your host or hostess will serve an iconic and delicious New Orleans dessert like  Bread Pudding or Bananas Foster, or even combine the two desserts into Bananas Foster Pain Perdu.
The menu might include Grits and Grillades (another iconic Creole dish), or perhaps Grits and Shrimp, a newer arrival to New Orleans tables. And if you're really lucky this special Crab and Asparagus Quiche will be served.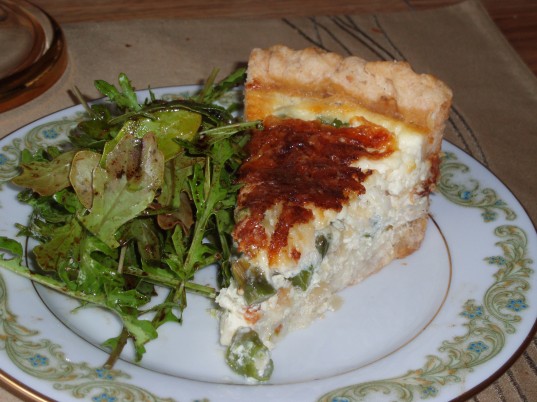 Crab and Asparagus Quiche
@ 8 large asparagus, to make 1 cup of  cut pieces
1 1/4 cup lump crabmeat, picked over to remove any remaining bits of shell and drained well on paper towels
2 tablespoon dry vermouth
1/2 cup onion, diced
4 eggs
2 cups half and half
1 cup heavy cream
4  ounces Gruyere cheese, grated
2-3 tablespoons butter
1 tablespoon Parmesan cheese, grated
1/2 tablespoon chives, snipped
Salt  and freshly ground white pepper to taste
Blanch the asparagus and cut into 1/2 " pieces.
Sauté the onion in half of the butter until softened
Add other half of the butter to the same pan to quickly sauté the crabmeat. Add the vermouth and cook until reduced to sec.
Add the onions, asparagus, crabmeat  and chives to the tart shell.
Whisk together eggs, half and half, and cream. Add white pepper (I like a healthy pinch of pepper, but go sparingly on the salt, as the cheese and crabmeat are salty).
Pour the custard mixture into the tart shell (recipe below). Bake at 425 degrees for 15 minutes, then lower heat to 300 degrees for additional 50-55 minutes until custard is set around the edges (it can still be slightly jiggly in the center) and brown on top. Sprinkle grated Parmesan on top half way through baking.
For the Tart Shell:
3  cup all purpose flour
2 teaspoons salt
1/2 pound cold butter, cut into small cubes
1/2 cup chilled vegetable shortening
@ 1/3 cup ice cold water (I throw in a couple of ice cubes into the water and let it chill in the fridge.)
Stir the salt into the flour in a large mixing bowl. Work the butter and shortening into flour with your fingertips until it resembles wet course sand.
Sprinkle in the cold water a tablespoon at a time until the dough forms a ball when its gathered together in your fist. Dump the dough on to a large piece of plastic wrap, then flatten it into a disk and wrap it completely. Refrigerate dough for several hours or overnight. Take the dough out of the refrigerator and let it come to a temperature where it can be easily rolled.
Sprinkle enough flour lightly over the dough and board to keep it from sticking while rolling out. Transfer the rolled out dough into a Paderno World Cuisine 9.5 Inch "Deep" Fluted Non-Stick Tart Mold with Removable Bottom – I like this 2 inch deep tart pan, because , hey- who doesn't like more filling.
Place the dough lined pan on a heated baking sheet, and bake in the oven for  10 minutes covered with foil and bake in the oven for  10 minutes covered with foil and either R & M 2723 More Than One Pound of Pie Weights or the old tried and true dried beans to hold down the foil. Then uncover and bake @ 10 minutes more, uncovered. Brush the bottom of the crust with a beaten egg white the last 2-3 minutes of uncovered baking. Let the crust cool completely before filling. Note- I make extra dough to fill in cracks or to patch spots where the crust has shrunk down the sides after pre-baking and cooling.
Yield: 8-10 servings
Save
Save