French Apple Tart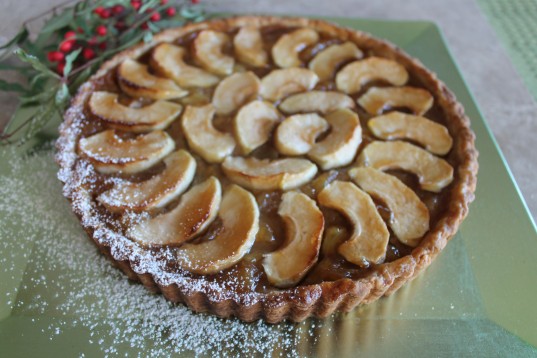 I first acquired this French Apple Tart recipe in the 1980's while attending Peter Kump's New York Cooking School (since renamed Institute of Culinary Education). I made the tart a couple of times in the early days, but mostly, over the years, I made the filling, which I dubbed Chunky Apple Compote, and used it in many other delicious applications – a topping for blintzes and to replace the traditional applesauce served with potato pancakes, being a couple of them.
Last year, however, for Thanksgiving dinner, my brothers and I were the guests of my friend, Paul, who made an apple tart for dessert. My brothers so enjoyed it, and then turned to me and said, "you never make this".
"Oh, yes, I do make an apple tart," I quickly responded, but such is the plight of a baker without a bakeshop. There are so many great desserts, with not enough occasions to make them all.  And yes, my brother, Ric, agreed, "there are so many great desserts that are our favorites, and that you make over and over". This year, however, they got treated to this simple yet scrumptious apple tart at Christmas dinner.  It's not too sweet, not too tart, it's just right, especially when served with the Maple Gelato I made to accompany it. And there's always the chance that there'll be a bit of the filling left over to eat later with blintzes.
French Apple Tart
Spread the apple filling/compote in the cooled tart shell. You may have a bit left over, but as I said above, there are good uses for the leftovers.
Place the apple slices in a decorative slightly overlapping pattern on top of the apple filling. Sprinkle the slices lightly with sugar.
Bake in a 375 degree oven until the apple slices are tender and just begin to brown on the edges, about 30-340 minutes.
Allow the tart to cool completely, then glaze the apples with apricot glaze, or strained apricot jam.
Tart Pastry Shell

8 ounces butter
1/2 cup sugar
2 3/4 cups flour
2 egg yolks
1/4 cup heavy cream
1 teaspoon vanilla
In the large bowl of an electric mixer, cream together the butter and sugar until light. Add the vanilla.
Add the egg yolks until, mixing until incorporated.
Add the flour and mix until just blended in, then pour in the cream as the mixer is running.
Dump the pastry dough onto a large piece of plastic wrap, then cover the dough with the plastic wrap,  shaping it into a flattened rectangle.
Refrigerate for at least a couple of hours, or overnight. Take the dough out of the refrigerator and let in come to cool room temperature before rolling it out. When you have rolled it out and put it in a removable bottom tart pan, put in the refrigerator again for at least a half hour to chill again.
In a 375 degree oven, bake the tart dough covered for 10 – 15 minutes covered with a piece of foil and weighted down with pie weights or dry beans. Remove the foil and bake for 5 minutes more, pricking the tart shell in a few spots with a fork.
Allow the tart shell to cool completely.
Yield- 2 10 inch pastry tart shells
Chunky Apple Compote
Add to a large saucepan:
@ 3 pounds apples, peeled, cored and diced
1/2 cup sugar
1 t. cinnamon
1-2 tablespoons water may be added to prevent sticking while the apples cook, if necessary
Cook covered over medium heat for 16-18 minutes, until apples are softened and reduced by about a third, but still retain a chunky texture.
Then stir in:
1/2 cup golden raisins
1/3 cup apricot jam
1/4 cup Calvados *
3  tablespoons unsalted butter
Zest of 1 lemon, grated
A healthy squeeze of lemon juice, to taste
Cook another 15-20 minutes over low heat, until further reduced and thickened.
Yields 3- 4 cups
* Calvados is a French apple brandy which can be found at fine liquor stores. If you cannot find it, substitute Apple Jack.