The Food in Cuba – and Recipes for Black Bean and Rice
So many have been quick to ask me questions about the food in Cuba, and I have mulled over those questions, answering them only superficially, so that I could gather my thoughts to write here. The short answer is that the food was a mixed bag, although not because of lack of desire, skill or creativity on the part of those preparing it. We didn't see many fresh fruit and vegetables, and items like cheeses and good wine (most all the wine comes from Chile – and a couple here and there seemed as if they had not been handled properly) are limited, in large part because of the embargo. Because Cuba is an island, of course, there was plenty of seafood – we had wonderful seafood paella and grilled seafood skewers – but once or twice, unfortunately, I felt that I wasn't eating the freshest or best quality seafood.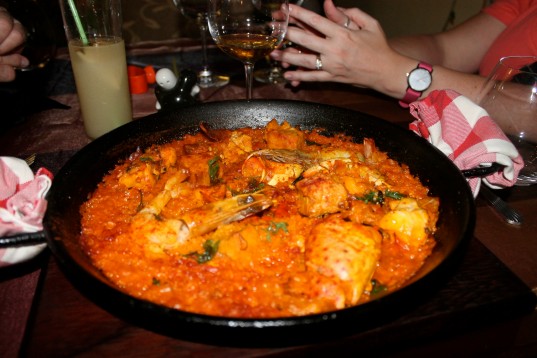 We lunched at a self sustaining community- Las Terrazas (which I will write about in my next post), and at Organiponico Vivero Alamar, an organic farm community – the site of our largest selection of fruit and vegetables. We ate at the Hotel Naçional, the gorgeous hotel where we were staying – dinner one night and breakfast every morning, lunched at traditional restaurants in Havana, even an Italian one where several of us enjoyed the thin crusted greasy/cheesy kind of pizza found all over New York City. Each night, outside of the one dinner at the hotel, we dined in paladares, public/private partnership restaurants (50% profit to the government, 50% to the chef/owners) in private homes which the government now allows. And they really are private homes. On my way to the bathroom in one of them, I passed a room where a grandfather was watching TV.
The food at Las Terrazas and at the organic farm was the best food we had, as I said above, not because of any lack of will on the part of those preparing it at other places, but because it seems that individual chef's access to the best product is an issue.
The government, in this socialist country, controls the distribution of food (every household gets a monthly ration book for staple items), as it does everything else. It means that no one goes hungry, just as no one is homeless, as the government provides housing to everyone, or no one is without access to healthcare, or as much education as they desire and have aptitude for – all good things, for sure.
But it also means that chefs are not allowed to seek out their own quality sources, nor are farmers, ranchers and fishermen allowed to set up businesses to sell directly to them, practices which have done so much to improve the quality of restaurant food in our country. Especially since I'm a California and Louisiana girl, where farm and coast to table practices are a way of life, this stood out to, and bugged, me.
I asked Martin, our guide, a lot of questions on this issue. People are allowed to grow their own vegetables, if they have the land, he told me. They can share it with their neighbors, but they are not allowed to set up businesses selling their products. The few organic farm communities can keep 50% of their product for themselves, but the other half must go to the government, as the government owns the land. The government also pays the workers (and provides any benefits- we were told the women farm workers all get regular manicures) on those farms. I shared with Martin how chefs source their product in our country, and how it has fueled the food revolution and the vast improvement in the quality of restaurant food in our country. And because I saw that Martin is an extremely intelligent and ambitious young guy, I wondered out loud if there is room for innovation and entrepreneurship rising from the bottom up here, rather than from the top down.
A former university professor who came to speak to our group told us that there is now a national conversation – in the universities, in the schools, in the community centers – going on regarding the future of Cuba's viability and prosperity, and that he believes that Raul Castro, the current president, is more pragmatic than his brother, Fidel. Martin also told me that Cubans have been told, that in a few years, there will be a younger slate of candidates running for office. I say privately to Martin, that I don't believe any country can exist completely as a capitalist society, or completely as a socialist one, and serve all its citizens well. He quietly agreed with me.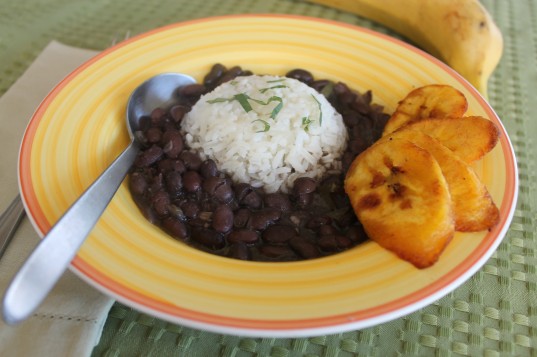 Black Beans
2 cups black beans
1/2 onion, coarsely chopped
1/2 green bell pepper, coarsely chopped
1 small handful of cilantro stems
1 large bay leaf
1/2 teaspoon toasted and freshly ground cumin seeds
@ 1 teaspoon kosher or sea salt
Soak the beans overnight. Pour off the soaking water, and add the beans to a large pot with the chopped onions, chopped green bell pepper, cilantro stems, cumin and bay leaf. Add water to about 2 inches above beans.
Cook over low to medium heat, adding more water if necessary, until the beans are tender (about 2-3 hours depending on the freshness of your beans, then add the salt and cook for another half hour or so, while preparing the sofrito.
Pull out the larger pieces of onion and green bell pepper before adding the sofrito.
For the sofrito:
1/2 cup onions, finely diced
1/4 cup green bell pepper, finely diced
1 large garlic clove, minced
2 tablespoons olive oil
2 tablespoons apple cider vinegar
1/2- 1  teaspoon kosher salt, according to taste
A healthy pinch each of dried oregano and toasted ground cumin seeds
Heat the olive oil in a medium to large sauté pan, then add the bell peppers, cooking for about 2-3 minutes. Add the onions and cook for another 3-4 minutes, until both vegetables are tender, then stir in the garlic, oregano and cumin, and cook for about another minute.
Stir in the apple cider vinegar, and salt, then add to the pot of beans. Cook for another 1/2 hour to 1 hour. Mash a couple of tablespoons of the beans with a fork, and stir into the liquid if it needs  a little thickening.
Adjust salt to taste.
Steamed Rice
1 cup rice
1/2 cup onions, chopped
1 tablespoon each olive oil and butter
1 3/4 cup water
1 bay leaf
1 teaspoon kosher salt
Heat the olive oil and butter in a medium saucepan. Add the onions, and cook over medium heated until they have softened, about 3-4 minutes.
Add the rice, bay leaf and salt. Stir and heat for the rice a minute or two, until it is completely coated.
Add the water, cover the pan and let the water come to a boil, then lower the heat, and let the rice steam for about 20 minutes. Turn off the heat, and allow the rice to steam covered for another 10 minutes or so.
4 – 6 servings