Loving Baking More Than Anything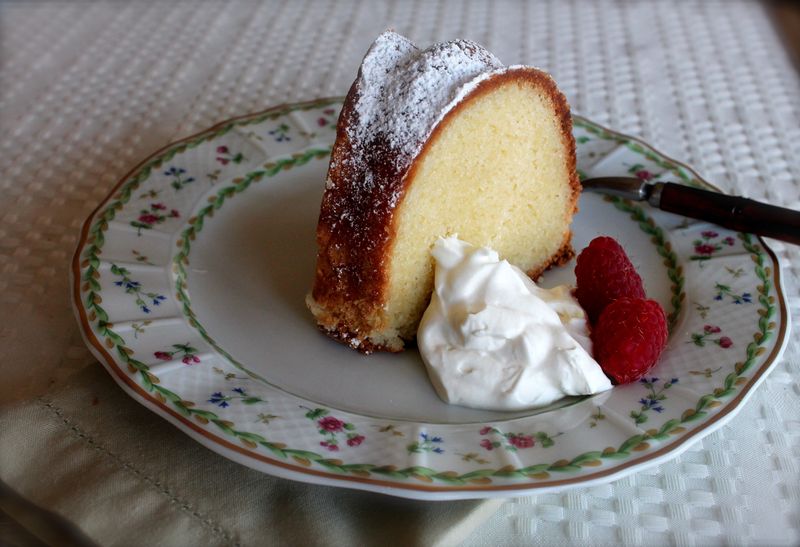 Lemon Pound Cake
Several years back, I used to travel up to the San Francisco Bay Area to meet with the Baker's Dozen, a like-minded group, open to anyone who loved to bake, which I was first introduced to while in culinary school in San Francisco. You never knew who you might meet or sit next to at a meeting- it could be a very famous cookbook author, or could be a secretary who just happened to be passionate about baking. Everyone was there to willingly share their baking expertise and experiences with each other.
One of the leaders of the group was baking teacher and cookbook author par excellence, Flo Braker. When I was starting out in catering, one of the caterers I worked for always spoke of Flo as being her favorite cooking teacher. And it's no wonder. She is blessed with the just about the sweetest demeanor a person could possess, as well as being an exacting baker.

At one meeting, Flo was a featured speaker, and made this statement "Next to my family, I love baking more than anything." That moment stuck with me for years afterwards, because she had such a dreamy look in her eyes and loving quality in her voice when she said those words. She was so adorable.
Years later, I recounted the story to her. This is what she said, in response – "And I meant it, too."
This wonderful Lemon Pound Cake is adapted from Flo's Sour Cream Pound Cake recipe, originally printed in The Baker's Dozen Cookbook, a compilation of recipes from some of the group's more well known members – ah, and with a small entry, in the glossary notes, by yours truly, too.