A chat with Chef Jason Giles of the Portola Hotel on beer and food pairing, sustainable seafood and a few other things.
read more
Driving up the Central Coast of California through Big Sur and onto Monterey with a stay at the lovely Portola Hotel
read more
This wonderful Lemon Pound Cake is adapted from a recipe by baker and cookbook author, par excellence, Flo Braker.
read more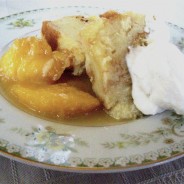 Bread Pudding, the quintessential New Orleans dessert, gets paired with Sauteed Peaches or Pears for late summer into fall.
read more
Wild Hibiscus flowers in syrup are a great tart/sweet addition to Margaritas, and not too far from tradition either, as hibiscus is also used to flavor Jamaica, one of Mexico's most popular thirst quenchers.
read more