Orange Ginger Florentines with Aunt Leticia's Pineapple Sherbet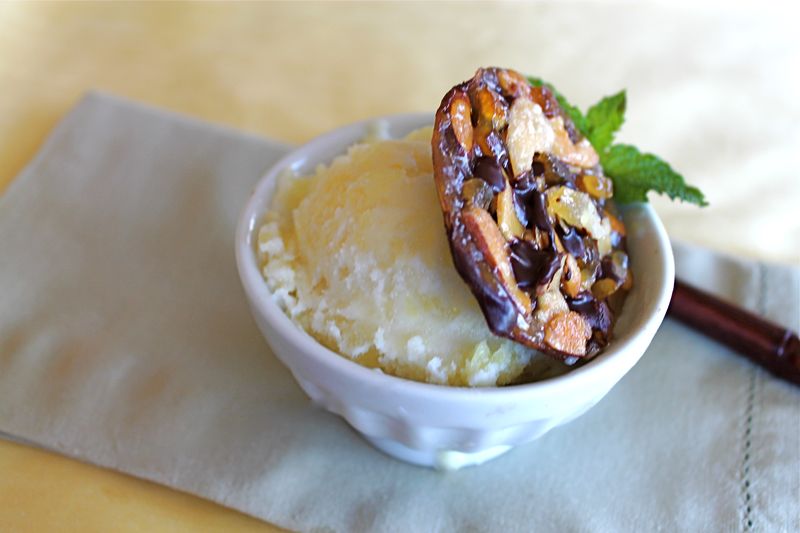 A few days ago I had the privilege of sharing my Aunt Leticia's Pineapple Sherbet recipe with the citizens of San Diego. That's right, I was a guest on San Diego Live!
I first shared the recipe here recounting how hot and steamy New Orleans summers are (ironically we had some pretty hot and steamy days this week here in So Cal, too). Aunt Leticia, after cooking for her family – including her visiting L.A. brother, sister-in-law, niece and nephews, would sometimes put together the base for a pineapple sherbet, that we could all help to hand crank, and that would help cool us down. My Mom still talked about how much she enjoyed that sherbet years later. 
Unfortunately, none of my cousins learned how to make it, but I am glad to say, that a few summers ago, I was able (after a few attempts) to recreate it well enough so that my Mom gave it the thumbs up.
And to serve with the sherbet, I am sharing my very favorite cookie recipe – really…
Okay, so that's kind of an inside joke. When I was in culinary school, there was a chef instructor that my fellow students and I didn't care for too much, although we did like to make fun of him. He was featured in a video demo where he repeatedly reminded everyone listening that the cookies he was demonstarting really, really were his very favorite cookie. Really…
My favorite cookie is not the same as his, but Orange Ginger Florentines are one of my very favorites, and I think the orange and ginger complement the Pineapple Sherbet quite well. They're a bit labor intensive and a tiny bit tricky, but they are worth the trouble. 
Oh- and you can watch my segment on San Diego Living here.
Recipe on the next page…