La Provence and Chef John Besh's Little Pig Farm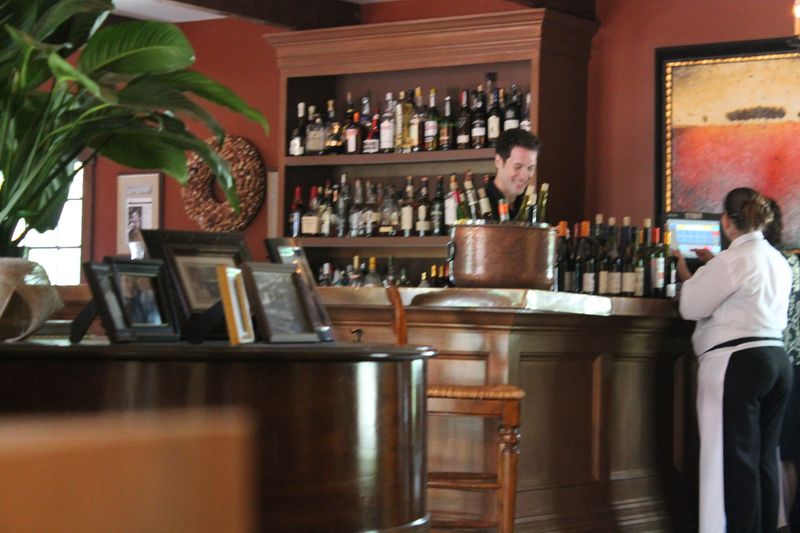 The Bar at La Provence
Ever since I first read about, and heard Chef John Besh talk about his little pig farm behind La Provence, the charming auberge he bought from his mentor, I have been dying to visit it.
On my latest trip to New Orleans, I had free time on my hands- and a willing dining partner- so off my friend, Monique, and I drove across Lake Pontchartrain, to La Combe, Louisiana, to enjoy La Provence's very special Sunday brunch.
We had barely settled in to our seats when our young server, Brandy, brought us a ramekin of scrumptious liver pate to spread on crostini, and munch on while we perused the menu. Can I say – YUM?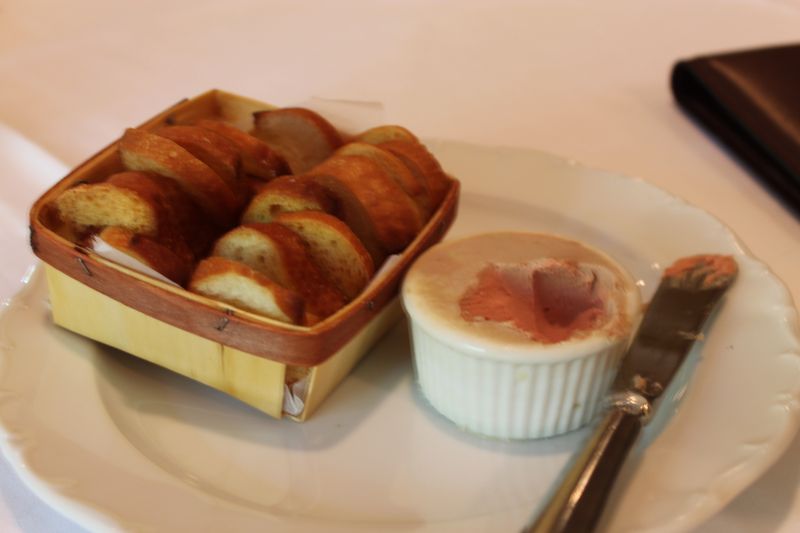 Besh raises Mangalista (a rare breed of Hungarian descent, bred as a "lard pig") pigs for use in his restaurants. I happen to have had previous first hand knowledge that those are some mighty tasty pigs, as the Pâté de Campagne I ate at Restaurant August a couple of years back, was the best I have ever had. And I couldn't get enough of the pâté served to us at brunch. In fact, later in the service when little house made garlic and herb knots were brought out, I asked if they could please leave the crostini and pâté.
Monique ordered an Heirloom Beet and Arugula Salad with Herbed Goat Cheese and Pistachios as her first course, and yes, while I know I should have eaten more vegetables during my stay, I opted for a Fried Oyster Salad (a loose use of the word) over Wilted Spinach served with a bracing Lemon Aioli, the second time in a couple of day's time I was ordering fried oysters. Hey, I was along the Gulf Coast. I had to take advantage of it, right?
And for my main course, I ordered Fried Drum (a local fish) topped with Lump Crabmeat and Mushrooms and served with a Brown Butter Hollandaise. Brown Butter Hollandaise? – there was no way I could turn down the chance at that double decadence. Monique went for a very respectable looking Omelet with Crabmeat, Mushrooms and Goat Cheese- all of the above accompanied by Mimosas, of course.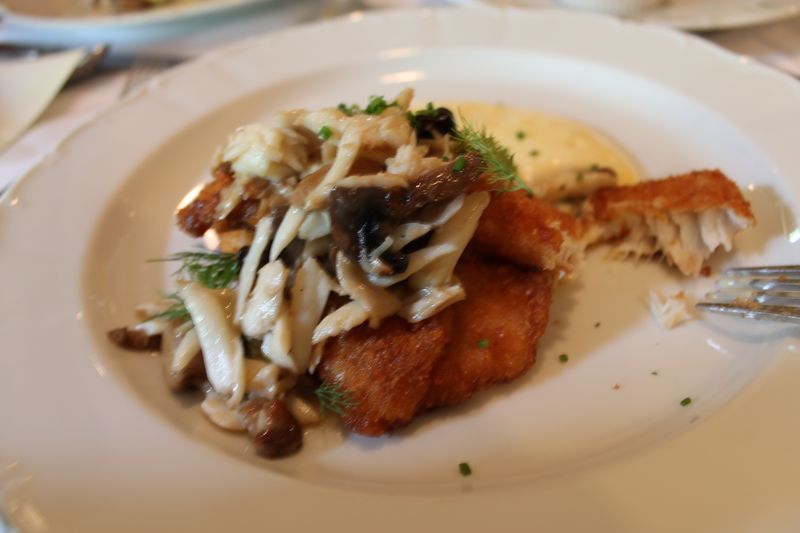 Crispy Drum with Lump Crabmeat and Mushrooms
When the young chef, Erick Loos, caught wind of the fact that I was snapping pics of the food, he sent out a lagniappe of Louisiana Shrimp, Smoked Sauasge and Grits for us. Now, everyone who grows up in the South has eaten their share of grits. Before the age of 5 years old, I think I had eaten grits with sliced wieners, grits with cheese, grits with chili, grits with scrambled eggs- well, you get it. I had just about had my fill of them by the end of my childhood, although my father would often come home from his office, and make himself a bowl of grits throughout his life. These grits, though, were no ordinary grits. The chef uses stone ground grits, supplied by Frank McEwen from his mill in Alabama, he told us, when he came out to chat, and stirs in a large amount of mascarpone to make them extra creamy. Interestingly, Shrimp and Grits, a specialty more of the Low Country rather than New Orleans, has migrated to the Crescent City, and now one can find Barbecued Shrimp and Grits on menus all over the city.
And happily, since it was a large part of the reason I came to La Provence, we were invited by Kerry, restaurant manager, to please go out back and visit the pigs. She even brought us some scraps from the kitchen to take along to feed them. They're very cute little critters, and we were urged to go up and pet them, although it's not exactly an activity you want to engage in if you're wearing nice clothes. They certainly hammed it up (please forgive the pun) for us, though. One of them even seemed to pose for the camera.The same pig also was spied licking and cleaning the ears of one of his companions. "Okay, he's the rock star," Kerry said.
After wandering around the small kitchen garden and chicken coop, we returned to the dining room where dessert awaited us. I ordered Ricotta Filled Crepes with Flambéed Peaches, but I really fell for Monique's Gianduja Pot de Crème with a little topping of chocolate hazelnut croquant. Fortunately for me, she preferred the Blackberry, and the Lavender and Honey Pots de Crème which were part of her trio.
Gosh, writing about it now, makes me want to go for another round of brunch this Sunday. Too bad I'm back in L.A. …