How California Changed the World of Food- and Influenced Your LA2LA Chef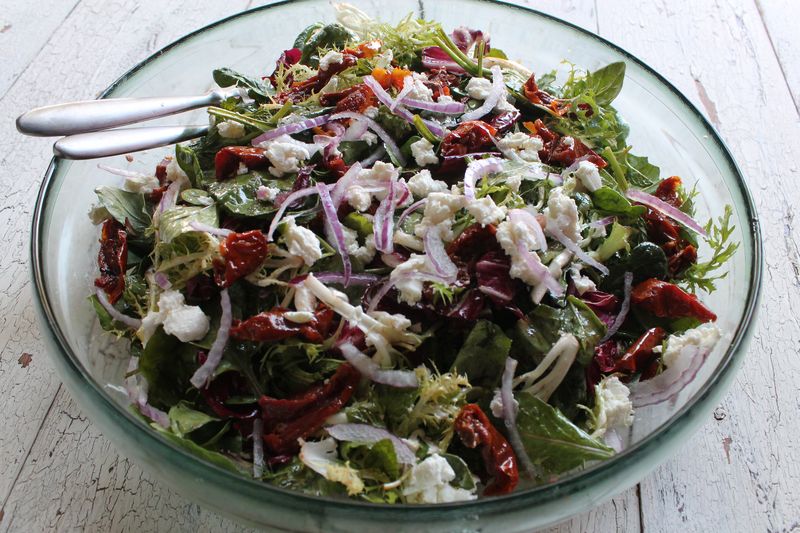 Salad of Mixed Baby Greens with Oven Roasted Tomatoes and Chèvre
I lived in Berkeley in the early 70's, just after finishing college. I lived in a communal house, barely two blocks from a large empty lot, which in 1969- the year I arrived at college- had been commandeered by a group dubbing themselves the Robin Hood Park Commission and referring to themselves as "agrarian reformers". They called it People's Park – which, btw, in spite of much political fighting and hand wringing over the space in Berkeley throughout the years, is still there. They planted vegetable gardens and trees. Samuel Fromartz, in his book Organic, Inc.: Natural Foods and How They Grew
, cites the founding of People's Park as one of the seminal events of the organic food movement.
Several of my housemates tended a backyard garden. I was one of the residents who chose to remain in the kitchen, using what they grew, and whatever else we could scrounge up to produce the sort of meals communal households in Berkeley were cooking in those days- i.e many of them the cheap Diet for a Small Planet
(which we all had a copy of) sort. 
I was hearing stories of a recent Berkeley grad who was hosting dinner parties for her friends. The dinner parties grew, and eventually she opened a restaurant on the northside. She named it Chez Panisse, after a character in French film maker Marcel Pagnol's films.
From the beginning, Alice Waters insisted on using fresh, locally grown produce for Chez Panisse's kitchen. Ms. Waters was first introduced to mesclun salad, the mix of several baby greens and herbs, on a visit to southern France, where it was a specialty of the region. She returned to Berkeley with a handful of seeds to grow the mix, so that she could serve the salad at her restaurant, where it became a signature dish, and incidentally, started a revolution.
To say that these were times of tremendous change in all parts of American culture is an understatement.
Today you can walk into almost any grocery store and buy a bagged mix of baby salad greens aka "spring mix". You can even walk into a McDonald's (not that I'm recommending it) and order a prepackaged salad, that while mostly iceberg and romaine lettuce, will have a sprinkling of friseé, radicchio and baby spinach mixed in. Those produce items (along with fresh herbs which I routinely throw into my salads, and other dishes, now) were almost unheard of then, and certainly not easily available.
All of this was brought back to me recently, when I sat at the recent International Association of Culinary Professionals (IACP) conference in San Francisco, listening to Joyce Goldstein, a chef in the early days at Chez Panisse, who went on to open her own restaurant, Square One in San Francisco, and eventually to write many cookbooks, Sue Conley, founder and owner of Cowgirl Creamery, and Andy Griffin, one of the original farmers of the mesclun mix in California.
Ms. Goldstein recalled that they were innovative, mostly self-taught chefs, many of whom were women, who created California cuisine. They changed the structure of restaurant kitchens, and changed the way we eat at home, as well, because unlike many other regional cuisines, it originated in and grew out of restaurants, moving into home kitchens, rather than the other way around.
The environment they worked in was very supportive- chefs shared information, rather than being secretive as in the Eurocentric and Euro- influenced kitchens that had reigned in the past.
It was a communal effort beyond the kitchen, too. Chefs continued to bring back seeds from their travels in Europe, asking farmers to grow these products for them. Today we have an abundant variety of produce that have become almost commonplace to us (i.e. the now ubiquitous Tuscan kale and radicchio) that we hadn't even heard of 25 or 30 years ago. They encouraged artisan cheese makers, like Sue Conley, and bread bakers, like Steve Sullivan (who also began his cooking career in the kitchen of Chez Panisse) of Acme Breads, to make products for them. I, for one, make sure to bring back Acme Breads and Cowgirl Creamery cheese from almost every trip I make to the Bay Area.
"They created food of memory and dreams" Ms. Goldstein said, and operated with the dictum that "feeding someone is a very intimate act."
I love that. Indeed, feeding people is a very intimate act.
Your LA2LA chef feels so fortunate to have been nurtured by the original farm and coast to table culture of southern Louisiana as a child, and then by the pioneers of California cuisine as a young adult. In fact, one of my colleagues, when introducing me to someone at the IACP conference referred to the food I cook and write about as California cuisine with a southern accent. I humbly and gratefully accept the banner.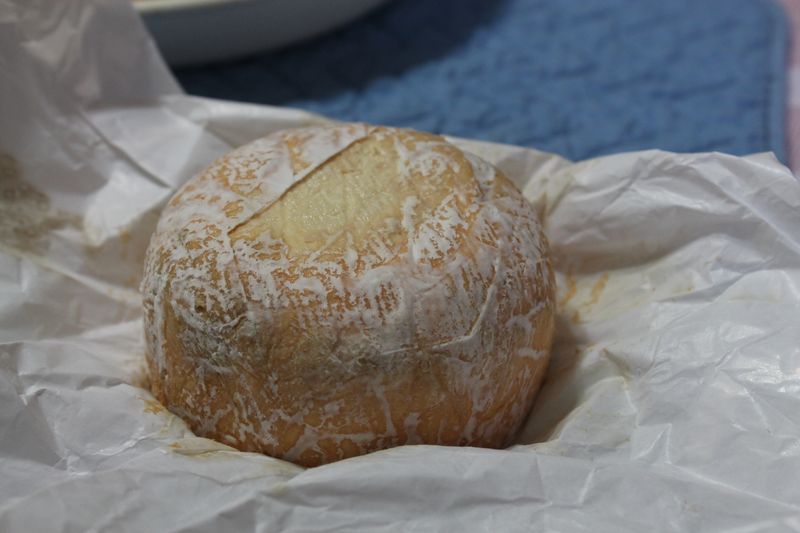 Cowgirl Creamery's Red Hawk Triple Crème Cheese
Mesclun Mix with Oven Roasted Tomatoes and Chèvre
For the salad pictured I used what Maggie's Farm, of my local farmers' market labels "winter mix", which includes baby spinach, frisee, radicchio, baby sorrel, arugula and escarole (when availalbe) and mint, dill and tarragon. In Organics, Inc., Dale Coke, an early mesclun grower, is quoted as saying that in the early days of his growing in California, greens were labeled seasonally, i.e. winter, summer, autumn mixes. It was the spring mix moniker that stuck, though.
And btw, chevre was another then unheard of food, now widely available, that burst on the scene following those early days. My very first taste of it still stands out boldly in my memory.
For each serving of salad:
1 generous handful of mixed baby greens and herbs 

1 ounce oven roasted tomatoes*

@ 1/4 cup thinly sliced red onions, soaked in water for about 10 minutes to remove some of their "bite"

1 ounce chèvre style goat cheese, crumbled

@ 1 tablespoon balsamic vinaigrette
Mix the greens, herbs, tomatoes and onions with the vinaigrette.

Sprinkle with the goat cheese  and serve.
* A big thanks to Roland Foods for sending these luscious oven roasted tomatoes, one of the best things I tasted at the IACP conference!
Related Posts: Kermit Lynch's 40th Anniversary Party- Yeh!