Heirloom Cherry Tomato and Olive Salad with Israeli Feta and Mint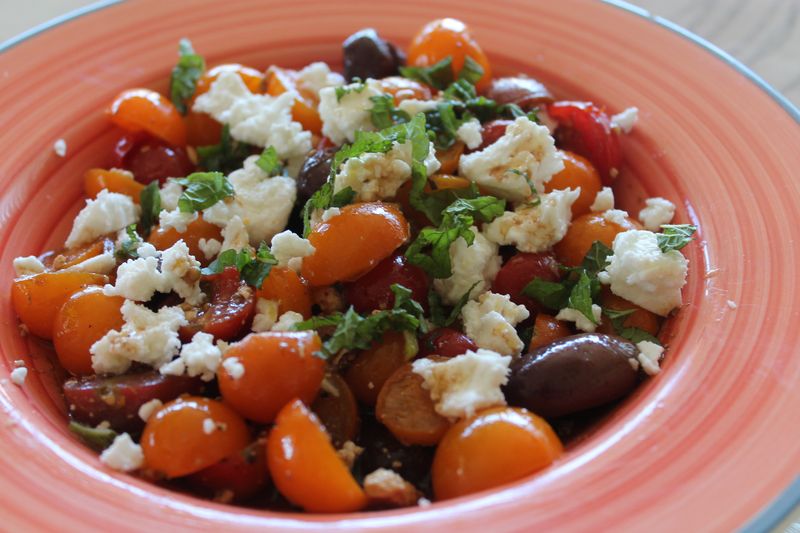 Heirloom Cherry Tomato and Kalamata Olive Salad with Israeli Feta
Yesterday, I spent the day attending the 35th annual Playboy Jazz Festival at the Hollywood Bowl. A day at Playboy Jazz is quite a commitment, and while exhilarating, it can be exhausting, too. After you get to the Bowl, and park, and walk up that hill to find your seat, there's a full 8 hours spanning from the mid-afternoon sun to the cool nights of sitting and watching the parade of fellow festival goer's (with many fantastic hats) pass by, and listening, and dancing to a diverse array of lively acts. 
Because of the time span, there's the packing of clothes to carry you through those eight hours- sun hats, sunglasses and sunscreen, and jackets for later. For some, there are beach balls to toss around through the Bowl, and bubbles to blow. There are Mardi Gras beads, handkerchiefs for any second lines that may break out, and lots of glow sticks, for the nighttime parading and dancing. And most importantly, there's the lunch (and snacks- often shared with your bench neighbors – and dinner) to pack, one of the most important parts of the experience. All of which is generally washed down with much wine, champagne, beer and/or Margaritas.
The food, obviously, has to be the tasty, easy to pack picnic food of summer. Since I attend with my vegetarian brother, it generally means salads, hummus, cheese and olives, and lots of sautéed and roasted veggies accompanied by aioli (this time it was a preserved lemon aioli). Yesterday, I brought along this Heirloom Cherry Tomato, Kalamata Olive and Israeli Feta Salad with Mint that I served at last summer Rosé Fest. 
The highlight of the day was seeing the amazing powerhouse, Trombone Shorty, neé Troy Andrews, native of the 6th Ward of New Orleans aka Tremé, and latest break out star in a long line of New Orleans trumpeters (and yes, he's a trombonist, too). He just tore down the house!
It was so amazing to see that while da' funk and beat of New Orleans are still present in his playing, how much the music has evolved, and successfully incorporated other styles of music. I think Pops (aka Louis Armstrong) would approve.
I've shared a video of him below to give you a taste of Trombone Shorty, although it can't at all compare to seeing him live. Please – run out and see him, and his fabulous band, when he's in your neck of the woods.
Cherry Tomato and Israeli Feta Salad
1 basket mixed heirloom cherry tomatoes, cut in half

1/2 cup extra virgin olive oil

1-2 large cloves of garlic

@ 2-3 tablespoons balsamic vinegar *

1/3 cups kalamata olives, pitted

3 1/2 ounces Israeli Feta cheese**

4-6 mint leaves, torn

Kosher salt and freshly ground black pepper
Mince the garlic, then sprinkle it with a healthy pinch of kosher salt. Mash the garlic to a paste using the side of a knife, then stir it into the olive oil in a large mixing bowl.

Mix the cut cherry tomatoes into the olive oil mixture.

Pour the balsamic over the tomatoes, mixing lightly, being careful not to break up the tomatoes. Then mix in the olives.

Crumble the feta cheese over the salad. Sprinkle with the torn mint leaves, and season to taste with the freshly ground black pepper.
Yield: 4 salad servings
 * I like the Kirkland brand balsamic from Costco
** Israeli Feta, a sheep's milk cheese which is milder, a bit less salty, and a bit more creamy than many Fetas, is available at Trader Joe's
Gloria Tamai
BTW, the day started with a quick trip to my local farmers market, where I picked up the cherry tomatoes, along with some tender Blue Lake green beans from Gloria's Farms. The lovely Gloria has been missing in action for the past year or so, while she has been dealing with cancer. I was so happy to see Gloria back at her stand yesterday. Recently, the manager who had been hired to replace her at the market, told me she was the recipient of constant requests from shoppers. "Every one wants the Gloria treatment," she said. Indeed, that 's a large part of why we keep returning to shop with her.