Shrimp with Tequila and Orange for Cinco de Mayo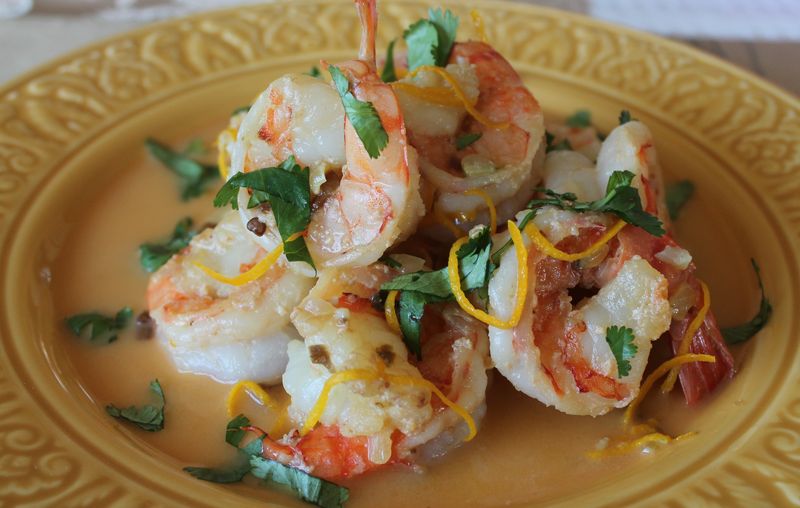 Shrimp with Tequila and Orange
I recently attended a session at this year's International Association of Culinary Professionals conference, on two views of Mexican food today.
The prominent food world personality who was moderating the discussion stated that she was trying to educate the American public that Mexican food wasn't, as she put it, "endless chips and salsa, or beans covered with gloppy cheese."
She needn't have been spoken in the slightly patronizing (IMO) manner that she did. First of all, I kind of like endless chips and salsa, and every once in a while, I have a yen for gloppy cheese covering my beans, too. But more to the point, those of us who have lived for years in So Cal do understand that Mexican cuisine is one of the world's greatest and most complex, and varies greatly from region to region, across this vast and diverse country.
This weekend on the Cinco de Mayo (and yes, I know that it's a relatively minor holiday in Mexico, but we love any excuse to drink Margaritas and eat great Mexican food), I intend to celebrate that cuisine with a south of our border luncheon.
I'll be serving this delectable Shrimp with Tequila and Orange, which is rooted in the coastal region of the state of Jalisco, from which tequila hails. 
Shrimp with Tequila and Orange
This recipe is adapted from Savoring Mexico: Recipes and Reflections on Mexican Cooking (Williams-Sonoma: The Savoring Series)
, a cookbook which has become a favorite. You'll  get a glimpse into the beautiful country by reading it, too. I recommend serving it with Baked Fiesta Rice, as I will be doing, and drinking lots of Margaritas with the feast.
1 large orange

6 tablespoons unsalted butter

2 tablespoons onions, finely chopped 

2 cloves garlic, minced

1 pound large shrimp (16-20)

1 chile chipotle en adobo, or 2 chiles serrano, finely chopped

1/4 cup tequila reposado

3 tablespoons fresh cilantro, minced 

Seas salt to taste, if desired
With a zester, strip the zest from the orange, being careful to avoid the white pith. Bring a saucepan of water to boil. Place the strips in a small sieve, then plunge them into the boiling water, remove immediately, and rinse under cold running water. Repeat three times to remove the bitter taste, then pat the orange strips dry with a paper towel.

In a large sauté pan over medium heat, melt the butter. Add the onion and cook until translucent, about 3-4 minutes. Add the garlic and shrimp and cook, stirring frequently, until the shrimp just turn pink and begin to curl.

Add the chopped chiles, and the orange strips. Stir briefly to mix. Remove the pan from the burner, and pour the tequila over the shrimp, carefully igniting them with a long match. Let the flames burn out. Add the minced cilantro, season with the salt, if desired, and serve immediately.