Visiting Kendall Jackson – and Caramel Corn with a Late Harvest Chardonnay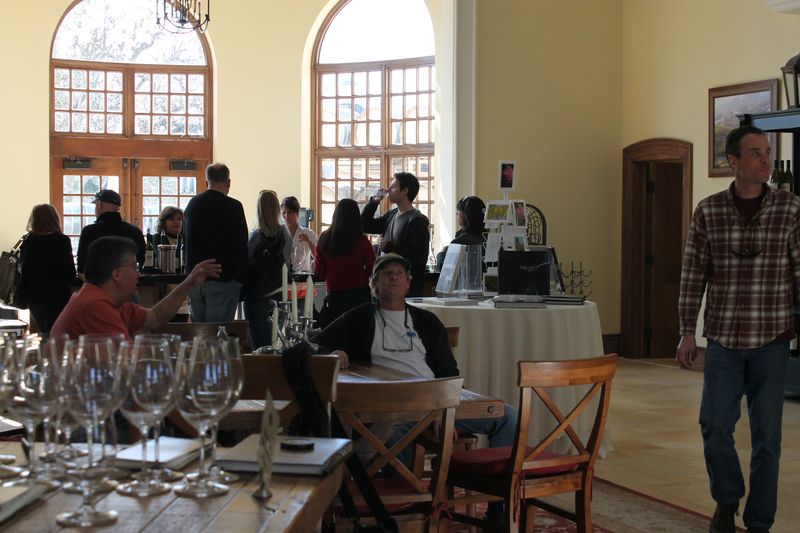 I arrived at the large open space – sun streaming through the many windows and French doors. My guests have called and said they're running very late. Aargh! Not to worry, though – Jessica graciously greets me, and when I very apologetically let her know they will be late, she brings over a glass of Pinot Gris to relax me as I wait.
There's a spacious kitchen beckoning me with gleaming stainless steel behind a glass wall. I peek in, wondering if I can enter. Matt Lowe, the chef on duty today, comes out to meet me. The smell of popping corn wafts over me. And yes, he invites me in for a tour of the brand new, state of the art kitchen at Kendall Jackson Winery, and yes, he's popping corn to make Caramel Corn which he plans to serve us, paired with KJ's Late Harvest Chardonnay – a delightfully wonderful match. BTW, Matt showed me the kitchen space this new kitchen has replaced – an enclosed space about the size of a home dining room. "We'd have 5 chefs working in there," he told me. Boy, they must have really liked each other, I thought.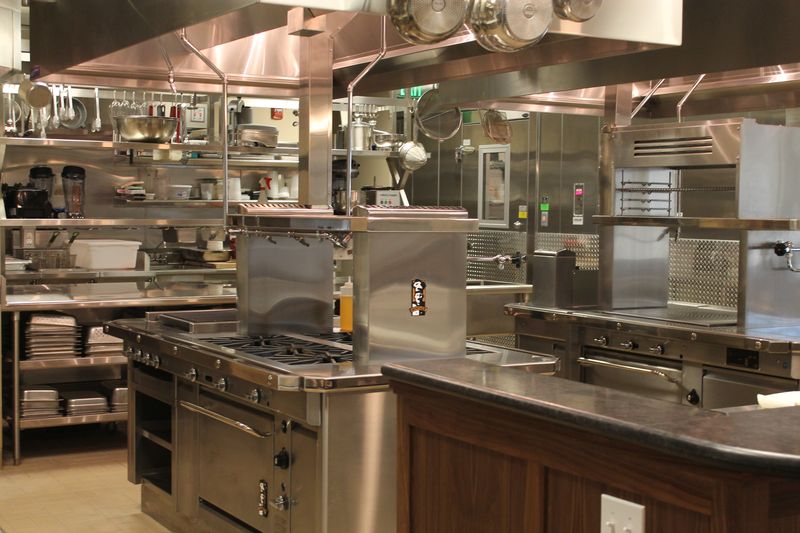 When my friends arrive, they have in tow their foreign exchange student from Saudi Arabia – and, no, he doesn't drink wine. Matt and Jessica graciously offer him an iced glass of sweet tart verjus, the unfermented juice of unripened grapes, to enjoy while we make our way through the luscious wines they pour us, starting with the mostly stainless steel fermented Avant Chardonnay I enjoyed so much a few weeks back when Nancy Fishgold brought it to our So Fab luncheon, paired with cheeses, and other small bites. I especially love the beet mustard they've paired with the Cabernet. Ah – but then we reach the Late Harvest Chardonnay, the ingenious dessert wine made rich and sweet by botrytis, or the noble rot, which intensifies the flavor of grapes left on the vine late into the season, paired with caramelized walnuts, a geleé of Pinot Noir verjus, and a brand new cheese – Bay Blue – from the Point Reyes blue cheese makers. Did they know that Point Reyes Blue is a favorite of mine? And of course, that Caramel Corn – I'm in heaven.
Ah – and one last treat – a taste of their very special small lot Stature, a Bordeaux blend (Cabernet, Malbec, Petit Verdot and Merlot – mostly) that's so intense it's almost raisiny.
Then it was on to a tour of their culinary gardens.
The chefs and gardeners of Kendall Jackson collaborated on the design of this interactive food pairing and sensory garden. The chefs -as all chefs do – wanted plant items which they could step right out their door and harvest to use in their kitchen. The garden was also designed to guide wine pairing decisions by senses other than just taste, like color and scent.
The white wine pairing garden areas are surrounded with lemon, apple and pear trees, and planted with lavender and tarragon, as well as lighter vegetables like fennel and lighter (like yellow) chards. The red wine pairing garden areas are surrounded with cherry and plum trees, and planted with darker vegetables like eggplant, beets and red peppers. Certain garden areas are also grouped according to geographical areas, for example, the Latin American garden area is planted with cacti, and the Mediterranean area with herbs like oregano.
And to help consumers even more, Kendall Jackson has created an app, based on their sensory garden pairing ideas, available for both I-Phones and Androids.
As we said our goodbyes, Matt said, you'll have to come back for our Heirloom Tomato Weekend. Well, I'll drink to that!
Oh, and highly suggest trying your hand at Caramel Corn recipe the next time you're pairing with the Late Harvest Chardonnay.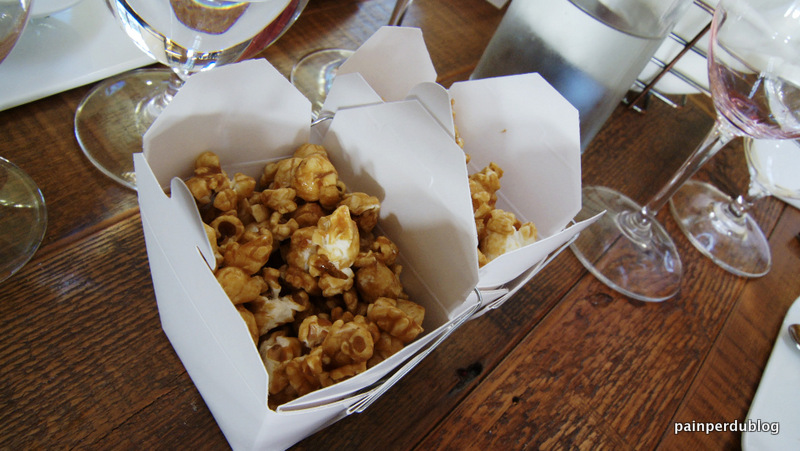 Caramel Corn
Adapted from Better Than Store-Bought: A Cookbook Authoritative recipes for the foods that most people never knew they could make at home
There are not many aromas more tempting than the smell of roasting caramel corn. This one is not too sweet and has a gentle molasses flavor. If you prefer less molasses, you may substitute half of the molasses with an equal amount of light corn syrup.
8 cups popcorn

3/4 cups mixed nuts (I used almonds, pecans and cashews)

1/4 cup light corn syrup

1/4 cup light brown sugar, firmly packed

1/4 cup unsalted butter

1/4 cup light molasses

1/2 teaspoon salt

1/4 teaspoon vanilla

1/4 teaspoon baking soda
 Preheat oven to 250 degrees.

 Spread the popcorn on a large well-buttered baking sheet. Sprinkle the nuts on top, and set the pan aside.

In a heavy small saucepan, combine the sugar, butter, corn syrup, molasses and salt. Stir over moderate heat until the mixture comes to a boil, then continue boiling gently, without stirring, until a candy thermometer reads 250 degrees. Remove from the heat and stir in the vanilla and baking soda.

Pour the syrup over the popcorn and nuts and very quickly, but gently mix with a rubber spatula to coat the pieces evenly.

Bake the caramel corn in the oven for 1 hour, stirring occasionally, then remove the pan from the oven, and allow the the caramel corn to cool in the pan.

Lift the cooked caramel corn out of the pan, and break up any large chunks. Store in an airtight container.
Bon Appetit!